Pilot whales stranded in Australia
[ 2009-03-03 09:53 ]
Almost 200 pilot whales have beached themselves on an island near Australia's southern state of Tasmania, with many already dead, wildlife officials have said.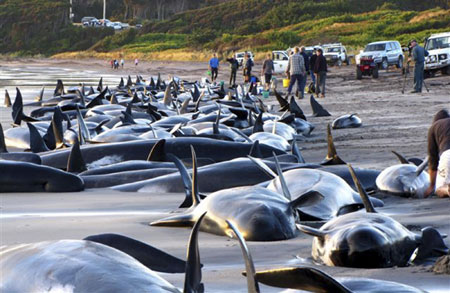 Some of the stranded pilot whales on a King Island beach are seen in this handout obtained March 2, 2009.  [Agencies] 
Rescuers are on their way to Naracoopa beach on King Island, between Tasmania and the Australian mainland, where around 194 pilot whales and seven dolphins beached late on Sunday, said Chris Arthur, from Tasmania's Parks and Wildlife Service.
Mr Arthur said around 140 of the whales had already died, but authorities and civilian wildlife rescuers are confident the remaining mammals could be saved, with weather conditions calm.
He said: "These are fairly robust animals, pilot whales. While there are animals alive, there is always hope."
The latest mass beaching takes the number of whales stranded in Tasmania's northwest over the past three months to more than 400, and follows the deaths of 48 sperm whales in January.
Pilot whales are among the smaller whales, typically up to about 16 feet in length and dark with a grey underbelly.
Mass strandings of whales occur periodically in Australia and New Zealand for reasons that are not entirely understood.
Theories include disturbance of echo-location, possibly by interference from sound produced by human activities at sea.