Airbus delivers 1st China-assembled A320 jet
[ 2009-06-24 09:33 ]
BEIJING: European jet maker Airbus rolled out the first aircraft built at its China factory today and said it plans to produce 10 more this year. The plane is the first Airbus assembled outside Europe.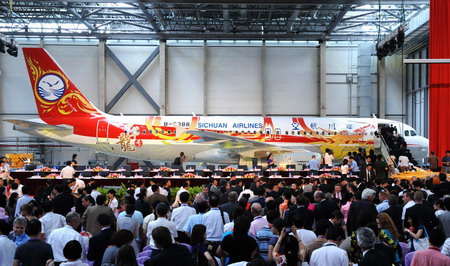 The first A320 jet assembled in China is unveiled and delivered by European jet maker Airbus during a ceremony in Tianjin, the base of the manufacturer's only final assembly line outside Europe, on June 23, 2009. [Xinhua]
The A320 jet was assembled in Tianjin, east of Beijing, Amelia Xu, an Airbus spokeswoman in Beijing, said Monday. The plane was to be delivered to Dragon Aviation Leasing and operated by Sichuan Airlines in southwestern China, she said.
"We are planning to deliver around 11 A320 jets this year," Xu said.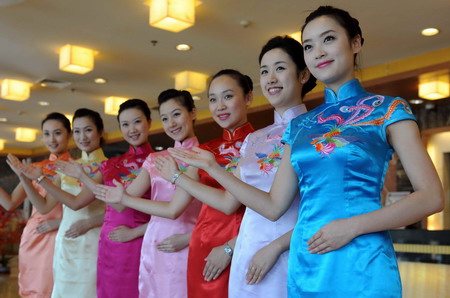 Air hostesses from Sichuan Airlines dressed in seven different colors of cheongsam with Chinese phoenix embroidered on pose for a picture in a hotel in Tianjing, China, June 22, 2009. They will be serving aboard the first China-assembled Airbus A320 delivered today. [CFP]
Related readings:


 Airbus to deliver first China-assembled A320 jet


 China Eastern to buy 20 Airbus A320 jets


 First China-assembled A320 test flight successful


 Airbus A320 project powers the service industry in Airport Industrial Park of Free Trade Zone


 China-assembled A320 plane makes test flight
Airbus will raise production to four aircraft a month by the end of 2011 at the plant.
The aircraft had conducted a four-hour test flight from the Tianjin International Airport on May 18.
China's aviation market is one of the biggest and fastest-growing. Despite financial problems this year for Chinese carriers due to the global slump, suppliers say airlines are expected to need as many as 3,400 new aircraft over the next two decades.
Airbus, a unit of Paris-based EADS, announced plans in 2007 for the Airbus Final Assembly Line China, or FALC, in Tianjin. Airbus says the Tianjin plant will be able to produce four A320s a month.