Like a ton of bricks? 压倒性的重量
中国日报网 2018-08-24 10:55
Reader question:
Please explain "like a ton of bricks", as in: "Nostalgia just hit me like a ton of bricks. If only there was a way to go back and experience all these things one more time."

My comments:
Here, nostalgia, or longing for the good old days, is likened to having a ton of bricks sitting on the speaker's heart, fully occupying his or her mind.
A ton of bricks is, literally, 1,000 kilograms of bricks.
Bricks, yes, are the common bricks we build walls and houses with.
Bricks are commonplace, of course. Before steel and concrete high-rises came into existence, virtually all houses were built with bricks.
Anyways, people must have seen a truckload of bricks fall and hit someone by accident, or something like that, and thus coined the expression getting hit by a ton of bricks.
It is an American expression, I suppose, judging purely from its simplicity.
Anyhow, a ton of bricks is literally something hard and heavy. In our example, to be taken metaphorically, it means that the speaker is suddenly hit by thoughts of the past and cannot shake those thoughts off for a long time. Taken literally, the speaker's longing for a chance to re-live memories in the past is so strong that the feeling sits on his or her heart like something as heavy as a ton of bricks.
In other words, the feeling is overwhelming. The speaker cannot overcome it, no matter how hard he or she tries.
Clear?
All right, here are a few recent media examples to help us fully understand the impact of getting hit by a ton of bricks:

1. Anthony Walters won the state title as an undersized 220-pounder, so giving up weight is nothing new to him.
He didn't struggle with the weight difference in those matches because of his superior skills, but when the Bishop McCort Catholic senior faced another nationally ranked senior – as he did on Sunday at the Pittsburgh Wrestling Classic – the extra weight made a difference.
Zach Elam of Kansas City, Missouri, beat Walters 3-0 in the 44th annual Pittsburgh Wrestling Classic at Fizgerald Field House on the University of Pittsburgh. Team USA beat Team Pennsylvania 23-21 in the event, which pits the top high school seniors against one another in a dual meet.
"I don't really believe in making that a huge excuse in the match, but I think even to people watching, it was evident that I was a little outsized," Walters said. "I definitely felt the weight."
Elam is ranked fourth nationally – one spot ahead of Walters. He rode Walters out in the second period, then escaped quickly into the third to take the lead. Walters attempted a high crotch, but Elam was able to stop the shot, cut the corner and score the lone takedown in the match.
The Missouri recruit's size advantage was especially evident in the second and third periods.
"On top, yeah, but even when I took that shot, I felt great getting in on that single, and he threw his hip into me and it felt like a ton of bricks falling on me," said Walters, who went 35-0 at 195 and 220 pounds this season on his way to the first PIAA wrestling title in school history.
"He was heavy, and he was solid in all positions," Walters said. "I think with maybe a little bit more of an equalization in weight, it would have been a tossup of a match."
Despite the loss, Walters enjoyed taking part in the event, which is known as the Rose Bowl of Wrestling and features some of the nation's best wrestlers.
"It was a great experience to be here," Walters said. "They treat us like we're kings for the two days that we're here."
- Walters falls in Pittsburgh Wrestling Classic, TribDem.com, March 26, 2018.

2. When 13-year-old Tyler Hughes was flown to Wake Forest Baptist Medical Center on Jan. 18 with his left arm nearly severed, the odds didn't seem in his favor.
Dr. Matthew Goldman, a vascular surgeon and assistant professor at Wake Forest Baptist in North Carolina, and his fellow surgical teammates rushed Tyler into the operating room with the hopes of saving his arm.
"To be honest with you, my first impression when I saw his arm was that it would not be salvageable," Goldman said. "But we have experts in a lot of different fields that looked at it. We ran through a checklist of things like if this is there, then maybe we can do this and if this is there, then we can try it."
After rushing Tyler into the operating room, Goldman, a Knoxville native, and his team temporarily put a shunt into Tyler's arm to give blood flow to the arm while the orthopedic surgeons fixed his bone. After the bone was fixed, Goldman took a vein from Tyler's leg to reconstruct the artery and two veins in his arm.
...
The 9.5-hour surgery was the result of a split-second accident. Tyler Hughes and his best friends, Tyler and Jacob Iles, were riding a side-by-side utility terrain vehicle in the snow when it turned over. A safety feature, the roll bar, landed on his arm, severing it above the elbow.
But Goldman said the surgery didn't save Tyler's life — his mom did.
Mom Crystal Hughes and 11-year-old brother Marshall were down the street from the scene of the accident when it occurred, taking pictures of the heavy snowfall in their Clemmons, North Carolina, neighborhood.
Suddenly, Crystal heard her name through the winter breeze. When she found her injured son, Crystal tied her scarf to his arm and kept him calm. Blood had pooled in Tyler's snowsuit, but Crystal couldn't see that.
Her reason for tying the scarf? "I saw it on TV."
"I have no medical training. I credit that to divine intervention and mother's intuition," Crystal said. "I never once thought he could've been bleeding to death, though. It (didn't occur) to me until many hours later when Dr. Goldman was speaking to my husband and I after the initial 9.5 hours of surgery when he found out I tied the scarf."
"He (Goldman) told us that I saved his life," Crystal added. "It hit me like a ton of bricks."
- Knoxville native reattaches teen's severed arm; doctor, mom reflect on remarkable surgery, KnoxNews.com, July 27, 2018.

3. Rudy Giuliani threatened to "unload" on Robert Mueller "like a ton of bricks" if the special counsel doesn't wrap up his Russia probe by the time the former mayor wants him to.
"CNN poll shows 66% say Mueller should complete his investigation before the upcoming elections. DOJ has policy to refrain from investigatory activity in 60 day period before election. DOJ should require Mueller to submit his report before September 7," tweeted Giuliani, President Trump's lead lawyer in the case.
Giuliani also told Bloomberg that Mueller should "write the damn report so we can see it and rebut it," in an interview published Wednesday.
"If he doesn't get it done in the next two or three weeks we will just unload on him like a ton of bricks," he said.
But Mueller doesn't have to shut down the investigation into Russian election meddling and possible collusion with the Trump campaign by any artificial deadline — despite claims by Trump's lawyers that he faces a Sept. 1 deadline, current and former US officials told the news outlet.
"It's an absurdity to think that Mueller has to shut down in the coming weeks because of the midterm elections. There is no legal impediment to Mueller continuing his work as we get closer to the election," said Jeffrey Cramer, a former federal prosecutor.
As a former Justice Department official, Giuliani should know better, said Cramer.
"He's going to play poker against Bob Mueller? That's not a smart move. Mueller's holding all the cards," he added.
- Giuliani's threat to Mueller: 'We will just unload on him like a ton of bricks', NYPost.com, August 15, 2018.
本文仅代表作者本人观点,与本网立场无关。欢迎大家讨论学术问题,尊重他人,禁止人身攻击和发布一切违反国家现行法律法规的内容。
About the author: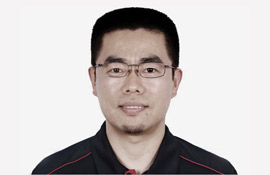 Zhang Xin is Trainer at chinadaily.com.cn. He has been with China Daily since 1988, when he graduated from Beijing Foreign Studies University. Write him at: zhangxin@chinadaily.com.cn, or raise a question for potential use in a future column.
(作者:张欣 编辑:丹妮)
中国日报网英语点津版权说明:凡注明来源为"中国日报网英语点津:XXX(署名)"的原创作品,除与中国日报网签署英语点津内容授权协议的网站外,其他任何网站或单位未经允许不得非法盗链、转载和使用,违者必究。如需使用,请与010-84883561联系;凡本网注明"来源:XXX(非英语点津)"的作品,均转载自其它媒体,目的在于传播更多信息,其他媒体如需转载,请与稿件来源方联系,如产生任何问题与本网无关;本网所发布的歌曲、电影片段,版权归原作者所有,仅供学习与研究,如果侵权,请提供版权证明,以便尽快删除。