Letting him in…on a few secrets
中国日报网 2018-11-13 10:21
分享到微信 Reader question:
Please explain "letting him in" in this sentence: You might try letting him in on a few secrets of your own so he may be more comfortable around you.

My comments:
If you're having a secret meeting in a locked room and someone outside wants to join in, you let him (or her) in by unlocking the door for them.
If you don't want to share what's going on inside the room, however, you ignore them and keep them outside, leaving them out in the cold, as they say.
You don't let them in because you don't trust them enough. Or perhaps there's some other reason. Whatever.
Metaphorically speaking, in our example, by "letting him in on a few secrets of your own", you let him know what your plans are, you let him know you're not keeping him in the dark, that you want to confide in him. That way, he perhaps will be more comfortable around you. That way, he may begin to think you're not cold toward him, as he perhaps suspects you have been.
Since he's been trying to confide in you and telling you some of his secrets, he wants you to do the same. Otherwise, he's going to wonder. He will perhaps even be pushed away by your, for lack of a better word, standoffishness.
Enough speculation here. The point about letting someone in on a plan or something secret is simply letting them know about it, informing them and sharing that particular info with them.
Let's call people who already know the plan insiders. Others are outsiders. By letting an outsider in on the plan, you're bringing them into the insider group. They'll become insiders too. In other words, they'll be in the know.
Basically, that's the idea of letting someone in on something. Let's use media examples to see how the phrase is put to use in various situations:

1. If you want a psychic, go hire one.
If you want an awesome relationship, you create one.
One of the best ways to start creating that relationship is by letting people in on what is going on in our heads. By letting them in on the weird and wacky world that exists in there. Stop pretending it isn't, you and I both know it is.
As a life coach, I have seen this trend lately where we believe someone loves us more if they can figure out what we are thinking at all times. That they know instantly when we are happy, upset, frustrated, excited, disappointed, etc., and more importantly, they understand why we are feeling those emotions. Because they just "get us".
What?
Who told you that crap? If you know who did, take away their wine for a week and send them to bed without their supper!
Reality check. People do not show their love by randomly guessing correctly what is going on in that very, very complicated place we call our brain. They show love by asking questions, listening, supporting and learning about who we are.
I don't know about you but I can be thinking about Louis C.K. one second and the kitten video I watched that morning the next. I mean literally the next second. It all connected in my head, but why would I expect anyone else to keep up? Aren't they also trying to make a living, be a functional human being and deal with all of their own stuff in the process?
Ain't nobody got time for that.
When we make them guess or put these wackadoo expectations on them, it is not them who is letting you down by not guessing correctly about what is going through your head. It is you who is letting them down for making them guess. Playing games. Punishing them when they don't know. Making them feel like a lesser person in the relationship because they can't read your mind.
That is just setting them up for failure and why would you want the most important person in your life to fail? How is that creating an incredible lasting relationship?
Amazing and healthy relationships happen when both people get to win. When both people get to feel great, supported and more importantly, loved.
Every move you make should be working towards asking questions, really listening to answers and understanding each other.
So that is why when someone asks you "what's wrong?" Tell them.
If you are interested, let them know. Most times they need you to NOT be subtle.
If you are having a bad day, explain it to them. Then they can know it is not about them and learn how to support you.
If you have expectations about something, share them. When you can talk about what you want or need, they can actually try step up to reach your expectations or help figure out what can work for both of you. See? Win-win!
At the end of the day, most importantly, you just want to let them in. No matter how scary it is.
- Men Can't Read Minds, Get Over It, by Kira Sabin, HuffingtonPost.com, November 25, 2013.

2. After Apple refused the FBI's request to help break into San Bernardino terrorist Syed Farook's iPhone, the bureau reportedly turned to its next best option: professional hackers. According to a report by The Washington Post published late Tuesday, the FBI ended up paying a group of professional hackers a one-time fee to crack open Farook's iPhone.
The unnamed hackers discovered "at least one previously unknown software flaw" that allowed them to defeat the device's security, The Post reports. They then used that flaw to create hardware that helped them open the iPhone without triggering the security feature that would've erased all of the phone's data after too many incorrect login attempts.
Now, in a twist of fate, the FBI is faced with the question of whether they'll help Apple by letting them in on the software flaw the hackers discovered. "It's an interesting conversation because, we tell Apple, they fix it and then we're back to where we started from," FBI Director James Comey said, though he admitted the agency is "considering" it.
- The FBI reportedly paid a group of hackers to break into the San Bernardino terrorist's iPhone for them, TheWeek.com, April 13, 2016.

3. Fans of the Royal Family will remember the excitement of seeing the official document that granted Prince Harry and Meghan Markle permission to get married. And those who have followed the British monarchy for some time may also have noticed that bride-to-be Princess Eugenie and her fiancé Jack Brooksbank haven't revealed such a document. This stems from the fact that, unlike her first cousin, Prince Andrew's daughter doesn't need her grandmother's approval to wed her longtime love. But why?
The answer is quite simple: Only those who are in the first five positions in line to the throne must ask for permission from Her Majesty to say "I do." And while Prince Harry is currently in the sixth spot, he was fifth in line prior to his nephew Prince Louis' birth. In fact, Prince Harry's place in the line of succession has dramatically changed over the past five years, since the rules got a revamp. In 2013, the Succession of the Crown Act changed the course of royal history. Instead of men taking precedence over their older sisters, the women were now regarded as equals. So, when the Duke and Duchess of Cambridge welcomed their adorable little girl, Princess Charlotte, Prince Harry was bumped from fourth to fifth in line to the throne.
Harry is now sixth in line since the birth of William and Kate's third child Prince Louis in April, who takes precedent because his father is a future monarch and closer to the throne. As it stands now, Princess Eugenie is in the ninth spot, meaning she falls outside the scope of requiring permission from the Queen. The princess is preceded by her older sister, Princess Beatrice, her father Prince Andrew, Harry, Louis, Charlotte, Prince George, Prince William and his father, Prince Charles.
Though Eugenie didn't require formal permission, it's quite likely that she offered the monarch the courtesy of letting her in on their future plans. After seven years of dating, Jack has been included in many family events, including the Easter service at St. George's Chapel earlier this year and Royal Ascots in the past. It's safe to say that the 31-year-old is already an honorary member of the royal clan, and their October nuptials – which will take place at Windsor Castle's St. George's Chapel, like Meghan and Harry's did – will be the cherry on top of a beautiful relationship.
- Why Prince Harry had to get permission to marry Meghan but Princess Eugenie didn't, HelloMagazine.com, July 6, 2018.
本文仅代表作者本人观点,与本网立场无关。欢迎大家讨论学术问题,尊重他人,禁止人身攻击和发布一切违反国家现行法律法规的内容。
About the author: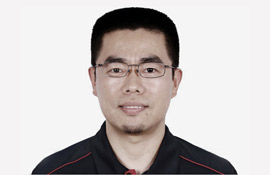 Zhang Xin is Trainer at chinadaily.com.cn. He has been with China Daily since 1988, when he graduated from Beijing Foreign Studies University. Write him at: zhangxin@chinadaily.com.cn, or raise a question for potential use in a future column.
(作者:张欣 编辑:丹妮)
中国日报网英语点津版权说明:凡注明来源为"中国日报网英语点津:XXX(署名)"的原创作品,除与中国日报网签署英语点津内容授权协议的网站外,其他任何网站或单位未经允许不得非法盗链、转载和使用,违者必究。如需使用,请与010-84883561联系;凡本网注明"来源:XXX(非英语点津)"的作品,均转载自其它媒体,目的在于传播更多信息,其他媒体如需转载,请与稿件来源方联系,如产生任何问题与本网无关;本网所发布的歌曲、电影片段,版权归原作者所有,仅供学习与研究,如果侵权,请提供版权证明,以便尽快删除。