Right up Mark's alley? 烂熟于心
中国日报网 2019-01-11 14:05
Reader question:
Please explain "cover song" and, especially "up Mark's alley" in this sentence:
They sing cover songs from the 60's and 70's so their music is right up Mark's alley and he definitely enjoyed it.

My comments:
Cover songs are lead or title songs on the front cover of an album, so they're really the best or hit songs.
In our example, apparently Mark went to a concert where singers sang all their favorite songs from the 1960's and 70's, old songs that Mark has always enjoyed and so he definitely had a good time.
"Right up Mark's alley" means they were all songs he's familiar with, songs that are to his taste.
Literally, one's alley is the street where one lives, alley being a small and narrow street.
Naturally you're very familiar with the street in which you live, particular when that street happens to be a particularly small and narrow one. Your alley is then, like, your turf, as in turf war, your base, your territory, your home ground, your backyard or what have you.
Hence the idea, up one's alley – something they're familiar with, something they are comfortable with, something they enjoy or enjoy doing very much.
And, to drive the point firmly home, here are a few media examples, all recent, of things or activities that are up someone's alley:

1. Is it possible to learn to juggle using virtual reality? This is the question Emporia State University professor Michael Butler asked himself after witnessing a display of some of the newest technology — including virtual reality — by some of his ESU colleagues put on in Memorial Union about a year ago. The display allowed him to explore an interactive, 3-D world using an HTC-Vive and made him wonder what could be done with such technology.
"Part of my academic expertise I guess is technology and I've always been very involved in whatever sort of new and latest greatest tech stuff on this campus," Butler said.
He thought it was "really cool."
Later, after watching a boy on Youtube talk about using this same system Butler had tried to learn to juggle, he started to wonder if such skills learned in virtual reality could be transferred to the real world.
"He was saying that this is the best thing in the world to learn to juggle because in virtual reality, although there are, I'm gonna say, real-world physics — and what I mean by that is there's gravity and things collide and it sort of mimics the real world in terms of the interaction and how things behave," he said. "However, you can adjust the physics."
Gravity can be cut in half, if need be, in virtual reality, which makes it easier to perform activities that require hand-eye coordination.
A hobbyist juggler himself who started in his teens and has taught juggling to ESU students in some of his classes, he thought it would be interesting to find out if this boy was correct and the skill could be learned via virtual reality.
Butler has a doctorate in human motor learning and studies how people learn movement, so this was right up his alley. He decided a study should be conducted. Butler and colleagues Keith Pfannenstiel and Paul Luebbers, who serves as ESU's Department Chair in the area of Health, Physical Education, and Recreation began the study.
"We can study to see if what this kid claimed is true. Can people learn to juggle in virtual reality? How does it compare to learning in real life and if people can learn to juggle in virtual reality, can they then take that into real life?" Butler said.
Right now, the study seeks to learn if people can be taught to juggle in virtual reality, if they learn faster that way, and if the skills are transferable, though there may be other questions in the future.
Butler and his colleagues, after looking around the academic world and finding that no one else was doing a study like this, started their study with about 12 senior citizens as subjects.
So far, early results seem favorable, he said.
Some of the participants, Butler said, have issues such as Parkinson's, and told him they felt the exercise could benefit their conditions.
"Whether or not that's true, I certainly am not in a position to say at this point in time. But it's an interesting idea," he said.
- ESU professor working on study to see if people can learn to juggle using virtual reality, EmporiaGazzette.com, July 7, 2018.

2. In case you missed it, Steven Adams recently appeared in a hilarious new commercial for Budweiser along with Lakers forward Kyle Kuzma and Knicks guard Tim Hardaway Jr.
The new spot, called 'Deck the Shelves with NBA Elves,' depicts the three NBA players sitting on shelves, cabinets and bar tops celebrating and cheering on NBA fans who hydrate as they enjoy Budweiser.
Adams discussed the commercial on Saturday.
"A bunch of old mates came up and hit me up about it," Adams said. "Then I was like, 'Oh, yeah, it seems okay.' Then they showed me the outfit and I was like, 'Yeah, that looks pretty much up my alley.' Thought I'd give it a crack, mate."
He also may be a natural at this acting stuff, too.
"Usually, with those, they go for like an hour and a half, two hours, but it was two clips," Adams said. "It was a lot of stuff I didn't even say, you know how I am, mate, I said a lot of stuff that they can't use. It was fun, though."
- Steven Adams says Budweiser commercial was 'pretty much up my alley', OKCThunderWire.com, December 22, 2018.

3. For the last few months, Mary Winchenbach has been in deep doo-doo — and she's only getting deeper.
Ever since two videos of the Maine resident slinging homemade trinkets made of moose turds at a local craft fair went viral in September, she's been fielding interviews from all over, and making her signature poop products nonstop.
To keep up with the demand for her tchotchkes, Winchenbach, 58, had to quit her day job at a seaweed fertilizer plant and even hired extra workers to help manufacture and ship the goods for her business, Tirdy Works.
"Oh my God, it has been freakin' crazy. I have [expletive] from one end of my house to the other, and right now we are so behind on orders," Winchenbach said in a telephone interview. "We've been so damn busy making the turds and shipping the turds."
Soon, the demand for Winchenbach's "Poo-poo platters," "Poo-poo clocks," and "Stool Samples" could surge once more.
Winchenbach, who lives in Somerville, Maine, with Deb Nicholls, her partner of 12 years, said they recently returned home from a trip to Los Angeles, where they filmed a television segment for the upcoming season of "Tosh.0" on Comedy Central.
She said the station apparently caught wind of her creations as more television stations and news sites picked up on the viral video of Winchenbach selling her humorous products at Maine's Common Ground Country Fair last year.
"It was probably right up his alley," she said of the show's host, Daniel Tosh, "because that's the kind of guy he is."
A spokeswoman for Comedy Central confirmed in an e-mail that Tosh taped a piece with Winchenbach recently and the segment will probably air next season, in the spring.
To make her products, Winchenbach scours the woods of Maine for droppings and then hauls them back home. The trinkets she creates, she says, are safe, and are dried and coated before they're turned into masterpieces to be delivered.
- No poop: Maine woman's moose dung products will appear on 'Tosh.0', BostonGlobe.com, January 10, 2019.
本文仅代表作者本人观点,与本网立场无关。欢迎大家讨论学术问题,尊重他人,禁止人身攻击和发布一切违反国家现行法律法规的内容。
About the author: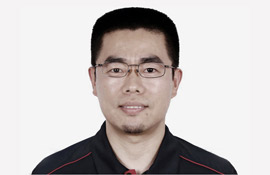 Zhang Xin is Trainer at chinadaily.com.cn. He has been with China Daily since 1988, when he graduated from Beijing Foreign Studies University. Write him at: zhangxin@chinadaily.com.cn, or raise a question for potential use in a future column.
(作者:张欣 编辑:丹妮)
中国日报网英语点津版权说明:凡注明来源为"中国日报网英语点津:XXX(署名)"的原创作品,除与中国日报网签署英语点津内容授权协议的网站外,其他任何网站或单位未经允许不得非法盗链、转载和使用,违者必究。如需使用,请与010-84883561联系;凡本网注明"来源:XXX(非英语点津)"的作品,均转载自其它媒体,目的在于传播更多信息,其他媒体如需转载,请与稿件来源方联系,如产生任何问题与本网无关;本网所发布的歌曲、电影片段,版权归原作者所有,仅供学习与研究,如果侵权,请提供版权证明,以便尽快删除。