Voice of reason? 理性的声音?
中国日报网 2019-04-19 15:05
分享到微信 Reader question:
When someone is described as a "voice of reason", what does it mean exactly?
My comments:
Literally, voice of reason refers to the voice of a person who sounds reasonable, rational, logical – especially in situations where discussions get heated and many people begin to lose their head, i.e. their composure.
The voice of reason is not someone who easily loses his composure. Instead he is a cool head. You can count on him to continue to be reasonable.
We've all observed or been a part of a scene of a quarrel, especially one that involves quite a few people. When push comes to shove, so to speak, pardon the expression, when a discussion becomes heated, we see someone blow his top. At that point this person is not able to speak without raising his voice, without sounding angry, without perhaps swinging his arms and jumping up and down.
From that point on, he's unable to make any reasonable argument. All he can do is insist that he is right or else.
A voice of reason is quite the opposite. A voice of reason is able to retain his calm and composure. A voice of reason is someone who continues to be able to make an argument based on logic. Amidst the hubbub (chaos), listeners can tell his words are still well-thought out, not just senseless prattles and babble and jabber.
Put another way, a voice of reason is someone who continues to know what he's talking about.
All right, let's read a few media examples for some real-life insight:
Chauncey Billups looked jittery and skipped around the court like a hyperactive child. Richard Hamilton played under control and served as the calm voice of reason.
Among the strangest sights in a bizarre Game 1 of the Eastern Conference finals was the personality swap between Detroit's two All-Star guards. Billups often has to settle down his backcourt partner in high-stakes games. Their roles were reversed in the Pistons' 79-76 victory over Cleveland Monday night.
"When I go out there too anxious, he's yelling and screaming at me," Hamilton said after practice Tuesday afternoon. "Last night, I was doing the same thing to him."
Caught off guard by Cleveland's aggressive pick-and-roll defense, Billups committed seven turnovers and made only five assists. Billups' shaky performance allowed the Cavs to disrupt the Pistons' attack most of the game. Hamilton, who had 24 points, seven assists and just one turnover, was the steadying force for an offense that produced just 35 first-half points.
"He kept telling me, ÔYo, settle down. Relax. Just make the plays. Don't worry about it,' " Billups said. "We're there for one another like that, especially when one of us is struggling. That other one is always there to have your back and that's why we're such a great tandem."
- Billups, offense must adapt, TheOaklandPress.com, May 23, 2007.
Chris Cuomo is the voice of reason on CNN?It's true. Or at least it was true on Wednesday night as Cuomo called out colleague Don Lemon for being "petty and small." This rather shocking exchange came after Lemon declared he wouldn't shake Trump's hand, were he in the same position as the Obamas during Wednesday's funeral of George H.W. Bush.
During the switch over From Cuomo Prime Time to Don Lemon Tonight, Lemon blurted, "I'm just being honest.... I don't think I would shake hands with him." Then, in a weird moment that must be seen, Lemon brought on a production assistant to visually demonstrate what one president snubbing another looks like. Cuomo responded by mocking, "You're petty and small."
After insisting he's just being "real," Cuomo retorted, "Real petty and small."
Generally these crossovers from one show to another are supposed to last a minute or two. This went on for almost seven. Cuomo kept trying to explain that the office of the presidency and a state funeral means something more than dislike, even extreme dislike between two powerful politicians:
CHRIS CUOMO: You keep saying, "Me, me, I, I." They are former presidents. They represent something.
DON LEMON: I'm talking about a lot of folks. I know a lot of people are going to agree with me. This is about humanity. It's not about an office. This is about human decency. Sometimes you have to teach people —
CUOMO: Just because they agree with you doesn't mean you're right.
Cuomo declared, "Somebody's got to be bigger, especially in the presidency." Though the exchange stayed friendly, Lemon eventually declared, "Take him off the screen."
Chris Cuomo: voice of reason on CNN? At least for one night.
- CNN Shocker as Cuomo Calls Out Colleague Don Lemon's Trump Hate: 'Petty and Small', NewsBusters.org, December 6, 2018.
Justin Tuck is a voice of reasonat a time when the Giants fans who cheered him to two Super Bowl championships are emotional wrecks following the talk-of-the-sports-and-entertainment-world trade of Odell Beckham Jr. to the Browns. Once a Giants captain, always a Giants captain.
"Give it time," is Tuck's message to Giants fans. "I'll get mad at his decision if in two years we're still where we are. Why jump on it right now?"
In the meantime, he will trust general manager Dave Gettleman.
"I think Gettleman is doing what he thinks is best for the franchise for the long term, and I don't think anybody can question that," Tuck told The Post. "Everyone gets so emotional about these things, but I think all the players understand this is a business, and we need to approach it as a business, and things like this happen, unfortunately.
"Long story short, I think Odell needed a new change of scenery as well as this team needed to move on and try to get what they got for him."
---How Justin Tuck thinks Giants fans should view Odell Beckham trade, NYPost.com, March 14, 2019.
About the author: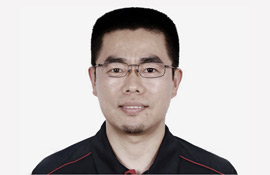 Zhang Xin is Trainer at chinadaily.com.cn. He has been with China Daily since 1988, when he graduated from Beijing Foreign Studies University. Write him at: zhangxin@chinadaily.com.cn, or raise a question for potential use in a future column.
(作者:张欣 编辑:yaning)
中国日报网英语点津版权说明:凡注明来源为"中国日报网英语点津:XXX(署名)"的原创作品,除与中国日报网签署英语点津内容授权协议的网站外,其他任何网站或单位未经允许不得非法盗链、转载和使用,违者必究。如需使用,请与010-84883561联系;凡本网注明"来源:XXX(非英语点津)"的作品,均转载自其它媒体,目的在于传播更多信息,其他媒体如需转载,请与稿件来源方联系,如产生任何问题与本网无关;本网所发布的歌曲、电影片段,版权归原作者所有,仅供学习与研究,如果侵权,请提供版权证明,以便尽快删除。