Defense is our DNA 根植于基因中
中国日报网 2019-10-11 11:55
Reader question:
Please explain this quote: "Defense is our DNA. We love playing defense." What does "our DNA" mean exactly?

My comments:
This means that playing defense is something that comes naturally to this team. It's part of their identity. To say "it's our DNA" is like saying "it's in our genes".
DNA, of course, is short for deoxyribonucleic acid, which, by dictionary definition, is "a self-replicating material which is present in nearly all living organisms as the main constituent of chromosomes."
Chromosomes?
Never mind, just know that they are the carrier of genetic information.
Generic information?
Well, that's basically what passes on from generation to the next.
To go back a little further, in 1866, Austrian scientist Gregor Mendel found hereditary traits in peas. "He notes that certain traits are passed from parent to offspring. Later these factors are called genes" (Wikipedia).
Well, to come back all the way again and to sum up, in short, if something is our DNA or is in our DNA, then that something is in our inherent nature, is what makes us who we are – in the most basic and fundamental sense.
In our example, defense being "our DNA" means that playing defense comes naturally to us, is part and parcel of what we do, is our fundamental trait.
Still in other words, it is our identity.
This means we are known mostly for our defense – rather than by our offense, as some offensive-minded teams are known for.
Now, if you play team sports, you know that a lot of people prefer playing offense, trying to score over opponents. Defense, on the other hand, is hard work and much less glamorous.
However, offense and defense being two sides of the same coin, good teams tend to be good at both. In fact, all good teams emphasize defense. There's a saying in, for example basketball: Offense wins games; defense wins championships.
We've digressed quite a bit, I can see. So let's return swiftly to media examples of something being someone's DNA or part of their DNA or in their DNA:

1. A lengthy New York Times piece about the midterm election revealed an interesting strategy that helped Democrats win back the House: Don't talk about abortion.
Democrats decided that abortion and the largest provider of it, Planned Parenthood, were failed talking points after President Donald Trump and pro-life Republicans won unexpected victories in 2016, according to the report.
Pro-abortion Congresswoman Nancy Pelosi, potentially the next speaker of the House, reportedly urged Democrats to talk about "health care" instead of abortion – though abortion activists now seem to lump the two together, as if killing unborn babies is just another medical procedure.
It isn't hard to understand why they took this strategy. Abortion is a highly contentious issue, even among Democrats, and "health care" sounds much better than advocating for the killing of unborn babies for any reason up to birth.
The report explains:
Nancy Pelosi did not want to talk about Planned Parenthood.
It was a meeting of House Democrats early in 2017, during Republicans' drive that March to strike down the Affordable Care Act. Ms. Pelosi and her political lieutenants laid out their counterattack: Democrats would talk about pre-existing conditions and millions of people losing coverage. And they would talk about an "age tax" — a provision in the Obamacare replacement passed by the House, which would have allowed health insurers to widen the premium gap between younger and older customers.
Ms. Pelosi acknowledged it would require restraint from Democrats. In her own San Francisco district, she said, people wanted her to fight the health care battle over funding for Planned Parenthood and Medicaid. "Those things are in our DNA, but they are not in our talking points," Ms. Pelosi became fond of saying, according to a close associate.
That narrow focus on health care and a few economic issues came to define the Democrats' midterm campaign. It represented a wholesale rejection of Hillary Clinton's failed strategy in the 2016 campaign, which focused on Mr. Trump's fitness for office.
- Nancy Pelosi Admits Abortion is a Losing Issue for Democrats: Talk Health Care Instead, LifeNews.com, November 9, 2018.

2. Good times often don't last, but the Rockets finally, if relatively briefly, got to remember the way they were.
After all the offensive struggles, they at last got to revisit last season's offense like a friend who had left town and come in for a visit to remind of the good times.
That did not last, but it was enough for the Rockets to build a cushion and hold on down the stretch to top the Indiana Pacers 115-103 on Sunday. Rocky as the finish was, any win would do, especially with at least a reminder they can score so well again.
"It just feels that this is us," center Clint Capela said. "It feels good to be like, 'Oh, there we go. This is what we do.
"Everybody, CP (Chris Paul), James (Harden), got back our rhythm, making a lot of shots.
"They did a great job. We just have to remember, this is our DNA. This is how we play. We can't lose that."
With Harden scoring a season-high 40 points, the Rockets hit 20 3-pointers Sunday, four more than any game this season and did it a night after knocking down a season-low nine 3s.
- Rockets see a return of their old offense, hold on to beat Pacers, HoustonChronicle.com, November 11, 2018.

3. A pewter communion chalice has found its way back to Mascoutah, 123 years after a parishioner pulled it out of debris at a local church and kept it as a souvenir of a deadly tornado.
The chalice was handed down through the man's family and spent the past 54 years in Minnesota. But this summer, it was returned to St. John United Church of Christ, thanks to an antique dealer with a sentimental side.
"It's nice to have it back," said the Rev. Hugh Fitz, pastor at St. John for 15 years. "It's not a priceless item, but it's part of our DNA and our history, and we almost have to assume that it came with the German immigrants who settled here in the late 1830s."
The 8-inch-tall chalice is nearly black but otherwise in perfect condition. It's being displayed behind glass in a cupboard at the church.
Mascoutah historian Marilyn Welch, 90, a longtime St. John member, is thrilled any time a significant artifact is recovered. But she sees this as a special opportunity to educate the public.
Many people don't even know about the tornado, which cut a path through St. Louis, East St. Louis, Belleville, Mascoutah and New Baden on May 27, 1896. It killed 255 people, injured 1,000, left 5,000 homeless and caused more than $12 million in property damage (about $366.5 million by today's standards).
"It's still ranked the third worst tornado in the United States," said Welch, who also is a board member for Mascoutah Historical Society.
- Communion chalice lost in 1896 tornado returned, AP, September 15, 2019.
本文仅代表作者本人观点,与本网立场无关。欢迎大家讨论学术问题,尊重他人,禁止人身攻击和发布一切违反国家现行法律法规的内容。
About the author: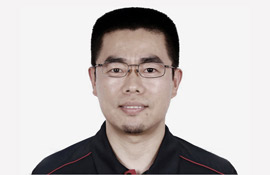 Zhang Xin is Trainer at chinadaily.com.cn. He has been with China Daily since 1988, when he graduated from Beijing Foreign Studies University. Write him at: zhangxin@chinadaily.com.cn, or raise a question for potential use in a future column.
(作者:张欣 编辑:丹妮)
中国日报网英语点津版权说明:凡注明来源为"中国日报网英语点津:XXX(署名)"的原创作品,除与中国日报网签署英语点津内容授权协议的网站外,其他任何网站或单位未经允许不得非法盗链、转载和使用,违者必究。如需使用,请与010-84883561联系;凡本网注明"来源:XXX(非英语点津)"的作品,均转载自其它媒体,目的在于传播更多信息,其他媒体如需转载,请与稿件来源方联系,如产生任何问题与本网无关;本网所发布的歌曲、电影片段,版权归原作者所有,仅供学习与研究,如果侵权,请提供版权证明,以便尽快删除。