Might as well? 不妨
中国日报网 2019-11-12 12:29
分享到微信 Reader question:
Please explain this sentence, particularly "might as well":
Einstein's best-known biographer, Abraham Pais, noted that the scientist "might as well have gone fishing" rather than continue his physics research after 1925.

My comments:
What Mr. Pais, the biographer, is trying to emphasize here is that Albert Einstein's best work was accomplished before 1925.
Even if he would've done nothing worthwhile after that, his position in physics and in history would still be secure. That's why Pais says Einstein "might as well have gone fishing" after 1925. Einstein went on to live till 1955. He was born in 1879.
Might means may, probably. "As well" means equal to, equally as good. In our example, "might as well" literally means that if Einstein had gone fishing, it would have been equally good, fitting or worthwhile. It would've been as good as continuing on with his physics research.
Put another way, Mr. Pais is suggesting that Einstein had done nothing as significant as or more significant than, say, his theory of general relativity, his greatest single piece of work. In other words, Pais is saying that Einstein had scaled the proverbial peak by 1925 and had since gone, so to speak, down the hill.
Pais may be right. Einstein did not produce any single piece of work as significant as or more significant that the theory of relativity. But then again who has?
You know what, I have my own theory why Einstein did not go fishing after 1925.
He just did not like fishing as much as he loved physics research.
Or golfing, for that matter.
Or socializing.
Now there's a thought.
Well, anyways, "might" in "might as well" implies it does not happen in actuality. Einstein, that is, did not go fishing for a living.
Here are a few recent examples of "might as well" in the media – recent, relatively speaking, of course:

1. One of the biggest branding mistakes companies make is not paying enough attention to their tone of voice.
"Voice" is one of those concepts that may sound better suited to the literary world than the business world. In literature, it refers to how you come across in your writing. In marketing, your tone of voice can be a significant differentiator.
Companies spend a great deal of time on logos, color selection and other cues they think of as "branding"—the look and feel of their website, collateral and signage. But very few take the time to consider the benefits of employing a unique voice. Consider this: If you were to mask the logo on your website, would you sound unique? Or would you sound like everyone else (i.e., your competitors)?
Your tone of voice isn't about what you say but how you say it—and it's about the impression your brand leaves on customers. Developed correctly, your tone of voice can be the secret sauce in your content recipe.
Marketers call this developing a "brand positioning statement" or "mission statement."
Whatever you call it, the idea is to define who you are. Or, as Dr. Seuss wrote, "Today you are you, that is truer than true. There is no one alive who is youer than you." He wasn't talking about marketing, but he might as well have been.
Ask yourself these key questions:
"What's unique about your business?"
"What's special about your products?"
"What's special about the way you do business?"
"What's your company culture like? (Are you buttoned-up or playful?)"
"How do your employees relax together? (Do you play beer pong in the parking lot or have morning yoga sessions?)"
How do you want to be regarded by customers and your community? (Are you a trusted source for high-level insight or hands-on practical advice?)
This should help you come up with a few keywords that best define who you are. But go beyond the generic.
"Don't fall into the trap of choosing trite, nondifferentiating factors such as 'friendly,' 'honest,' 'reliable' and so on as brand values," says Andrew Bredenkamp, founder and chairman of Acrolinx, a software platform that helps companies hone their tone of voice. Such attributes are just one big duh, or "the least you would expect from any company," he says. "They may be important to your service, but they won't help you create a distinctive tone."
It's also wise to avoid buzzwords and clichés like "cutting-edge," "proactive" or "revolutionary." "If you're looking to be different, they put you at a disadvantage right from the start," Bredenkamp notes.
Instead, identify more descriptive terms that reflect specifically who you are and how you wish to be perceived.
- What's Your Company's 'Voice'? Here's How to Figure It Out, Entrepreneur.com, April 5, 2015.

2. An Australian woman whose mother arranged for her to be raped has urged a court to extend her mother's sentence as her release date approaches.
Peta Butler was 16 when an overweight man with bulging eyes raped her in a Toowoomba hotel room. Butler's mother, Therese, not only organized the rape but sat outside smoking a cigarette while her daughter was being violated, according to news.com.au.
Therese told her teen daughter that they were going to the hotel for a "girl's weekend." Once there, she fed her alcohol and put her in the bedroom to be raped, the news station reported.
"Not long after that, he entered the room. He didn't say anything. He just literally walked up to me and took off his clothes and took off my pants. I was frozen. I couldn't do anything. I just couldn't move," Peta recalled to the Courier Mail.
A taped phone conversation between Peta and Therese caught the mother confessing to the arrangement. Therese reportedly maintained that she wouldn't have allowed the man to touch her daughter had she been under 16. (The age of consent in Australia is 16 or 17, per the Australian Institute of Family Studies.)
Peta is heard telling her mother, "I told him no, I was crying, I was telling him no."
The mother responds by insisting that the man said, "he wasn't gonna touch you."
The man who attacked Peta, now 27, remains at large. And Therese, who was sentenced to four years in February for the 2006 incident, will be a free woman in October as her sentence was suspended after 12 months.
A petition is calling the Attorney-General to appeal the case and extend Therese's sentence—and her own daughter is the petition's most vocal supporter.
"Australian children who are victims of pain, torture, neglect, malnutrition, emotionally or sexually abused or subject to violence for several minutes, hours or days should automatically have their abuser sentenced to Murder Charges. These charges should be automatic when there is sufficient evidence to prosecute," it reads in part.
Peta, who has children of her own, claimed she fears for her and her family's life with her mother's impending release.
Peta told 9Now's A Current Affair, "She knew what was happening. She might as well have murdered me on that day. She took me to that place and premeditated the whole thing. That's not a mother."
- 'She might as well have murdered me': Woman pushes for more jail time for mom who arranged her rape, CrimeOnline.com, April 12, 2018.

3. The big dream – to win the FIFA Women's World Cup™ – may have ended in a Lyon thriller, but England are determined to finish on the podium. Abbie McManus, who could replace the suspended Millie Bright at centre-back, is particularly eager to claim a bronze medal to present to her father.
"In a World Cup, if it's not gold then silver, if it's not silver then bronze," she told FIFA. "I definitely don't want to finish fourth – if you finish fourth you might as well have gone home in the group stages, to be honest. Nobody remembers fourth.
"And I am not saying anybody remembers third, but at least I will have something to put around my dad's neck. My dad has all of them, he will definitely be getting that bronze medal, that's for sure."
The England squad arrived in Nice on Wednesday, having tried to shake off the disappointment of losing to USA, in the departure lounge.
"We had to stick together as a team," McManus said. "We had to sit on a plane together, we had to come to the next destination together, but it's part of being professional.
"Phil was very clear that he didn't want any tears. We gave everything on the pitch, you could see the girls Lucy [Bronze], Jill [Scott], Steph [Houghton], the energy was sapped out of them, they gave literally everything.
"It's hard to take for the girls because it's the third semi-final that they've not actually reached the Final. For me it's just the first, so it's a little bit different, but it still hurts. It's hard, I wasn't on the pitch, you feel for the girls and they just need that moment to bring themselves together.
"Fair play to the USA, they came to do a job and got to the Final, they completed that. I think they thought this was their Final, to beat us.
"They know that we are so on their toes and they have to bring more and more now to each tournament, because we are right up behind them and we want to overtake them. This time we haven't, but next time I hope that we do. We want the next World Cup already."
Before England look to 2023, however, they face Sweden – to whom they lost 2-0 in a friendly in November – for bronze.
- McManus: I must put a medal around my father's neck, FIFA.com, July 5, 2019.
本文仅代表作者本人观点,与本网立场无关。欢迎大家讨论学术问题,尊重他人,禁止人身攻击和发布一切违反国家现行法律法规的内容。
About the author: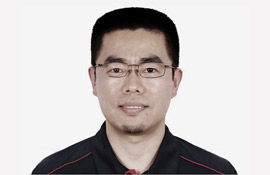 Zhang Xin is Trainer at chinadaily.com.cn. He has been with China Daily since 1988, when he graduated from Beijing Foreign Studies University. Write him at: zhangxin@chinadaily.com.cn, or raise a question for potential use in a future column.
(作者:张欣 编辑:丹妮)
中国日报网英语点津版权说明:凡注明来源为"中国日报网英语点津:XXX(署名)"的原创作品,除与中国日报网签署英语点津内容授权协议的网站外,其他任何网站或单位未经允许不得非法盗链、转载和使用,违者必究。如需使用,请与010-84883561联系;凡本网注明"来源:XXX(非英语点津)"的作品,均转载自其它媒体,目的在于传播更多信息,其他媒体如需转载,请与稿件来源方联系,如产生任何问题与本网无关;本网所发布的歌曲、电影片段,版权归原作者所有,仅供学习与研究,如果侵权,请提供版权证明,以便尽快删除。