Lockup or lockdown? 禁闭
中国日报网 2020-05-12 14:07
Reader question:
Coronavirus lockup or coronavirus lockdown, which is correct?
My comments:
Both are correct.
This has to do with the fact that sometimes, "up" and "down" mean the same thing in English.
Odd, I know.
Count this as an example as to how difficult and unreasonable the English language can be to the foreign learner.
We all understand that up and down are opposites, up pointing to the sky whereas down to the ground.
In many cases, they do point to opposite directions. Going downtown, for example, means going to the town center or the center of any large city where the business district is located. Going uptown, on the other hand, means going the other direction, towards the outskirts of the town or city.
However, sometimes, going up means going in the same direction as going down. I have the game of basketball as proof. In basketball, going up the court means exactly as going down the court. Strangely, in both cases, they mean you're on offense, dribbling the ball towards the basket you're attacking.
Same thing in the case of lockup or lockdown. Both literally mean fastening the door or gate to a place using a lock. And both words are used to describe the situation where a factory or prison closes all the doors so that all activities are halted or kept to a minimum.
In the coronavirus lockup or lockdown, this means people are encouraged to stay home while all businesses are asked to shutter up. Close shop, in other words.
This is about what I know and I'll call it a day right here, in case I may get anything wrong if I keep talking.
Oh, one more thing. I see lockdown used more often in the news than lockup. This is perhaps due to the fact that down often denotes deceleration (slow down to a complete standstill, e.g.) whereas up denotes acceleration (speed up, e.g.).
Anyway, here are examples of lockdown and lockup in recent news:

1. The lockdown affecting large segments of the American public to try to curb the spread of the coronavirus is likely to last 10 to 12 weeks, or until early June, U.S. Treasury Secretary Steven Mnuchin said on Sunday.
Americans are adapting to the biggest change in daily life since World War Two with schools closed, sports canceled and economic upheaval as job losses mount with the shuttering of businesses across many industries.
Hospitals are scrambling for protective equipment for healthcare workers and ventilators as they brace for a wave of patients who will need help breathing. U.S. cases climbed to over 25,000 on Sunday morning and at least 325 people have died, with about half the cases in New York state, according to a Reuters tally.
- U.S. Coronavirus Lockdown to Last 10-12 Weeks, Top Trump Official Says, USNews.com, March 22, 2020.

2. Donald Trump lost approximately $ 1 billion of his paper wealth in the past month, as the coronavirus lockdown forced the closure of the offices, shopping malls, hotels and golf courses he owns.
The fortune of the American president went from 3.1 billion dollars (2.5 billion) on March 1 to 2.1 billion dollars on March 18 (at the height of the stock market panic caused by the coronavirus pandemic) according to Forbes Magazines the annual list of billionaires.
The collapse induced by Covid-19 on the world stock markets led 267 of the richest people in the world to lose their billionaire status, according to the magazine's 34th annual wealth ranking. There are now 2,095 billionaires worldwide and 1,062 of them have lost money compared to last year.
- Donald Trump "lost $ 1 billion in one month" after coronavirus lockup, ExBulletin.com, April 7, 2020.

3. For weeks, as the coronavirus spread through the Cook County jail and state prisons, Chicago's downtown federal lockup continued to report no cases of the virus among its detainees.
That's changed.
Six inmates in Chicago's Metropolitan Correctional Center have now tested positive for the coronavirus, according to John Murphy, executive director of the Federal Defender Program in the Northern District of Illinois. That's a sharp uptick from Tuesday, when the Federal Bureau of Prisons confirmed one inmate had tested positive for the first time.
It could also lead to renewed scrutiny about who is held there. Before the first positive test, Chicago's federal judges did not appear inclined to release inmates for fear of the virus alone. But Wednesday afternoon, defense attorneys began making new bids for release on behalf of individual clients, citing the new number.
"Once it gets started it seems to accelerate fairly quickly," Murphy said of the virus in an interview.
In its daily tally of coronavirus cases Wednesday, the BOP reported just one inmate with coronavirus at the MCC. It also said eight staff members there had tested positive. Officials have said at least seven of those staff members have had limited contact with inmates.
- Coronavirus surfaces for first time among Chicago's federal jail inmates, SunTimes.com, April 15, 2020.
本文仅代表作者本人观点,与本网立场无关。欢迎大家讨论学术问题,尊重他人,禁止人身攻击和发布一切违反国家现行法律法规的内容。
About the author: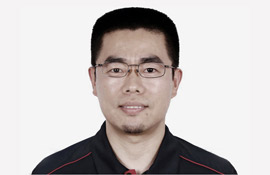 Zhang Xin is Trainer at chinadaily.com.cn. He has been with China Daily since 1988, when he graduated from Beijing Foreign Studies University. Write him at: zhangxin@chinadaily.com.cn, or raise a question for potential use in a future column.
(作者:张欣 编辑:丹妮)
中国日报网英语点津版权说明:凡注明来源为"中国日报网英语点津:XXX(署名)"的原创作品,除与中国日报网签署英语点津内容授权协议的网站外,其他任何网站或单位未经允许不得非法盗链、转载和使用,违者必究。如需使用,请与010-84883561联系;凡本网注明"来源:XXX(非英语点津)"的作品,均转载自其它媒体,目的在于传播更多信息,其他媒体如需转载,请与稿件来源方联系,如产生任何问题与本网无关;本网所发布的歌曲、电影片段,版权归原作者所有,仅供学习与研究,如果侵权,请提供版权证明,以便尽快删除。