Doesn't do himself any favor? 对他没有任何好处
中国日报网 2020-09-01 11:31
分享到微信 Reader question:
Please explain "doesn't do himself any favor" in this sentence: He doesn't do himself any favor by bragging about his salary.

My comments:
"Not doing oneself any favor" is an idiom that means you're doing something unhelpful, something that doesn't help your cause, in terms of what you want to achieve.
In our example, "he" probably is already having a strained relationship with his pals. It's probably not the first time, either, that he's bragged about his salary.
Well, you make more money than your pals do. That itself sometimes breeds resentment. Why, you may not even deserve it, they say. You're not any better than us. So why should you be paid more than any of us?
Well, it's not the hardest thing to imagine that under the circumstance, it's not a good idea for him to keep bragging about his salary. Doing so only increases the resentment, even animosity that they may already have harbored towards him.
If he wants to have their support in any way, well, bragging about his salary certainly doesn't help.
Okay?
Okay. Doing someone a favor, of course, literally means doing something out of kindness rather than necessity. We say, for example: "Do me a favor, please. Get me another cup of coffee." We understand that it's not their usual job to fetch us coffee. It's kind of them to do so. We are grateful for that because we're fully occupied and their little favor helps a lot.
In the same way, we can do ourselves a favor by doing things that are extra helpful.
On the other hand, when we don't do things that are helpful, people say well, you're not doing yourself a favor.
Obviously that's not the smartest thing we can do to ourselves.
To sum up, the idiom "doesn't do oneself any favor" means doing something detrimental, doing something that hurts our cause – especially in the long term.
All right, here are media examples of people who do or don't do themselves a favor in various situations:

1. The president continues to face pointed questions about members of his cabinet and their contact with Russia.
KOLR10's Political Analyst Dr. Brian Calfano takes a look at what these allegations mean for the Trump Administration.
President Trump just can't seem a catch a break when it comes to news cycles.
After a well-received speech Tuesday evening before a joint session of Congress, the president and his administration find themselves once again embroiled in controversy over Russia, this time regarding the nature and extent of contact between then Senator (now Attorney General) Jeff Sessions and the Russian Ambassador to the U.S.
Because this Russia story doesn't seem to be going away time soon, I think now's a good time for perspective on this issue.
First, there's still a lot we don't know about this story. Some on the left appear comfortable suggesting the president is being blackmailed by the Russians, potentially with a dossier that contains all kinds of incriminating information. But so far this is just wild speculation.
Second, it could very well be that president pronounced lack of willingness to criticize Vladimir Putin is a strategic move. U.S. Presidents since George W. Bush have had difficulty dealing with Putin and getting the Russian president to recognize American interests around the world. This could all be Trump's strategy to reel Putin in.
But third, the president has not done himself any favor by continuing to refuse to release his tax returns. The excuse about being under audit isn't a legal reason to withhold the returns and it does provide critics and allies reason question whether President Trump has business interests in Russia.
- Analysis: Members of Trump's Cabinet and Their Contact with Russia, OzarksFirst.com, March 5, 2017.

2. "Coco, Coco, Coco" chanted Center Court as Cori Gauff battled against Venus Williams, Coco's idol from a very young age. This young lady from Delray Beach Florida left her mark on the tennis world after defeating the five-time Wimbledon Champion in straight sets.
Soon after, Coco rushed past Magdalena Rybarikova in the second round where the world got a glimpse of the teenager's power hitting and speed. The third round match was clearly the highlight of her Wimbledon run as the prodigy showed her composure against Polona Hercog by saving two match points. In a well fought final set which ended seven games to five, Coco was victorious.
Catching the headlines in almost every country, Coco Guaff has become the most talked about 15-year-old in the world. She possesses every characteristic of a future tennis champion such as world class strokes, lightning fast speed, never say die attitude, and the compose to handle pressure on the biggest stage.
Coco, who has been a former junior World Number 1, has also been successful in her doubles career. She won the Junior US Open with partner Caty McNally in 2018. She has also played in two ITF Finals, the ITF Midland and ITF Surprise. In the singles event at the Junior Grand Slams, Coco's highlight was her win at the 2018 French Open and finishing as runner-up from the 2017 US Open.
Not many 15-year-old girls are lauded by Beyoncé and Michelle Obama on social media. Nor do they have million dollar endorsements from companies like New Balance and Head. These factors and the thousands of supporters behind Coco create a pressure that can be overwhelming even for players who are further in their career.
The future certainly isn't going to be straightforward for Coco Gauff and other senior athletes have realized that. Many have come out and given her valuable advice.
Tennis great Rafael Nadal, who had a great Wimbledon, told reporters in a press conference that Coco should enjoy her time on court and work hard off court. He also said that she should not miss too many aspects of her childhood and live as normal a life as possible.
The great Billie Jean King, who has won a staggering 39 Grand Slams and is an advocate for gender equality and social justice, said that Coco received more than 400 calls for sponsorship and endorsements after Wimbledon.
Coco's Wimbledon campaign came to an end against Simona Halep, who eventually went on to lift the beautiful Venus Rosewater Dish after defeating Venus Williams in the summit clash.
However, Coco has certainly done herself a favor by getting past some big names in the tennis circuit. With a fine showing from Wimbledon 2019, the question which pops up is - Can she maintain this momentum and prove to be one of the greatest ever female players in tennis history?
Certainly, she has started well but only more tournaments over time will give us the answer to that question.
- Cori 'Coco' Gauff: The rise of Wimbledon's teenage superstar, Sportskeeda.com, July 18, 2019.

3. Following the publication of the post-synodal apostolic exhortation Querida Amazonia, numerous German-speaking bishops, theologians, and Catholic organizations have weighed in on the document.
As LifeSiteNews reported yesterday, Cardinal Reinhard Marx, president of the German bishops' conference, emphasized that the apostolic exhortation did not expel the final document of the Amazon Synod, which calls for married priests and new ministries for women.
"By no means is it off the table with the publication of the exhortation! Rather, Pope Francis speaks of his desire 'to officially present the final document' together with the apostolic letter, and invites us 'to read it in full,'" Marx said.
The archbishop of Munich pointed out that in the final document of the synod, a majority of two thirds of the 280 participants who had come to Rome to talk about "New Paths for the Church and for an Integral Ecology" in the context of Amazonia, a vast region in South America, "spoke out in favor of exceptions to mandatory celibacy."
...
Father Hubert Wolf, a professor of Church history in Münster, said it is again the bishops' turn to move forward with the issue of married priests, given that Pope Francis did not replace the final document of the Amazon synod with his apostolic exhortation.
According to a report published by katholisch.de, the news website of the German bishops, Wolf "explained the pope's reluctance with his responsibility for the unity of the Church, also in view of criticism 'from the reactionary camp.'"
"I doubt, however, that Francis did himself a favor by this maneuvering, which can also be interpreted as weakness," the professor mused.
With regard to the role of women in the Church, Wolf maintained that Querida Amazonia is likely "to be a great disappointment and unacceptable for many women." The pope's image of women is hardly communicable today, he said.
- German-speaking Catholics disappointed pope's Amazon Synod doc not liberal enough, LifeSite.com, February 13, 2020.
本文仅代表作者本人观点,与本网立场无关。欢迎大家讨论学术问题,尊重他人,禁止人身攻击和发布一切违反国家现行法律法规的内容。
About the author: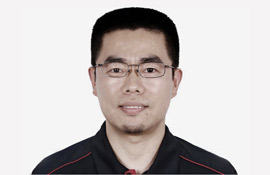 Zhang Xin is Trainer at chinadaily.com.cn. He has been with China Daily since 1988, when he graduated from Beijing Foreign Studies University. Write him at: zhangxin@chinadaily.com.cn, or raise a question for potential use in a future column.
(作者:张欣 编辑:丹妮)
中国日报网英语点津版权说明:凡注明来源为"中国日报网英语点津:XXX(署名)"的原创作品,除与中国日报网签署英语点津内容授权协议的网站外,其他任何网站或单位未经允许不得非法盗链、转载和使用,违者必究。如需使用,请与010-84883561联系;凡本网注明"来源:XXX(非英语点津)"的作品,均转载自其它媒体,目的在于传播更多信息,其他媒体如需转载,请与稿件来源方联系,如产生任何问题与本网无关;本网所发布的歌曲、电影片段,版权归原作者所有,仅供学习与研究,如果侵权,请提供版权证明,以便尽快删除。