Not in the cards? 不可能发生
中国日报网 2020-12-08 15:01
分享到微信 Reader question:
Please explain this sentence: A second term for Trump is not in the cards.

My comments:
This is someone making a prediction saying that US President Donald Trump is unlikely to win reelection and spend another four years in the White House.
Which turns out to be true by the way.
Not to Trump, though. The sorry man in the White House thinks he's been cheated, which is infuriating, or perhaps out-cheated, which is worse.
Trump is refusing to concede defeat but most people have clearly seen the writing on the wall.
That someone in our example who says a second term for Trump is not in the cards certainly sees it.
Imagine Trump going to a fortunate teller to ask exactly that, whether he'd win reelection and get a second term in the Oval Office. The fortune teller opens the cards, which can be tarot cards or ordinary playing cards, and says he or she doesn't see it.
Fortune teller: "If you're winning, I can see it. The cards are such and such and are arranged in a certain way. But right now, I don't see it. The cards I have in hand are different, very different. Instead, I see trouble ahead, a lot of chaos actually. Tumult is in the cards, plenty of it."
See?
And, yes, the idiom "in the cards" or "on the cards" comes from fortune telling via the tarot cards or playing cards. If something is in the cards, some significant event or other is bound to happen, according to fortune telling. On the other hand, if it's not in the cards, then it's unlikely to come to pass.
And here are recent media examples:

1. It doesn't sound like football happening in California is a very realistic scenario at the moment.
In a video tweeted by Kerry Crowley, Democratic California Gov. Gavin Newsom stated that large gatherings are "not in the cards" for the time being because of the coronavirus pandemic.
He also said, "The prospect of mass gatherings is negligible at best until we get to herd immunity and we get to a vaccine."
This isn't good news for people in California who enjoy football because even the most optimistic outlook doesn't include a vaccine by July.
I've long said I can envision a scenario where some states sit out the college football season while others play.
From the sounds of it, mass gatherings won't be allowed anytime soon in California. Seeing as how there's no vaccine likely before July, you'd have to think the football season in California won't happen.
So, what does that mean for college teams and the NFL? I think the NFL will take the 49ers and Chargers out of the state and play elsewhere.
- Gavin Newsom Says Large Gatherings 'Not In The Cards' At The Moment — Football In California Appears To Be In Jeopardy, by David Hookstead, DailyCaller.com, April 15, 2020.

2. With travel plans back on the cards in 2021, the hospitality industry here is "waiting for lift-off", owing to strong pent-up demand, says DBS Group Research analysts Derek Tan and Geraldine Wong.

"The hospitality sector has borne the brunt of the Covid-19 pandemic but there is now light at the end of the tunnel," say the analysts in a Dec 1 note. "With vaccine candidates clearing final trials and entering production, mass travel (especially for leisure) is likely to resume in 2021."
The analysts prefer Ascott Residence Trust and CDL Hospitality Trust for their attractive valuations, maintaining "buy" on both trusts with target prices of $1.20 and $1.40 respectively. Far East Hospitality Trust is the analysts' next pick, with a "buy" call and target price of 70 cents.
"While some portion of future business trips may be permanently disrupted with the adoption of more virtual meetings, we expect that a majority of business meetings (including MICE) requiring travel will restart. Together with the strong pent-up demand for leisure travel, we see a "V-shaped" recovery taking shape as early as 2021, assuming the mass distribution of Covid-19 vaccines is possible in the first half of 2021," they add.
- With travel back on the cards, hospitality 'waiting for lift-off', TheEdgeSingapore.com, December 2, 2020.

3. An investigation conducted by ABC into sexual assault allegations raised against The Bachelorette contestant Uzoma "Eazy" Nwachukwu was ruled "inconclusive," Heavy has learned from the woman making the accusations.
The allegations first came to light in October 2020, when a woman said in a series of tweets that she had a non-consensual sexual encounter with Nwachukwu. "I will not stand by quietly anymore, while this aggressor is paraded around on this show as a 'stand up guy' or as the 'comic,'" she wrote in one tweet. She later deleted the thread at the recommendation of legal counsel, she said.
Spoilers expert Reality Steve — after hearing the allegations from the woman firsthand — said that he didn't think Nwachukwu would be seen on the Bachelor franchise again. He reported later in October 2020 that the woman "spoke with the legal team of NZK Productions this past Friday for 90 minutes, and told them everything she told me about a prior experience with Eazy. So now the show is 100% aware of allegations against him."
The woman — who wishes to remain anonymous — told Heavy that in addition to the conversation she had with The Bachelorette's production team, the legal team also spoke with Nwachukwu about the allegations.
"That's why it's he said, she said," she told Heavy. "He said consensual, I said not. … I told them I spoke my truth so I can no longer carry guilt, if something happens from here, it's not on me, it's on them."
Heavy has reached out to ABC for comment.
In the first half of The Bachelorette, Nwachukwu's role has been that of a comedian in the background. While the romantic connections of other contestants have been highlighted, footage of Nwachukwu's conversations with Clare Crawley and Tayshia Adams has rarely made it to air.
It's impossible to know if that's a decision made by ABC in light of the allegations made against him, but his role on the show is expected to change in episode eight.
A preview showed Nwachukwu on what appears to be a haunted house-themed one-on-one date with Adams. He's even shown saying, "I honestly feel like I'm falling in love with you."
But the fairytale ending is not in the cards for Nwachukwu. Reality Steve has already revealed the final four contestants, and he is not on the list. There were 12 men remaining after episode seven, so his days on the show are numbered and episode eight is expected to be his last.
- ABC's Investigation Into Eazy Nwachukwu Sexual Assault Allegations, Heavy.com, December 4, 2020.
本文仅代表作者本人观点,与本网立场无关。欢迎大家讨论学术问题,尊重他人,禁止人身攻击和发布一切违反国家现行法律法规的内容。
About the author: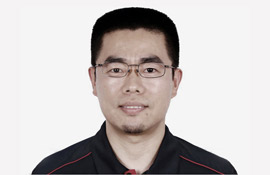 Zhang Xin is Trainer at chinadaily.com.cn. He has been with China Daily since 1988, when he graduated from Beijing Foreign Studies University. Write him at: zhangxin@chinadaily.com.cn, or raise a question for potential use in a future column.
(作者:张欣 编辑:丹妮)
中国日报网英语点津版权说明:凡注明来源为"中国日报网英语点津:XXX(署名)"的原创作品,除与中国日报网签署英语点津内容授权协议的网站外,其他任何网站或单位未经允许不得非法盗链、转载和使用,违者必究。如需使用,请与010-84883561联系;凡本网注明"来源:XXX(非英语点津)"的作品,均转载自其它媒体,目的在于传播更多信息,其他媒体如需转载,请与稿件来源方联系,如产生任何问题与本网无关;本网所发布的歌曲、电影片段,版权归原作者所有,仅供学习与研究,如果侵权,请提供版权证明,以便尽快删除。