Go your way? 如你所愿
中国日报网 2022-10-21 13:38
分享到微信 Reader question:
Please explain this sentence: If other results also go our way, we'll be champions.

My comments:
If we get lucky, that is.
If our team wins, and other competing teams all lose, we'll be champions.
That's the idea.
Let's use an example to illustrate the point, the point of "other results also go our way." Say, Team A, Team B, C and D all have the same number of points on the points table. With just one game to go, all four teams have a chance to win the championship.
If Teams A, B, C, D all win their last game, then, of course, they'll still share the same number of points. In that case, let them share the championship trophy, just to make it simple.
However, if Team A wins its game while Teams B, C and D all lose theirs, then Team A wins the championship by having the most points. And that'll be a situation where not only you win your game, other results – Team B, C and D all lose – "also go your way."
Go your way?
Literally, for someone to go your way is for them to go in the same direction as you are going. That can be beneficial. For example, if the three of you are all going in the same direction after, say, a group dinner, you can all squeeze into one car – and save some time and money.
In another example, if you're rowing a boat and have the wind go your way, you'll be able to go faster. This is actually called having a tailwind, which pushes you from behind.
Conversely, if the wind blows in the other direction, hitting you in the face, you'll be slowed down. That's called having a headwind. That's unhelpful, obviously.
Hence, metaphorically speaking, if things go your way, they are helpful and beneficial, not detrimental.
Needless to say, if all things go your way, you're very lucky.
All right?
All right, here are recent media examples of situations where things go someone's way:

1. Richard Williams laid the foundation for the astounding careers of Venus and Serena Williams. He trained them diligently, and when he thought they got better, he approached some of the famous coaches to give training. Paul Cohen, the legendary coach of John McEnroe and Pete Sampras, had taken the Williams daughters under his wings. Later on, the Williams sisters also got the opportunity to play with the two tennis legends.
This all happened because of the sheer resilience of their father, Richard Williams, who wanted his daughters to have nothing less than the best.
How did Venus and Serena Williams meet John McEnroe and Pete Sampras?
Venus and Serena Williams were training under the aegis of their father when he went and contacted Paul Cohen. Martin Baldridge wrote in his book, 'So you want to win Wimbledon?' that Cohen had agreed to coach the Williams sisters at the age of seven and six. According to the writer, Cohen was, "astounded by their phenomenal athletic abilities"
Moreover, Cohen said, "I had never seen a six-year-old as strong as Serena and I'd never seen a potential woman champion as athletic and as graceful as Venus." He coached them for a year and called his former students Pete Sampras and John McEnroe to watch Venus play in Brentwood.
As per the writer, Venus Williams had shown capabilities in herself. The book stated, "Venus later got to hit with both pros and told reporters afterward that she felt she could have beaten McEnroe if the bounces had gone her way!"
- 'If the Bounces Had Gone Her Way…'- Marvelous Insight on How an Athletic Venus Williams Almost Thumped John McEnroe as a Kid, EssentiallySports.com, September 7, 2022.

2. Despite multiple investigations seemingly mounting against Donald Trump, it is still considered extremely unlikely he will end up in jail – or even in court.
The former president of the United States is currently facing several investigations with possible (but unlikely) criminal charges.
But if proceedings don't go his way, insiders say it could be arch nemesis Joe Biden who gets him off the hook.
The January 6 Committee is currently investigating Trump's role in the infamous insurrection on Capitol Hill in 2021. Another arm of that same investigation is examining alleged attempts to overturn the 2020 presidential election result (Trump's chief surrogate, Rudy Giuliani, is thought to be the main focus of the investigation as he was the public face of the legal challenge).
Meanwhile, an investigation is ongoing in Georgia, where Trump told Republican Secretary of State Brad Raffensperger he needed to 'find 11,780 votes' – the exact number he'd need to carry the state against Joe Biden in the election.
There are also two investigations in New York, but neither is criminal. Both focus on Trump organizations and their use of finances, with company CFO Allen Weisselberg pleading guilty to 15 counts of tax fraud after he was indicted in July last year.
But the case that is really dominating the news is the Mar-a-Lago raid by the FBI. It's the most significant regarding possible implications for the former leader but also incredibly tricky to handle for the Department of Justice and Attorney General Merrick Garland.
We know little about what was seized, but certain documents were considered classified and top secret. It was reported recently that some documents taken were nuclear secrets from an unnamed foreign nation.
Despite this, experts are adamant that Trump – who has a 'nose for loopholes' – won't end up in court.
And floating the idea of a possible pardon from Biden, former FBI agent Asha Rangappa said: "My 100 percent is really that there is no way that a former POTUS is going to spend time in jail, or that Biden (or any normal POTUS) would allow that."
- Donald Trump will never go to jail, but he won't be President either, experts say, Unilad.com, September 17, 2022.

3. Walking my dogs recently, I ran into a friend who exclaimed when she realized my son is a Senior.
"How's it going?" she inquired, having launched her daughter, an alumna of my school, a few years back.
"Oh, fine," I answered blithely, our two older daughters now safely into adulthood. "It's not my first rodeo, after all."
"But it is his," she said.
It is his. Her words stayed with me all day.
It is our son's first time through the college process, which can cause stress and self-doubt in even the most confident kids. Our son goes to a good school and has an excellent college advisor. He knows himself well. He is ambitious. And he is realistic.
He is thinking carefully about his list, what he needs to thrive, and where he wants to be. I'm proud of him. And I am powerless. He is in the driver's seat of his process, and I cannot determine the outcome. Perhaps my blithe response to my neighbor had been feigned. Had I been so busy pretending nonchalance that I'd ignored how tough it felt for him? Was I so intent on playing cool that I'd taken his experience for granted?
For a moment, on that walk, I felt a surge of empathy for the legions of parents of the students I advised as a college counselor long ago – in another lifetime. Though this is my son's first time through the process, it is one I know all too well – and knowledge, in this case, is not necessarily power.
When our son's older sisters were small, I was the Director of College Guidance at a fine Manhattan girls' school. It was a great job, offering more autonomy and a higher salary than I had earned as an English and drama teacher. I could walk our daughters to school and work from home some days. I loved the girls; I liked to write. I enjoyed meeting my colleagues from "the other side of the desk" and looked forward to their autumn visits to our school. I celebrated with my Seniors when things went their way and dried their tears when the inevitable rejection occurred.
- I've Been Through College Admissions But This is New for My Son, by Ann Klotz, GrownAndFlown.com, October 8, 2022.
本文仅代表作者本人观点,与本网立场无关。欢迎大家讨论学术问题,尊重他人,禁止人身攻击和发布一切违反国家现行法律法规的内容。
About the author: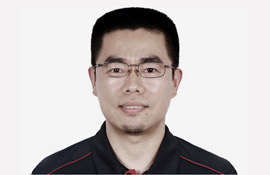 Zhang Xin is Trainer at chinadaily.com.cn. He has been with China Daily since 1988, when he graduated from Beijing Foreign Studies University. Write him at: zhangxin@chinadaily.com.cn, or raise a question for potential use in a future column.
(作者:张欣 编辑:丹妮)
中国日报网英语点津版权说明:凡注明来源为"中国日报网英语点津:XXX(署名)"的原创作品,除与中国日报网签署英语点津内容授权协议的网站外,其他任何网站或单位未经允许不得非法盗链、转载和使用,违者必究。如需使用,请与010-84883561联系;凡本网注明"来源:XXX(非英语点津)"的作品,均转载自其它媒体,目的在于传播更多信息,其他媒体如需转载,请与稿件来源方联系,如产生任何问题与本网无关;本网所发布的歌曲、电影片段,版权归原作者所有,仅供学习与研究,如果侵权,请提供版权证明,以便尽快删除。