Pie in the sky?
中国日报网 2022-12-16 10:41
分享到微信 Reader question:
If a plan is described as "a pie in the sky", what does it mean?
My comments:
It means this plan is unrealistic. It probably won't be acted on and even if it is ever put to practice, it will fail.
We can be pretty sure of that, because a pie in the sky is like a castle in the air.
Castle in the air?
A castle in the air is not built on firm ground. It's a dream, a fantasy, not something real.
Literally, pie in the sky may be any windfall, something that's carried to you by a big whirlwind, such as during a tornado or hurricane or similar such extreme weather. For example, someone has just cooked a delicious pie but, before he or she sets the table, the pie is carried away by gusty wind to someone else's dining table in another part of town.
Or, for that matter, in another part of the country.
Or continent.
Or whatever. Such an event has not actually happened anywhere near you, so don't put any store by it.
What's the origin of "pie in the sky"?
The Phrase Finder (Phrases.org.uk) has a full explanation, as follows:
This is an American phrase and was coined by Joe Hill in 1911. Hill was a Swedish-born itinerant labourer who migrated to the USA in 1902. He was a leading light of the radical labour organization The Industrial Workers of the World – known as the Wobblies, writing many radical songs for them.
The phrase appeared first in Hill's The Preacher and the Slave, which parodied the Salvation Army hymn In the Sweet Bye and Bye:
From the day of your birth it's bread and water here on earth
To a child of life to a child of life
But there'll be pie in the sky by and by when I die and it'll be alright it'll be alright
There'll be pie in the sky by and by when I die and it'll be alright it'll be alright
…
The song, which criticized the Army's theology, specifically their concentration on the salvation of souls rather than the feeding of the hungry, was popular when first recorded and remained so for some years. The 'pie in the sky when you die' line sums up Hill's response to the Salvation Army's philosophy.
In other words, give us bread here and now, not something fanciful in the future.
All right, here are very recent media examples of "pie in the sky":
1 If there was ever a year to tank in the NHL, this is it. The 2023 Draft Class is considered to be the deepest in almost a decade and is headlined by Connor Bedard, who is drawing comparisons to Connor McDavid, Auston Matthews and Nathan MacKinnon as a potential franchise-changing prospect.
Bedard is the consensus No. 1 pick but the class of '23 goes beyond him with Matvei Michkov and Adam Fantilli also considered to be blue-chip players who would go first overall most other seasons.
So while no team wants to watch their team mail it in for an entire 82-game season, landing a top-3 pick in the 2023 NHL Draft is a decent silver lining for the pain. Who's on a path for the worst record? And which team offers bettors the best value?
According to the oddsmakers at Caesars, the Arizona Coyotes are the favorites to win the "wooden spoon," or finish with the worst record in the NHL this season. The Coyotes are +250 to come in last, just ahead of Chicago (+400) and Montreal (+650). The Habs finished 32nd in 2021-22 and won the draft lottery.
…
The NHL season is full of surprises, so maybe the Flyers get step-forward seasons from Frost, Farabee and Owen Tippett, but they'd need all three to do so to start to show some scoring oomph as a unit. That seems unlikely.
The Flyers are going to need to score consistently if they want to have even modest success, because the defense doesn't project well, either. Ivan Provorov, Travis Sanheim, Rasmus Ristolainen and Tony DeAngelo are all capable of filling a role on a blueline, but none of them are surefire top-pair players, especially without the presence of a steady partner.
Cam York seems like he's trending well enough as a young defenseman that perhaps he breaks out, but with the players around him, that seems like a pie-in-the-sky gamble more than anything.
- NHL futures: Will the Philadelphia Flyers have the worst record in the NHL? Inquirer.com, October 5, 2022.
2 As the new year quickly approaches, so too does WWE's biggest season – the stretch between the Royal Rumble and WrestleMania. Getting ready for that push to WrestleMania 39 in Los Angeles also means zeroing in on the main event plans for Roman Reigns and who his opponent will be. Assuming he maintains his hold on the Undisputed WWE Universal Championship until then, Reigns' potential adversary remains an important topic of discussion as the company looks to lock in their "close to finalized plans" by mid-January 2023, according to the Wrestling Observer Newsletter.
Past speculation saw "The American Nightmare" Cody Rhodes penciled in as a potential WrestleMania opponent for Reigns, but it would appear that a certain family member of "The Tribal Chief" still remains first in line if he wants the spot. Hope for a main event between Dwayne "The Rock" Johnson and Roman Reigns at WWE's biggest show of the year has risen amidst reports that such a bout was the company's original WrestleMania plan; it's only been further fueled by recent comments made by Johnson and the champion Reigns on the matter.
Rumors have The Rock possibly headed to the WWE's first stop on their "Road To WrestleMania" as discussions are ongoing to have the "Most Electrifying Man in Sports Entertainment" enter the Royal Rumble and win, setting up the natural progression to a title shot at WrestleMania, which the Rumble winner receives. Describing it as "the perfect scenario" for the company, WON revealed one internal idea for The Rock is to enter the Rumble at No. 30 before emerging victorious as a "pie-in-the-sky" surprise.
Barring the always busy schedule of Dwayne "The Rock" Johnson – as he takes on more and more projects in Hollywood – WWE is reportedly open to finding an alternative route to get to the Reigns vs. Rock destination; for Johnson, this would "likely [be] his last match at Mania" and, if possible, he "wanted it in Los Angeles if he could do it."
- WWE Reportedly Entertaining 'Pie-In-The-Sky' Plans For The Rock, WrestlingInc.com, December 2, 2022.
3 Cathie Wood was sitting in a phone booth in the New York office of Ark Invest when she heard Tasha Keeney, one of the firm's analysts, let out a scream – "a happy scream," Wood recalled. It was Feb. 1, 2019, and Keeney had just received a direct message on Twitter from Elon Musk – the first time the Tesla CEO had privately reached out to anyone at Ark. "This is really good," Musk messaged Keeney, referencing comments she had made about Tesla that day on Fox Business.
Less than two weeks later, Wood and Keeney arrived at Tesla's Fremont, Calif., headquarters to record a podcast with Musk, excited to meet the iconic CEO in person. For Ark, the podcast was a breakthrough event. "We were nothing," Wood told me during a recent Zoom interview. "Nobody knew who we were."
Today, everyone in the financial world knows who Cathie Wood is. The founder, CEO and chief investment officer of Ark has been both revered and ridiculed for her staunch belief in Musk – and for her pie-in-the-sky forecasts for a wide variety of pandemic-boom companies, including Tesla. "Many were saying he's going to run out of cash, he can't scale Model 3 and…he's going to go bankrupt," said Wood of Musk's early doubters. "And we just kept our eye on the prize."
In 2020, Tesla helped Ark's flagship exchange-traded fund, Ark Innovation, soar more than 150%. Money poured in as Ark became a way for retail investors to double down on pandemic winners, with the firm's emphasis on disruption and innovation stocks. By February 2021, Ark had amassed $50 billion in investments, up from $3.6 billion just before the pandemic took hold in 2020, taking in more money than giants like BlackRock and State Street.
Wood was christened the queen of the bull market – with the financial media gushing over her every word, comparing her favorably to Fidelity star manager Peter Lynch. (CNBC's Jim Cramer famously called her a "genius.") But the adulation did not last long. Wood's flagship ETF, Ark Innovation, has fallen to $38 per share, down more than 75% from its peak of $157 in February 2021. It has now lost nearly all the gains it made over the past five years. Even Cramer has turned on Wood, calling her "the kiss of death."
Much of Ark's recent decline is due to Tesla, Wood's top holding. Tesla's stock is down more than 50% from its peak in October 2021, when it traded above Wood's lofty price target of $4,000 per share, seemingly confirming her bold analysis of the controversial electric car company. Taking into account the two stock splits since then, the $4,000 equates to $267 per share today; Tesla was trading at under $200 on December 1.
But Wood, who has become well practiced at dismissing critics, has not lost faith in Musk, whose "antics" (her words) have arguably become more unhinged since he paid $44 billion for Twitter in late October. Thus far, Wood has gone along for the ride, buying $1 million worth of private shares of Twitter in a new crossover venture fund she launched in September with the assistance of venture capital firm Andreesen Horowitz. (Ark Venture Fund, which lets retail investors buy stakes in private companies, is marketed through an Andreessen-backed investment app called Titan.) Even though Musk has acknowledged that he overpaid for Twitter, and the place has been in a state of chaos since his takeover, Wood is convinced Musk can transform the company.
THE PASSION OF CATHIE WOOD: WHY THE 'WACKIEST PORTFOLIO MANAGER ON EARTH' ISN'T LOSING FAITH, MichelleCelarier.com, December 3, 2022.
About the author: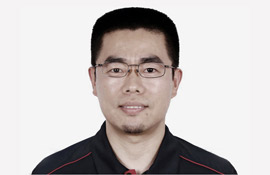 Zhang Xin is Trainer at chinadaily.com.cn. He has been with China Daily since 1988, when he graduated from Beijing Foreign Studies University. Write him at: zhangxin@chinadaily.com.cn, or raise a question for potential use in a future column.
(作者:张欣 编辑:yaning)
中国日报网英语点津版权说明:凡注明来源为"中国日报网英语点津:XXX(署名)"的原创作品,除与中国日报网签署英语点津内容授权协议的网站外,其他任何网站或单位未经允许不得非法盗链、转载和使用,违者必究。如需使用,请与010-84883561联系;凡本网注明"来源:XXX(非英语点津)"的作品,均转载自其它媒体,目的在于传播更多信息,其他媒体如需转载,请与稿件来源方联系,如产生任何问题与本网无关;本网所发布的歌曲、电影片段,版权归原作者所有,仅供学习与研究,如果侵权,请提供版权证明,以便尽快删除。