Piece of cake? 小菜一碟?
中国日报网 2022-11-11 12:11
分享到微信 Reader question:
Please explain "a piece of cake" in this sentence: He can bench press 100 kilograms – to him, it's easy, like a piece of cake.
My comments:
"A piece of cake" means precisely that – easy. Simple and easy.
To bench press, by the way, is to lie on a bench, flat on your back, and push weights upward. People who can bench press 100 kilos must have strong chest and shoulder muscles.
Plus some considerable training, depending on how strong you are to begin with.
Bench press training is not our point of discussion, however. We're just here to talk about "a piece of cake", an American expression in origin.
In our example, to this particular person, bench pressing 100 kilos is easy, as easy as a piece of cake.
Here, pushing 100 kilos of weight is likened to a piece of cake. It's as if forcing 100 kilos of weight on him is like forcing him to eat a piece of cake, and a delicious piece of cake at that. To wit, he'd gladly eat it.
Cakes are delicacies. People enjoy eating them. That's the connection here. Things easy are likened to eating a piece of cake, rather than, say, making it – cake making can be difficult, you see, involving many steps and preparations, especially to those who are not a professional cook.
So, eating a piece of delicious piece of cake is the analogy here. This is easy. If allowed, one can eat a few more pieces even if one feels already full.
The point is, in other words, it's not something difficult of accomplishment.
Not at all.
This is an easy explanation, as easy as, indeed, a piece of cake. And I like it this way.
If only all English expressions are as easy to grasp as a piece of cake.
Oh, well, that's perhaps asking too much. For now, let's be satisfied and move swiftly onto media examples of "a piece of cake":
1 How is the first paying tourist in space spending his time after spending millions of dollars? Looking out the window, listening to music and getting his money's worth, according to his son.
Michael Tito spoke with CNN on Wednesday after checking in with his adventurous father, Dennis Tito, a California stock investor currently onboard the international space station.
Dennis Tito, who is paying Russia $20 million to fly with two cosmonauts delivering a new Soyuz capsule to space station Alpha this week, spoke Tuesday with his son via ham radio.
The younger Tito said his high-flying father, remarking on the thinness of the atmosphere and the blueness of the planet, seemed "slightly more reflective" during his second day on the space station.
"Africa is his favorite continent with its spectacular red and brown hues," Michael said in New York during a televised interview.
"What a thrill. Who wouldn't want to do this? My father is pursuing his dream," Tito said. "He's obviously having the experience of his life."
Despite a brief bout with space nausea, Tito, 60, who trained for more than six months for the trip, was holding up well in space.
"I think the throwing up lasted only two hours," Michael Tito said. "My dad is much more comfortable than he expected. It's really a piece of cake."
"He's sitting up there, looking out the portal, listening to opera music, and getting his money's worth," he added.
Tito should depart the modular outpost after a weeklong stay at the end of the week, joining his Russian crewmates when they return to Earth in an old Soyuz capsule.
- Orbiting tourist to son: Space a 'piece of cake', CNN.com, May 2, 2001.
2 President Trump said Friday that it was "like a piece of cake" to suppress violent protests in Washington and urged governors who are "too proud" to send in the National Guard.
Trump also said a drop in jobless numbers made Friday a "great day" for George Floyd, whose killing by Minnesota police sparked unrest, including outside the White House.
"The Secret Service was incredible, but we were also helped by the DC police and we were helped by the National Guard, was unbelievable. They came in and they…this was like a piece of cake," Trump said in the Rose Garden.
"I'm suggesting to some of these governors that are too proud – in New York, I mean you see what's going on there. Don't be proud, get the job done. You'll end up looking much better in the end. Call in the National Guard. Call me. We'll have so many people," Trump said.
He continued: "You have to dominate the streets, you can't let what's happening happen. It's called dominate the streets. You can't let that happen in New York where they're breaking into stores and all of the things. And by the way, hurting many small businesses – you can't let it happen."
- Trump says it was 'a piece of cake' to suppress violent protests in DC, NewZandar.com, June 5, 2020.
3 Whenever life gets you down, Mrs. Brown, you can always turn to "Better Things." This remains true despite Pamela Adlon's reliable meal of goodness coming to a close after five seasons on FX. Adlon, who stars as Sam Fox and directs all ten episodes of this final season, designed her series to capture the feeling and rhythm of everyday life for women rather than follow concrete story arcs.
This ensures that long after the series creator and the ensemble cast Adlon thinks of as her second family have moved on in their lives and careers, Sam's loving and trying moments with her mother Phil (Celia Imrie) and daughters Max (Mikey Madison), Frankie (Hannah Riley) and Duke (Olivia Edward) will be there for future generations of mothers and daughters to look to for guidance, solace, companionship or a guide to letting old grievances go.
"It's really about what matters the most to you," Adlon says in our full "Salon Talks" interview, which you can watch here or by clicking on the video below. "Everything changes, and we're all an organic mess. You have to be better. You have to be willing to take all of that stuff away and say, 'I love you. You asked me to hold this space for you.'"
I've had the pleasure of interviewing Adlon at the launch of every new season of "Better Things," which makes this episode a bit wistful. But it's also inspiring, given all of the positive messages Adlon wants to leave viewers with in these last visits to the Fox household, including the example of the show itself.
This interview has been lightly edited for length and clarity.
I've got to say, I'm very sad that this is the last season. Just to say "fifth and final season" to me is a little heartbreaking. This show is one of those reliable comforts that we've all become accustomed to. How is it for you to be entering to this time knowing, "This is it"? You've already filmed those last episodes.
Well, I love that you say that it's a comfort to people. That makes me feel like I've done my job, because I really wanted it to be that.... It was very hard, gratifying work to make a show and build a show that people will remember, that can resonate. I know that the crew feels that way about it, and the cast and all the new cast that we had come in, and the UK crew that we worked with. I mean, it hasn't been a piece of cake. But it's been a total joy.
Pamela Adlon on ending "Better Things": "It hasn't been a piece of cake – but it's been a total joy", by Melanie McFarland, Salon.com, March 7, 2022.
About the author: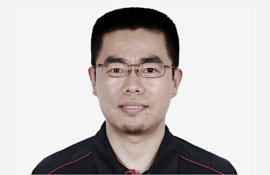 Zhang Xin is Trainer at chinadaily.com.cn. He has been with China Daily since 1988, when he graduated from Beijing Foreign Studies University. Write him at: zhangxin@chinadaily.com.cn, or raise a question for potential use in a future column.
(作者:张欣 编辑:yaning)
中国日报网英语点津版权说明:凡注明来源为"中国日报网英语点津:XXX(署名)"的原创作品,除与中国日报网签署英语点津内容授权协议的网站外,其他任何网站或单位未经允许不得非法盗链、转载和使用,违者必究。如需使用,请与010-84883561联系;凡本网注明"来源:XXX(非英语点津)"的作品,均转载自其它媒体,目的在于传播更多信息,其他媒体如需转载,请与稿件来源方联系,如产生任何问题与本网无关;本网所发布的歌曲、电影片段,版权归原作者所有,仅供学习与研究,如果侵权,请提供版权证明,以便尽快删除。