She acquitted herself very well? 全身而退
中国日报网 2022-10-25 14:53
分享到微信 Reader question:
Please explain this sentence: I think she acquitted herself very well in that situation.

My comments:
What situation?
Never mind. Whatever "that situation" is, it sounds pretty bad, but she's managed to come out of it relatively unscathed.
That's why the speaker thinks she's acquitted herself pretty well.
To acquit someone, you see, literally refers to the judge in a criminal court officially declaring that the accused is not guilty.
In other words, he or she is innocent and can now walk out of the courthouse free.
It'll be a huge burden off the shoulders of the accused, of course, in contrast to a guilty verdict.
Metaphorically speaking, then, to acquit oneself is to extricate oneself from a tough situation in which a lot of things can go wrong.
Imagine yourself in that courtroom again. If the judge finds you guilty, will he hand you a prison sentence of two years? Three years? Or more? What about a life sentence in which case you're going to live the rest of your life in a prison cell?
Quit imagining now. It's not happening. You've done nothing wrong. Even if you did, again, hypothetically speaking, let's say you've acquitted yourself well. Everything has turned out all right.
I just hope the courtroom scene helps you to understand the concept of "acquitting oneself".
So, in short, as an idiom, to acquit oneself well is to perform well in a tough situation – to do better than expected at least.
And here are media examples:

1. While no one actually used the word "jailbait" at the time, you can bet the idea passed through a few music writers' heads when the photos of Rachel Sweet came across their desks from Stiff Records. Actually, that's not entirely true: Stiff used the word about their young signing.
Sweet – from Akron, Ohio – was just 16 when she broke through in Britain. But in the States she had been singing for a decade (commercials, stage shows, opening for Bill Crosby in Las Vegas) when she was brought to Stiff by producer/songwriter Liam Sternberg. Nick Lowe apparently commented that her innocent appearance "made the Mona Lisa look rough".
But there was much more to her than a nail-biting ingenue.
Her debut album for Stiff, Fool Around (uh-hu), was admittedly patchy – she courageously took on Dusty Springfield with Stay Awhile – but the first single B-A-B-Y put her firmly in the Brenda Lee/Lulu pop field where she acquitted herself well enough.
Her second single from the album Cuckoo Clock tried to place her as a rocker and when she toured with the Rumour as her backing band it wasn't entirely successful, although later she could belt out Ronettes pop.
In truth, Sweet was much more at home in country music where she seemed a natural. She'd fallen into at 11 when she released rock'n'roll wasn't going to take to a pubescent kid, but country people kinda liked that sort of thing. Like Tanya Tucker.
And so on that debut album the standout song is Elvis Costello's Stranger in the House where she sounds like a woman and wise beyond her years.
- Rachel Sweet; Stranger in the House (1978), Elsewhere.co.nz, January 18, 2012.

2. The Los Angeles Dodgers and Houston Astros have outlasted Halloween. Now all they have to do is try to outlast each other.
The 2017 World Series has been building toward a crescendo from the moment Jackie Robinson's family threw out the ceremonial first pitch before Game 1. The Dodgers and Astros have traded leads, home runs, home-field advantages, gut punches and momentum under a California sky, a retractable roof in Texas and back again. And now the one missing piece that distinguishes the very good or even excellent series from the true classics is finally here.
It's going the distance.
The suspense will end Wednesday night in Los Angeles with the Game 7 this series so richly deserves. For only the third time in history, two 100-win teams will play a seventh game to decide a title. The 54,000-something fans in attendance probably won't need Ashton Kutcher, Mila Kunis, Kareem Abdul-Jabbar and Rob Lowe waving flags and dancing on the dugout roofs to reinforce the magnitude of the situation.
"Now that it's going to seven games, it's got to be considered as the best World Series of all time," Houston shortstop Carlos Correa said. "Seven games of nonstop, great baseball."
This will mark the 39th time the World Series has gone seven games. Of the previous 38, the road team has come out on top 19 times. It has happened twice in the past three Octobers – when the San Francisco Giants took down the Kansas City Royals at Kauffman Stadium in 2014 and the Chicago Cubs beat the Cleveland Indians at Progressive Field last year.
When Dodgers closer Kenley Jansen struck out Carlos Beltran to seal a 3-1 Los Angeles victory Tuesday, it felt like destiny.
"I think it seems fitting," Dodgers manager Dave Roberts said. "You've got the two best teams in baseball going head-to-head. Like we've talked about from the beginning, these two teams mirror one another. And the [competitiveness] and fight in both teams is the most important thing I see as similarities."
So many personal stories will be resolved in unforeseen ways in Game 7. Yu Darvish, Los Angeles' scheduled starter, was the reluctant center of attention in Game 3, when he lasted 1 2/3 innings and was the target of a racially insensitive gesture by Houston first baseman Yuli Gurriel. Darvish acquitted himself nicely with his show of class under difficult circumstances, and he'll once again take the mound and face Gurriel, who was booed relentlessly by Dodgers fans Tuesday.
"Sometimes things play out in a way where you can't script it," Beltran said.
- This incredible World Series gets the Game 7 it deserves, ESPN.com, November 1, 2017.

3. Zach Wilson tried to be cool. Or at least not let on how much of a thrill the moment was for him.
The New York Jets quarterback was on the practice field last year during training camp, chatting it up with Aaron Rodgers – the guy Wilson idolized as a youngster in Utah.
And still does.
"I don't know if I've ever mentioned that to him," a smiling Wilson said Thursday. "I've been watching him since I was a little kid, trying to replicate the way he throws and the way he plays the game."
Wilson remembers being about 13 years old when he first started playing football in Draper, Utah, and seeing Rodgers on TV tossing passes all over the field.
"We didn't have an NFL team in Utah, so I wouldn't say I was a Packers fan," Wilson said. "But I was an Aaron Rodgers fan. I grew up watching him and I always liked to watch their games because of him and kind of where he was at."
Even during his college career at BYU, Wilson would try to incorporate aspects of Rodgers' game into his own.
"A little bit of everything," said the 23-year-old Wilson, who's nearly 16 years younger than Rodgers. "He's extremely accurate underneath, I think the way he's able to place the ball and you see his completion percentage, how he takes care of the ball. And then he's able to be that athletic, scramble-type quarterback, off-schedule a little bit and be able to create plays out of nothing while protecting himself."
During the Jets' trip to Green Bay for joint practices in August 2021 – four months after he was the No. 2 overall pick – Wilson was able to spend extra off-field time with Rodgers. He picked the Packers star's brain and got a feel for what being an NFL quarterback is like. They also kept in touch for a few weeks after meeting.
"It was cool kind of just to watch him, just the environment," Wilson said.
More than a year later, the two are squaring off in the regular season, Sunday at Lambeau Field. And forget being star-struck. Wilson wants to win.
"Being on the same field as him is cool, but we're attacking their defense, so it's a little bit different," Wilson said. "It's probably the same thing as last year when we were playing Tampa Bay, it was like, 'Wow, we're playing Tom Brady. I've watched this guy since I was born,' which is kind of crazy.
"So I'm sure it'll be the same kind of thing in this game."
Wilson is two games into his return from a knee injury that occurred in the preseason opener, and he has acquitted himself well so far.
After three shaky quarters at Pittsburgh two weeks ago, Wilson rallied New York to a 24-20 comeback victory by leading two touchdown drives. Last Sunday, Wilson efficiently ran the offense in a 40-17 blowout of Miami.
"He's just more comfortable," offensive coordinator Mike LaFleur said. "He's more comfortable with the league and the speed of it. He's more comfortable with the offense. He's more comfortable with his teammates."
- Jets' Wilson ready to face idol Packers' Rodgers at Lambeau, Associated Press, October 14, 2022.
本文仅代表作者本人观点,与本网立场无关。欢迎大家讨论学术问题,尊重他人,禁止人身攻击和发布一切违反国家现行法律法规的内容。
About the author: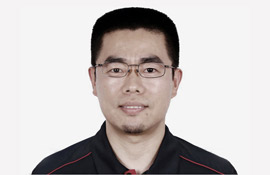 Zhang Xin is Trainer at chinadaily.com.cn. He has been with China Daily since 1988, when he graduated from Beijing Foreign Studies University. Write him at: zhangxin@chinadaily.com.cn, or raise a question for potential use in a future column.
(作者:张欣 编辑:丹妮)
中国日报网英语点津版权说明:凡注明来源为"中国日报网英语点津:XXX(署名)"的原创作品,除与中国日报网签署英语点津内容授权协议的网站外,其他任何网站或单位未经允许不得非法盗链、转载和使用,违者必究。如需使用,请与010-84883561联系;凡本网注明"来源:XXX(非英语点津)"的作品,均转载自其它媒体,目的在于传播更多信息,其他媒体如需转载,请与稿件来源方联系,如产生任何问题与本网无关;本网所发布的歌曲、电影片段,版权归原作者所有,仅供学习与研究,如果侵权,请提供版权证明,以便尽快删除。