Chin up 别灰心
中国日报网 2022-11-01 14:09
分享到微信 Reader question:
Please explain "chin up" in this sentence: We lost but, chin up, tomorrow's another day.

My comments:
We took a beating, but, hey, don't despair, tomorrow we'll have another opportunity. Let's keep going.
That's what "chin up" means, i.e. keep your chins up.
This reminds me of another expression, take it on the chin.
In boxing, for example, fighters hit each other on the face a lot. If you get hit on the side of the face, then you have to take it, literally, on the chin.
If you take a series of blows and consequently lose the fight, you tend to look downward, which is natural.
For you to chin up in this situation is to raise your chins upward. In other words, you try to keep holding your head high.
This means, of course, you have to keep being proud of yourself and keep going. You can't remain depressed and go on a downward spiral henceforth.
That's the idea of keeping one's chin or chins up. Figuratively speaking, you try to remain upbeat and remain optimistic despite being beaten in a game or suffering some other setback.
In our example, the speaker tries to encourage their team after such a setback. He or she says we lost but let's keep our head up and keep working hard. Tomorrow's another day. Let's win the next game.
If they are able to do that, then, they'll really be able to hold their head high.
All right, no more ado. Here are media examples of people keeping their chin up in various situations:

1. The Prince of Wales took part yesterday in his first public engagement since being named in a letter in the possession of the former royal butler as the person who allegedly planned for Princess Diana to be involved in a car crash.
Charles was officially opening the Hereford Haven, a breast cancer support centre, as London's Metropolitan Police started an investigation into the death of the princess and Dodi Fayed in a car crash in Paris more than six years ago.
…
Prince Charles was greeted by a crowd of about 100. One man shouted: "Well done, Charles, the country is behind you!" A woman added: "Keep your chin up, Charles." The prince did not talk about the letter or the opening of inquests into the deaths of Princess Diana and her lover, Dodi Fayed.
- Prince Charles told to keep his chin up, IrishTimes.com, January 8, 2004.

2. It was a lovely moment in an otherwise frustrating afternoon for Newcastle United fans.
When Miguel Almiron missed a chance to score half an hour into the Magpies' clash with Wolves, cameras captured a young ball boy applauding and giving the Paraguayan player an encouraging thumbs up.
The sweet show of support went viral, and made a social media star of the lad in question - 10-year-old South Shields schoolboy Lucas Rochford.
Currently part of the Newcastle United Academy, season ticket holder Lucas is usually to be found sitting in the Leazes End with his dad for the match.
But on Sunday he made his debut pitch side appearance when he and three of his fellow Academy players were given the chance to be ball boys at the game which ended 1-1.
"It was the first time he's done it and he was a little bit nervous but absolutely over the moon," said dad Liam, 38, who watched proudly from his usual seat.
"He's a season ticket holder – we got him one for his birthday – but it's a bit different for him to be pitch side.
"Almiron missed a chance and I saw Lucas giving him the thumbs up, but it wasn't until about 20 minutes after that I realized the significance.
"My phone was just buzzing constantly in my pocket, people saying they'd seen him on Sky, then about 20 minutes later it was all over Twitter. It was just surreal.
"I showed Lucas after the game and he couldn't believe it."
A clip of the Westoe Crown Primary School pupil applauding a distraught Almiron and giving him a touching thumbs up has been viewed over 137,000 times on Twitter.
One person said: "That Newcastle ball boy giving Almiron applause and the thumbs up after a good effort is what we need more of in society. Good on ya, kid."
Another wrote: "The little kid giving Almiron the thumbs up is the best part of this match."
And another said: "To the little Newcastle ball-boy who clapped Almiron after missing a chance and gave him a thumbs up: you're a gem."
Liam told ChronicleLive : "I asked him about it and he said, 'He missed his chance and I wanted him to keep his chin up and keep working hard, so I was clapping and giving him the thumbs up'."
- 'I wanted him to keep his chin up' - the NUFC ball boy whose thumbs up to Miguel Almiron went viral, ChronicleLive.co.uk, October 28, 2019.

3. The evil mum of murdered Star Hobson has allegedly been receiving letters from sick fans in jail telling her to "keep her chin up."
Frankie Smith was handed an eight-year sentence for causing or allowing the death of a child while her evil lover Samantha Brockhill was jailed for life with a minimum 25-year term.
Now, strangers have been sending the 20-year-old letters, attempting to sympathies with her situation as she and trying to lift her spirits up after she was started her prison sentence.
A source told The Sun: "She's had quite a few letters telling her to keep her chin up and sympathizing with her situation.
"They are from women who said they'd been in similar positions where a controlling partner had led to things getting out of control in their lives.
"The letters have been quite uplifting and have helped Smith feel a little better about herself. She's also had a few cards, too."
- Star Hobson's evil mum sent 'uplifting' letters telling her to 'keep chin up' in jail, DailyStar.com, February 5, 2022.
本文仅代表作者本人观点,与本网立场无关。欢迎大家讨论学术问题,尊重他人,禁止人身攻击和发布一切违反国家现行法律法规的内容。
About the author: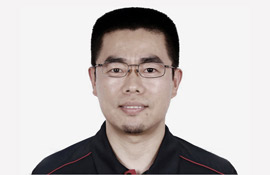 Zhang Xin is Trainer at chinadaily.com.cn. He has been with China Daily since 1988, when he graduated from Beijing Foreign Studies University. Write him at: zhangxin@chinadaily.com.cn, or raise a question for potential use in a future column.
(作者:张欣 编辑:丹妮)
中国日报网英语点津版权说明:凡注明来源为"中国日报网英语点津:XXX(署名)"的原创作品,除与中国日报网签署英语点津内容授权协议的网站外,其他任何网站或单位未经允许不得非法盗链、转载和使用,违者必究。如需使用,请与010-84883561联系;凡本网注明"来源:XXX(非英语点津)"的作品,均转载自其它媒体,目的在于传播更多信息,其他媒体如需转载,请与稿件来源方联系,如产生任何问题与本网无关;本网所发布的歌曲、电影片段,版权归原作者所有,仅供学习与研究,如果侵权,请提供版权证明,以便尽快删除。