Tied himself in knots? 搞得一团乱
中国日报网 2023-06-13 15:42
分享到微信 Reader question:
Please explain this sentence, with "tied himself in knots" in particular: He tied himself in knots to avoid giving a straight answer.

My comments:
Sounds like a politician trying to evade a question, running circles round the question without answering it directly.
A straight answer is like a yes or no, clear and straight forward.
In other words, no beating about the bush, so to speak.
No tying oneself in knots and causing great confusion.
Tying oneself in knots?
A knot is a fastening made by tying a piece of string or rope. To tie oneself in knots will be like turning oneself into a tangled mass of, say, hair or wool.
Needless to say, one is not able to easily extricate oneself after tying oneself in a mass of knots like that.
This is usually the result of someone being upset. When one is very emotional, one often fails to speak coherently.
Or when one is confused, of course.
In our example, however, that speaker appears to be trying to hide from something. He or she is doing whatever they can to avoid answering a straight question.
In this example, they do not appear confused. It appears they're trying to create confusion instead.
Sounds like a regular politician, like I said, in face of a difficult question.
All right, here are media examples of people tying themselves in knots:

1. James O'Brien had an absolutely staggering clash with a caller who dislikes the Duchess of Sussex because she reminds him of his "high maintenance" and "attention-seeking" exes.
One of James O'Brien's callers tied himself in knots over the Duchess of Sussex, saying she reminds him of his exes.
Richard in Chelmsford began: "Hello James, I've been looking forward to this."
"I don't think [the anger towards the Duchess of Sussex] is about the curtsey itself…I think it's about the sort of character that she is, which is obviously quite vindictive", he continued.
"It's evident that she has split up with a few partners in the past" the Chelmsford caller added, saying one of them was going to "further her career".
Richard then mentioned that he had been out with "high maintenance" and "attention-seeking" women and compared them to Meghan.
James said: "Okay, why are you giving her so much attention?"
The caller then started to talk about "people who won't be able to heat their homes" and suggested James should spend more time talking about them than Harry and Meghan.
"Why have you never rung me about them?" James asked, before pointing out that "we were talking about them yesterday".
"You don't care about the people you prepare to care about…you're a liar and a bully", Richard insisted, before asking James for a "clever comeback".
"I don't need a clever comeback. I only need a clever comeback if someone hasn't done my job for me by humiliating myself live on the radio mate", James shot back.
"How do you feel about the people who bully Meghan?" he continued.
"I don't like them", Richard replied.
"Oh okay - but you've rung in to assassinate her character because she reminds you of your ex", James jabbed.
"You're twisting my words!" the embarrassed caller laughed.
"I'm really not mate - there's a tape!" James said, before allowing prolonged periods of silence to elapse as the humiliated caller stumbled through a series of irrelevant points.
- Caller ties himself in knots over Meghan Markle, claiming she reminds him of his exes, IBC.co.uk, December 9, 2022.

2. Nicola Sturgeon may be finally falling on her trans sword as new polling shows a disastrous future for her, the SNP and their Scexit dreams.
The first survey done during the Isla Bryson scandal has shown that the First Minister popularity among voters has completely collapsed amid claims of a meltdown within her party.
We previously told that rumours have abounded that she is close to resigning due to the furore surrounding her flagship Gender Reform Recognition Bill.
Some critics believe that she will not last the year as First Minister, with ambitious MSPs lining up to replace their long-standing boss to lead the party.
New polling done by YouGov between January 23 and January 26, the week that double trans rapist Bryson was sent to a women's prison despite his violence against females, found that Ms Sturgeon's approval rating had nosedived from +7 to -4 since October.
Backing for the SNP for the devolved Holyrood elections slumped to its lowest for five years, with voting intentions for Westminster being the worst since 2019.
The Sunday Times reported that support for the nationalists in the next Scottish Parliament has fallen from 50 per cent to 44 per cent in the constituency vote, and from 40 per cent to 36 per cent in the regional vote.
And to make things more worse for the First Minister, independence support has fallen rapidly with Yes voters now down at 47 per cent, the lowest since last spring.
It is a brutal end to one of Ms Sturgeon's most difficult fortnights in politics as she has dealt with the fallout from the trans prisoners scandal and its knock-on effect on her gender reforms bill.
Senior allies of the First Minister have highlighted a "meltdown" in the party since rapist Bryson was sent to Cornton Vale after changing their gender identity while awaiting trial.
She was forced into a humiliating u-turn following a public outcry and Bryson, previously known as Adam Graham, was removed from the women's prison and sent to a man's one.
But she has also tied herself in knots by refusing to describe the sex offender as a woman or a man as it highlighted huge holes in her gender reform bill which allows people, even criminals, to legally change their gender without a medical certificate.
- Nicola Sturgeon and the SNP in meltdown as polling reveals popularity collapse over Isla Bryson scandal, ScottishDailyExpress.co.uk, February 5, 2023.

3. You'd figure the anti-abortion movement would be pretty happy with the wave of restrictions on reproductive rights that states have enacted since the U.S. Supreme Court reversed Roe v. Wade last June and grateful to the man who made it all happen with his Supreme Court appointments, Donald Trump. But no: Two of the more strident groups fighting legalized abortion, the Student B. Anthony List and Students for Life, have bashed Trump for refusing to back a federal abortion ban that would take away states' prerogative to set reproductive-rights policy – though there's little chance of a federal ban actually being enacted anytime soon.
In April, Team Trump put out a statement blandly repeating the standard pre-Dobbs position of virtually all Republicans. Trump campaign spokesman Steven Cheung said Trump believes that the Supreme Court "got it right when they ruled this is an issue that should be decided at the State level."
"Republicans have been trying to get this done for 50 years, but were unable to do so," the statement continued. "President Trump, who is considered the most pro-life President in history, got it done. He will continue these policies when reelected to the White House. Like President Reagan before him, President Trump supports exceptions for rape, incest and life of the mother."
SBA List's Marjorie Dannenfelser was having none of it.
"President Trump's assertion that the Supreme Court returned the issue of abortion solely to the states is a completely inaccurate reading of the Dobbs decision and is a morally indefensible position for a self-proclaimed pro-life presidential candidate to hold," she said in a statement. "Life is a matter of human rights, not states' rights. Saying that the issue should only be decided at the states is an endorsement of abortion up until the moment of birth, even brutal late-term abortions in states like California, Illinois, New York and New Jersey."
...
And fear of the abortion issue has only gotten more intense in Washington since the midterms. It's so much easier for Republicans in or running for federal office to just intone "state issue" and go back to talking about inflation or crime or Hunter Biden.
So the effort of anti-abortion groups to use the Republican presidential primary as a way to force the GOP to endorse a hopeless and very unpopular position on the subject is understandable but perilous. For one thing, Trump is not alone in rejecting a federal ban. It's Nikki Haley's position as well. And while anti-abortion activists were pleased by Ron DeSantis's recent decision to sign a ban on abortions after six weeks of pregnancy, he's been silent on a federal ban. Only Mike Pence pretty clearly backs one. Meanwhile Tim Scott, who is competing with Pence for hard-core conservative evangelical support, has tied himself in knots on hypothetical federal bans. It's pretty clear would-be Republican presidents don't want to put themselves in a general-election hole with an unpopular abortion position that's not even vaguely feasible.
We'll soon see if the anti-abortion squeeze play works; if it doesn't have an effect on the presidential field in evangelical-heavy Iowa, it probably won't later on. But for the foreseeable future, reproductive rights will still depend on accidents of geography and state politics. A national abortion ban is not on the immediate horizon.
- National Abortion Ban Is a Trap for 2024 Republicans, NYMag.com, April 30, 2023.
本文仅代表作者本人观点,与本网立场无关。欢迎大家讨论学术问题,尊重他人,禁止人身攻击和发布一切违反国家现行法律法规的内容。
About the author: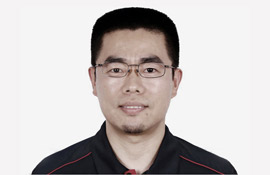 Zhang Xin is Trainer at chinadaily.com.cn. He has been with China Daily since 1988, when he graduated from Beijing Foreign Studies University. Write him at: zhangxin@chinadaily.com.cn, or raise a question for potential use in a future column.
(作者:张欣 编辑:丹妮)
中国日报网英语点津版权说明:凡注明来源为"中国日报网英语点津:XXX(署名)"的原创作品,除与中国日报网签署英语点津内容授权协议的网站外,其他任何网站或单位未经允许不得非法盗链、转载和使用,违者必究。如需使用,请与010-84883561联系;凡本网注明"来源:XXX(非英语点津)"的作品,均转载自其它媒体,目的在于传播更多信息,其他媒体如需转载,请与稿件来源方联系,如产生任何问题与本网无关;本网所发布的歌曲、电影片段,版权归原作者所有,仅供学习与研究,如果侵权,请提供版权证明,以便尽快删除。