China: Protection for rare tiger
The Shaanxi forestry administration bureau yesterday banned all kinds of hunting activities in the mountainous areas of Zhenping County. That's because on Friday a farmer spotted a Penthern tiger or South China Tiger, a species unique to China. It was the first sighting of the wild animal after two decades of no sightings.
The county government has set up checkpoints at the entrance to the mountain to prevent people from entering the area. The bureau said it would launch further investigations into the number of the rare tiger and its habitats.
New Zealand: Police raid militants
Armed police in New Zealand arrested 17 people yesterday in raids on military-style training camps and private homes after a year-long inquiry.
Three hundred police swooped on several locations in the North Island, including the isolated eastern coast.
The raids appear to have targeted Maori, political and environmental activists, all carried out under the Suppression of Terrorism Act and the Firearms Act.
China: Online cultural resources
Cultural officials from 11 African countries yesterday visited the headquarters of the cultural information resources sharing project based in the National Library.
Jointly initiated by the Ministry of Culture and the Ministry of Finance in 2002, the project digitizes Chinese cultural resources and shares them nationwide via Internet, satellite transmission and discs.
The officials are visiting China as members of the 2007 African Cultural Visitors Program. Set up by the Ministry of Culture in 2006, it is a long-term program on cultural cooperation and personnel exchange between China and African countries.
Niue: Smokers paid to stop
The South Pacific nation of Niue could become the first country to eliminate smoking by paying its 200 smokers to quit the habit.
Premier Vivian Young says it would be cheaper to pay the smokers up to 2,000 New Zealand dollars each to stop smoking than to continue paying their health care costs.
When asked if he was serious Mr Young said, "Of course I am serious. If your health bill is climbing beyond $200,000, up to $1 million per year, then it is preferable to pay smokers to quit."
The proposed legislation will also allow villages to ban smoking.
Niue's Premier is in Tonga for the Pacific Islands Forum leaders meeting.
(英语点津 Linda 编辑)
About the broadcaster: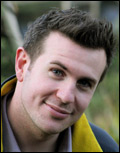 Marc Checkley is a freelance journalist and media producer from Auckland, New Zealand. Marc has an eclectic career in the media/arts, most recently working as a radio journalist for NewstalkZB, New Zealand's leading news radio network, as a feature writer for Travel Inc, New Nutrition Business (UK) and contributor for Mana Magazine and the Sunday Star Times. Marc is also a passionate arts educator and is involved in various media/theatre projects in his native New Zealand and Singapore where he is currently based. Marc joins the China Daily with support from the Asia New Zealand Foundation.
Bernice Chan is a foreign expert at China Daily Website. Originally from Vancouver, Canada, Bernice has written for newspapers and magazines in Hong Kong and most recently worked as a broadcaster for the Canadian Broadcasting Corporation, producing current affairs shows and documentaries