U.S. President Barack Obama spent a second day in California Thursday, promoting his economic recovery plan and asking Americans to be patient. The president also announced new aid for California's struggling homeowners.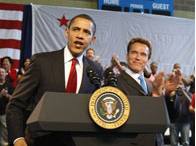 President Obama told people in the nation's largest state, which has been hit especially hard by the economic crisis, that "there will be brighter days ahead." But he cautioned that improvements to the economy willtake time, and he asked for patience. "We are not always going to be right. And I do not want everybody disappointed if we make a mistake here or there. The important point is, are we moving in the right direction?," he said.
Mr. Obama spoke to several hundred people at a community forum in Los Angeles. He responded to a complaint about cuts in jobs and salaries for California teachers by urging people not to expect "something for nothing" from their government. "Nothing is free. So, the reason I make that point is, you cannot ask local elected officials to raise teacher salaries and cut taxes and balance the budget and increase roads. At some point, you've got to make some choices," he said.
Mr. Obama also announced new help for California homeowners trying to avoid foreclosure. He said the state will receive $145 million to help the communities hit hardest by the housing crisis.
California's Republican Governor, Arnold Schwarzenegger, who introduced the president, is one of several moderate state governors in his party who support Mr. Obama's economic plan. "I want to thank him publicly for the courageous leadership and the great commitment that he has displayed over these last few months," he said.
Congress recently passed Mr. Obama's $787 billion dollar economic recovery plan without a single Republican vote in the House of Representatives and with only 3 opposition-party votes in the Senate. Some Republican governors have refused to accept federal stimulus money for their states. The president is hoping to get more Republican support for his economic initiatives through his partnership with moderates like Schwarzenegger.
"One of the great innovators of state government, somebody who has been leading California through some very difficult times, and somebody who has turned out to be just an outstanding partner," he said.
Earlier, Mr. Obama promoted his initiatives to spend billions of dollars on energy research. The president toured an electric car factory near Los Angeles, and said the government will make more than 2 billion dollars available to American companies to produce electric vehicles and batteries.
"Even as our American automakers are undergoing some painful adjustments, they are alsoretooling and reimagining themselves into an industry that can compete and win, and millions of jobs depend on it," he said.
Mr. Obama vowed to put one million plug-in hybrid cars on U.S. roads by 2015. His economic recovery plan and his federal budget proposal both emphasize alternative energy.
take time: 从容进行,慢慢来
moderate:a person who is moderate in opinion or opposed to extreme views and actions, esp. in politics or religion(温和主义者:持有或主张中庸看法或观点的人)
retool:to reorganize or rearrange(重组)
alternative energy: 可替代能源
Related Stories:
EU summit focuses on economic stimulus
Obama's popularity continues despite faltering economy
Obama announces help for small business
(Source: VOA 英语点津编辑)