It's spring, when young men's - and some women's - fancies turn to . . . lawns! Older people's fancies, too. For some American homeowners, a perfect lawn is an obsession, for others an obligation, and for some - who'd rather look at green, weed-free expanses of grass than mow them - a triumph of landscape architecture.
A couple of years ago, we reported that old-fashioned push-style lawn mowers were making a big comeback. The so-called green revolution was in full thrall, and 7 times the number of muscle-powered mowers were being sold than in the 1980s, when power mowers were king.
Even so, millions of sales are still rung up for electric, gas-powered, self-propelled and riding mowers as well.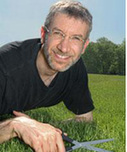 Ted Steinberg, a history professor at Case Western Reserve University in Cleveland, has even written a book about lawns and mowers. He comes down on the obsession side of things, asserting that the quest for the perfect lawn has changed the American landscape as profoundly as did tree-clearing in earlier centuries, as the nation spread westward.
Steinberg notes that Americans have 16th-century British aristocracy, with its legions of scythe-wielding gardeners, to blame for the idea that grassy glades should be trimmed with manicured precision.
Showplace lawns became such a status symbol at tract developments in the American suburbs that, as Steinberg points out, the first words that a neighbor had for comedian Alan King when he moved into a subdivision were, Whaddya gonna do about the crabgrass?

Then came garden shows and televised golf tournaments, with their immaculate greens, and the stampede for new lawn mowers, trimmers, fertilizers, watering systems and weed-killers was on.
For some Americans, Steinberg points out, lawn care represents the single most important engagement with the natural world. An engagement that, as often as not, the crabgrass wins!
American Green: The Obsessive Quest for the Perfect Lawn, by Ted Steinberg, is published by Norton and Company.I'm Ted Landphair.
self-propelled: (of a vehicle) propelled by its own engine, motor, or the like, rather than drawn or pushed by a horse, locomotive, etc(自力推进的,机动式的)
westward: toward the west(向西)
immaculate:free from fault or flaw; free from errors(完美的)
'March Madness' betting runs rampant in American offices
FBI director says white collar crimes skyrocket
Student journalists to report from Oscar red carpet
(Source: VOA 英语点津编辑)