Madagascar Animals 马达加斯加动物
By Jon Stewart, Science Desk, BBC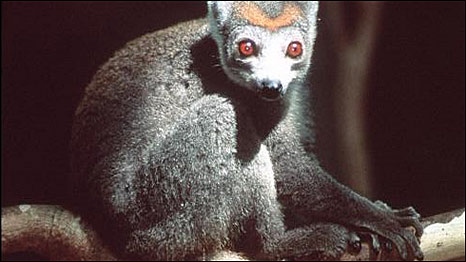 媒体英语会带大家一起学习BBC撰稿人在报道世界大事时常用到的单词和短语。
Background:最近,科学家们称马达加斯加岛上的独有动物的祖先,当年是乘坐天然的"木筏"来到了这座位于印度洋的岛屿上。马达加斯加岛位于非洲东海岸300英里处,是世界上少有的生物多种类岛屿。它拥有很多全球其他地方找不到的生物种类,如哺乳类动物还有很多植物。
Madagascar's unique lemurs, flying foxes, and mongooses first started to appear about 60 million years ago, but it's been separated from the mainland, and isolated, for at least 100 million years.
The mystery has been, how did they get there, and why are there no giraffes, elephants and big cats?
Professor Matthew Huber from Perdue University in the US:
"The mammals that appear on Madagascar today may have come over on rafts, and by rafts what we mean are trees that may have fallen into a river and been swept out to sea or a large floating mass of matted vegetation that broke off the coast and headed out to sea."
The ocean currents today go the wrong way - from Madagascar to mainland Africa, but Professor Huber used a climate model - the same type we use to predict the future, and effectively ran it backwards to look at the distant past.
He found that the ocean currents used to go the other way, and were strong enough that the animals would have reached the island without dying of thirst.
Glossary 词汇表 (收听发音, 请单击英语单词)