Bird or dinosaur 是鸟?还是恐龙?
Bird or dinosaur 是鸟?还是恐龙?
By Matt McGrath, BBC News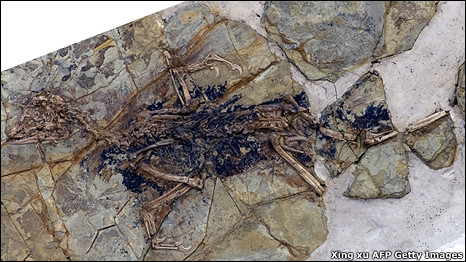 媒体英语会带大家一起学习 BBC 撰稿人在报道世界大事时常用到的单词和短语。
Background: 在中国发现的一块小型恐龙化石标本改变了多年来科学家们对鸟类起源研究的理论。一个半世纪以来,研究人员一直认为始祖鸟是最原始、最古老的鸟类,但最新发现的标本有可能改变这一看法。
Archaeopteryx has a hallowed place in science, long hailed as not just the first bird but as one of the clearest examples of evolution in action. But in recent years, doubts have arisen as older fossils with similar bird-like features such as feathers and wishbones were discovered.
Now Chinese researchers believe they have finally knocked Archaeopteryx off its perch. They've discovered another similar species named Xiaotingia which dates back 155 million years to the Jurassic era.
By carefully analysing and comparing the bony bumps and grooves of this new chicken sized fossil with Archaeopteryx, scientists now believe that both are in fact feathery dinosaurs and not birds at all.
Professor Lawrence Witmer from Ohio University, who has written a commentary on the finding, says the discovery will have huge implications for our understanding of the origins of birds. Such are the similarities between these transition species of reptiles and birds that scientists involved with this latest finding say that it certainly won't be the end of the argument. Further discoveries may change and even restore Archaeopteryx to its former glory.
Glossary 词汇表 (收听发音, 请单击英语单词)