He's No Mastermind 他不是一个足智多谋的人
Could You Do Better? 你能做的更好吗?
There is no doubt that users of the bbcukchina website are among the most intelligent and educated people. So let's see if you know the answers to the following general knowledge questions:
In Greek mythology what did Prometheus steal from the gods? Ursus Maritimus is the scientific name for which bear? Pierre is the capital of which American state?
How did you get on? If you answered the questions correctly then you did a lot better than a contestant on a long-running BBC quiz show called Mastermind, who got the lowest score in the programme's 40-year history.
Software analyst Kajen Thuraaisingham scored a measly five points out of 29 over the two rounds of the show.
The format of the show sees contestants answer questions on a specialised subject of their choosing before tackling a round of general knowledge.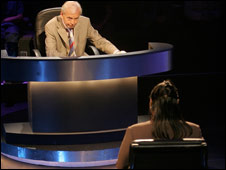 The pressure really comes to bear on the players as they occupy the iconic black leather chair positioned under a bright spotlight.
After the show Mastermind's host John Humphrys commiserated with the unfortunate contestant.
"It's the 'black chair' syndrome," said Humphrys. "No matter how hard you prepare for a show, the mind can just go blank when you're in that chair and the lights are on you."
Mr Thuraaisingham was gracious in defeat, saying, "I tried my best but it wasn't my night."
As well as being tested on general knowledge, Mastermind contestants are sometimes quizzed on their mastery of the English language, and indeed the final question that Mr Thuraaisingham faced was a vocabulary test.
Can you do better than he did? Let's find out. What word can mean a joint of pork, to pawn, or a German white wine?
(Answers to all the questions in this text are in the PDF worksheet that accompanies this Take Away English)
Glossary 词汇表 (收听发音, 请单击英语单词)