Chinese New Year in London 在伦敦过春节
The Year of the Tiger 虎年
The city of London is gearing up for a series of events to celebrate the Chinese New Year, and if last year's celebrations are anything to go by it should be quite a party.
The main hub for the festivitieswill be Trafalgar Squarein the very centre of London.
According to the promoters of the party, the square will be transformed with a diverse selection of live performances including a traditional Chinese dragon and lion dance.
The fun will spread to other neighbouring areas like London's Chinatown and Leicester Squarewhere authentic Chinese cuisine willbe offered to revellers and a fireworks display will round off the proceedings.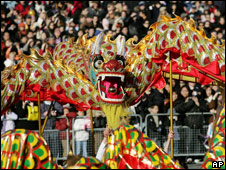 The celebrations are organised by the Mayor of London's Office in conjunction with the London Chinatown Chinese Association.
Mr Leslie Ng, President of the London Chinatown Chinese Association, said: "Hundreds of thousands of people enjoy London's Chinese New Year celebrations, which have become a real highlight in the capital's calendar of events.
"It's an opportunity to celebrate and experience Chinese culture, and to see what Chinatown offers – not just during Chinese New Year, but all year round," he added.
People in the UK sometimes do not know that in the Chinese zodiac if you are born in a particular year you will have certain characteristics.
So what are the traits of people born in the Year of the Tiger?
Most people agree that tiger people are courageous but can also be quick-tempered. They may also be very egocentric and unpredictable.
Are you a tiger person? Do you agree with this description of your personality? Why not email us and let us know your thoughts?
Glossary 词汇表 (收听发音, 请单击英语单词)