Titanic Star Heartbreak 泰坦尼克号明星心碎了
Celebrity Divorce 名人离婚
Kate Winslet, the English star of the film Titanic, has announced that she has split up from her film director husband Sam Mendes after six years of marriage.
The couple released a statement saying that the split was entirely amicable and by mutual agreement. The press release went on to say that both parties were committed to the joint parenting of their children.
It is not the first time that the Oscar-winning actress has faced tragedy in her private life.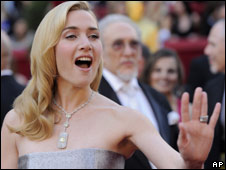 In 1997 Winslet became an international star with the release of the massive box-office hit Titanic, but for her the success of the film was overshadowed by the death of her then partner from bone cancer shortly before the film came out.
Winslet then met and married film director Jim Threapleton with whom she has a daughter, but the couple divorced three years later.
Both Mendes and Winslet have had stellar careers – she was nominated five times for an Oscar before finally winning the best actress award for her performance in the 2009 film The Reader.
Mendes has enjoyed great success as a theatre director in London and on Broadway,as well as winning the best picture and best director Oscar awards for his 1999 debut movie American Beauty.
The couple only worked together, however, on a single film project, the 2008 melodrama Revolutionary Road.
But fans of both Mendes and Winslet needn't worry that the divorce will affect their creative output as Mendes has five films in development and is reportedly in talks to direct the next James Bond movie.
As for Winslet, with two films and a TV show in pre-production, her fans can be sure her heart will go on.
Glossary 词汇表 (收听发音, 请单击英语单词)