Video Games in 3D 三维立体电子游戏
The Next Generation 新一代
It seems that the key trend in the entertainment industry these days is the adoption of 3D.
Following the success of 3D films such as Avatar and Alice in Wonderland, the video game business is keen to muscle in on the action with Nintendo announcing the forthcoming launch of a 3D version of its DS handheld console.
According to the Nintendo president, game players will not need to wear the special glasses that cinema goers are forced to don in order to enjoy the enhanced experience.
So how will it work?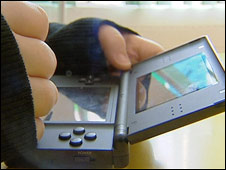 At the moment the details are very sketchy, but some commentators have speculated that the 3D effect will in fact be a sense of depth rather than a forward projection.
A recent game released in Japan entitled 3D Hidden Image may offer a clue as to what we can expect from the new console.
The game makes use of the DSi's front camera to work out the console's orientation and adjusts the perspective of the onscreen images accordingly. Players then tilt the DSi to find hidden items.
More details about the new system are expected to be revealed in the summer at the E3 tradeshow in Los Angeles, however Nintendo has said that existing DS games will be backwards compatible.
2010 looks set to be an exciting year for video game enthusiasts with Microsoft launching a new camera-based system for the Xbox 360 which will do away with the need for a control pad, while Sony will release a new motion-sensitive controller system in the autumn.
And even if you don't play video games, you can still expect more 3D entertainment in the home as many manufacturers are selling 3D television sets and broadcasters lining up to offer 3D channels.
Glossary 词汇表 (收听发音, 请单击英语单词)