Jude Law Reignites Romance 裘德-洛重新点燃爱情之火
Celebrities Reunited 名星重归于好
Jude Law, star of Sherlock Holmes, has gone public with his reconciled romance with British actress Sienna Miller, despite cheating allegations and a very public break up in 2005.
The pair were photographed together on the red carpet at a charity gala in New York.
The gala at an art museum, is known as one of New York's biggest social events of the year, with many A-list stars in attendance, including Oscar winner Renee Zellweger, Rolling Stone Mick Jagger and Harry Potter star Emma Watson.
Before meeting Sienna, Jude had previously been married to actress and designer Sadie Frost. The couple had three children together but divorced in 2003.
Jude first met Sienna on the set of the film Alfie, and following a whirlwind romance, the couple got in engaged at the end of 2004.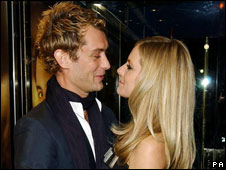 The couple were always a firm favourite amongst the British tabloid media and were never far from the media spotlight throughout their relationship.
However the British pair split up in 2005 following allegations that Jude had an affair with his children's nanny.
Since the A-list couple split, both have been involved in high-profile relationships. Sienna has been linked to Hollywood actor Balthazar Getty, while Jude Law had a child with American model, Samantha Burke.
Rumours of a reunion started late last year when both Jude and Sienna were performing on Broadway at the same time.
Speculation of the pair rekindling their romance, started to heat up when photographers spotted them in the Caribbean over Christmas, and again in London in February.
For many months, both stars have refused to comment on the status of their relationship and there have been rumours of the couple getting engaged again.
However with this very public appearance, it seems Jude and Sienna have decided that now is the right time to show everyone that their relationship is back on track.
Glossary 词汇表 (收听发音, 请单击英语单词)