The Rise and Rise of Camping 野营度假势头见涨
In what activity is a torch essential, a roll-matt optional and some wellington boots advisable? The answer is of course camping.
Camping has long been popular with holiday-makers looking for a low-cost break in the UK, but the activity is currently experiencing a boom. The Office of National Statistics reports that last year camping trips increased by 29% on the year before, overtaking the number of stays at traditional bed and breakfasts.
The numbers this year are likely to be even higher, as disruptions to UK airspace and concerns over money force many Brits to opt for vacations at home – what have been dubbed 'staycations'.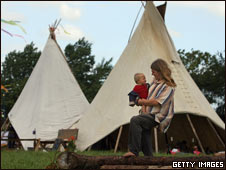 That's not the only example of inventive language related to this topic. The interest in camping has been partly buoyed by the emergence of 'glamping' – glamorous camping.
Glamping combines the allure of a night under the stars with creature comforts like proper beds, heating, even electric sockets for hair straighteners. More and more UK campsites are offering exclusive 'comfortable camping' holidays in Mongolian yurts or Native American tipis.
Jonathan Knight, founder of the Cool Camping series of guidebooks, described glamping as "a warmer, drier camping experience".
But of course, everything comes at a price. Whereas it might only cost you £10 (106 yuan) to pitch a tent for the night, a fully-equipped yurt could be ten times that price.
The posh camping experience is leading middle-class people to swap Tuscany for a tipi. Fran Wintle, who owns Larkhill Tipis in Wales with her husband, said they had been astonished at how popular their tipis and yurts had become. "I would say the majority of people who come here are professionals - a lot of doctors," she said.
Kevin Bird, who with his wife runs Trellyn Woodland Campsite, also in Wales, identified another common feature of glamping sites.
"I think campfires are one of the biggest growth areas where people want to go back to camping as it was when they were kids," he said.
But of course a campfire isn't complete without a song. So perhaps we can expect sales of acoustic guitars and earplugs to go up alongside those of sleeping bags and stoves.
Glossary 词汇表 (收听发音, 请单击英语单词)