Royal Wedding Memorabilia 王室婚礼纪念品
Royal Wedding Memorabilia 王室婚礼纪念品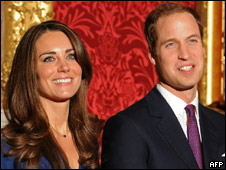 Fans of the British Royal family around the world are making plans for April 29th 2011. That's the date that Prince William and Kate Middleton are to tie the knot at Westminster Abbey in London.
A Royal wedding is a rare and unique event in Britain so for many it's something worth celebrating, particularly if you are in the business of making memorabilia.
Producers of these souvenirs are wasting no time in manufacturing key rings, mugs, teapots and tea towels, mostly with the faces of the happy couple emblazoned on the front. These are the must buy items that Royal followers want to get their hands on.
Some people may argue the Royal wedding is a huge public cost but production and sales of memorabilia is good for business. Former politician, Lord Archer, has commented that: "In this age when we are trying to balance the books, the Royal Family are a great benefit to Great Britain Limited."
A porcelain-making company, called Royal Crown Derby, is already manufacturing souvenir pottery. Louise Adams from the company says "we started designing, truly, about two years ago." It is big business for China too, where much of the merchandise that marks the big event is made.
But why are people so keen to get their hands on a commemorative mug, so much so that one British supermarket has already seen them flying off the shelves?
Obviously, we like to remember an event like this and maybe it makes us feel as though we are part of the occasion. However their monetary value is likely to be low. Eric Knowles from the BBC's Antiques Roadshow claims: "The vast majority of it will be worthless."
Modern day souvenirs tend to be mass-produced making them cheap and easy to find. However limited edition or high-end items tend to keep their value and could be a better investment for the future.
But there is one thing we can guarantee won't be mass-produced and cheap. That's the wedding dress for Princess Catherine, as Kate Middleton will be known.
Glossary 词汇表 (收听发音, 请单击英语单词)