Fish and chips gets top billing 炸鱼薯条出风头 成为话剧主角
Vocabulary: Theatre 词汇:剧院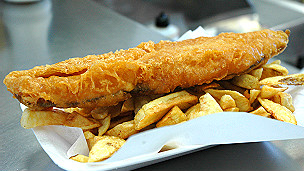 Fish and chips have been at the centre stage of British cuisine for generations. Now a theatre company is putting on a show which charts the history of the dish and its place in national life.
The Mikron Theatre Company is touring the country till the end of October with a play entitled One of Each. It's a tale of storms at sea, saucy secrets and sibling rivalry centred on two chippies seeking a gong.
And guess where the play is being staged? Yes, in restaurants serving fish and chips. Marianne McNamara, the company's artistic director, says: "Mikron tours by van and by narrow boat so we aren't able to have a lot of set. But when you are in a fish and chip shop you don't need a set. You know you've got all the smells, the aroma of fish and chips coming out and people are able to experience what we're describing, what we're celebrating."
Last century, roast beef and Yorkshire pudding were displaced as the national dish and between the First and Second World Wars Britain had 35,000 fish and chip shops.
If the play gets enough applause, who knows which other plots food might inspire in the future? Pie and mash is popular among people with humble origins. Millionaire footballer David Beckham has probably enjoyed his fair share of Michelin-starred eateries but he's still keen on the dish he grew up eating.
Curry has a lot to say about 21st Century Britain. The great number of immigrants from the Indian subcontinent has had an impact on the culture for decades. And many people see spicy curries as the British national dish.
And how about you? What Chinese dish would you write a play about?