减肥可是女生中的流行大潮。时下,各种减肥工具、燃脂运动曾出不穷。这里再给大家一个好消息,就是"喝冰水也可以燃烧卡路里"哦!不过,冰水的减肥功效具体如何,还是请看了下面的分析再决定要不要用这招吧!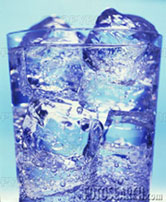 For anyone trying to lose weight, this question is an exciting one! If you simply want to know if your body burns calories warming up the water, the answer is yes. But if you want to know if drinking a lot of ice water can help you lose weight, or keep weight off, this "yes" needs to be qualified with some calculations.
First of all, calories arecase-sensitive. Calories with a big "c" are the ones used to describe the amount of energy contained in foods. A calorie with a little "c" is defined as the amount of energy it takes to raise the temperature of 1 gram of water 1 degree Celsius. What most people think of as a Calorie is actually a kilo-calorie: It takes one Calorie to raise the temperature of 1 kilogram of water 1 degree Celsius. So when you drink a 140-Calorie can of cola, you areingesting140,000 calories.
So, considering that the definition of a calorie is based on raising the temperature of water, it is safe to say that your body burns calories when it has to raise the temperature of ice water to your body temperature. And unless yoururineis coming out ice cold, your body must be raising the temperature of the water. So calories are being burned.
Let's figure out exactly what you're burning when you drink a 16-ounce(0.5 liter) glass of ice water:
1. The temperature of ice water can be estimated at zero degrees Celsius.
2. Body temperature can be estimated at 37 degrees Celsius.
3. It takes 1 calorie to raise 1 gram of water 1 degree Celsius.
4. There are 473.18 grams in 16 fluid ounces of water.
So in the case of a 16-ounce glass of ice water, your body must raise the temperature of 473.18 grams of water from zero to 37 degrees C. In doing so, your body burns 17,508 calories. But that's calories with a little "c." Your body only burns 17.5 Calories.
But let's say you adhere to the "eight 8-ounce glasses of water a day" nutritional recommendation. In 64 ounces of water, there are 1,892.72 grams. So to warm up all that water in the course of a day, your body burns 70 Calories!Over time, that 70 Calories a day adds up. So, drinking cold water instead of warm water does burn some extra Calories!
case-sensitive:区分大小写的
ingest:摄取
urine:尿
ounce:盎司
(英语点津 Annabel 编辑)