如果你看过《友好的巨人》,你一定记得巨人会在大家都睡着的时候出现在街道上,手上拿着长长的吹管,他会为小孩子吹入美梦,为做恶梦的小孩把恶梦吹出来,梦都装在玻璃瓶中,放在巨人背着的包包里。既然无形的梦可以装进包里,咳嗽为什么不能拍到胶卷上呢?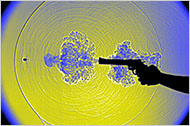 At Pennsylvania State University, a professor of engineering has captured something less whimsical but no less ephemeral — a cough — on film.
The image, published online Oct. 9 by The New England Journal of Medicine, was created by schlieren photography, which "takes an invisible phenomenon and turns it into a visible picture," said the engineering professor, Gary Settles, who is the director of the university's gas dynamics laboratory.
"In my lab we use this technique a lot," Dr. Settles said. "Often it's used for other things, like in supersonic wind tunnels, to show shock waves around high-speed aircraft."
The process involves a small, bright light source, precisely placed lenses, a curved mirror, a razor blade that blocks part of the light beam and other tools that make it possible to see and photograph disturbances in the air.
A healthy student provided the cough. The expelled air, traveling at 18 miles per hour, mixed with cooler surrounding air and produced "temperature differences that bend light rays by different amounts," Dr. Settles said.
He went on: "The next thing is, you get a couple of people in front of the mirror talking, or one coughs on another, and you see how the air flow moves, how people infect one another. Or you look at how coughing can spread airborne infection in a hospital. This is really a suggestion for how we might study all that. The techniques used in wind tunnels can be used to study human diseases."
The final photograph, in a full-scale mock-up of an aircraft cabin, captures in microseconds the flash of an explosion under a mannequin in an airplane seat and the propagation of shock waves into the cabin. The blast was a re-creation of a terrorist's attempt in 1994 to bring down a Philippine Airlines flight with a nitroglycerin bomb. The plane did not crash, but the explosion did kill the passenger seated over the bomb. The simulation used a less intense explosion than the actual bombing.
"The simulation helps to understand how the energy of an onboard blast reverberates around the cabin," Dr. Settles said, "and it is also useful to check the results of computer blast simulations."
This shadowgram captures an instant during the firing of a Smith&Wesson 44 Magnum revolver. Blast waves and propellant gases are observed to originate first from the cylinder and later from the muzzle of the gun. Propellant gas envelopes the hand of the shooter, leaving gunpowder residue. The bullet itself travels at transonic speed, i.e. close to the speed of sound. This is a colorized version of a monochrome original image.
(来源:《纽约时报》网站 实习生许雅宁)
我要了解更多趣味百科知识