你有没有过这样的经历:上班的时候、吃饭的时候、去车库的时候……脑子里总有一首你最近常听的歌曲不断回放,你停不下来,没法不去想它,甚至在开会时不小心哼唱出来。到底是什么在作怪让我们摆脱不掉它呢?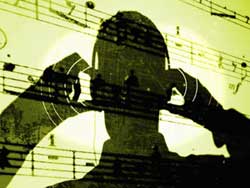 Why do songs get inextricably stuck in our heads? Experts say the culprits are earworms. No, they're not parasites(寄生虫) that crawl into your ear and lay musical eggs in your brain, but they are parasitic in the sense that they get lodged in your head and cause a sort of "cognitive itch" or "brain itch" -- a need for the brain to fill in the gaps in a song's rhythm.
When we listen to a song, it triggers a part of the brain called the auditory cortex(听觉皮层). Researchers at Dartmouth University found that when they played part of a familiar song to research subjects, the participants' auditory cortex automatically filled in the rest -- in other words, their brains kept "singing" long after the song had ended. The only way to "scratch" brain itch is to repeat the song over and over in your mind. Unfortunately, like with mosquito bites, the more you scratch the more you itch, and so on until you're stuck in an unending song cycle.
There are many other theories about why songs get stuck in our heads. Some researchers say stuck songs are like thoughts we're trying to suppress. The harder we try not to think about them, the more we can't help it. Other experts claim that earworms are simply a way to keep the brain busy when it's idling. Just as there are many theories, there are many names for the phenomenon. It's been called everything from "repetunitis" to "melodymania."
James Kellaris, a marketing professor at the University of Cincinnati College of Business Administration, has done research on earworms and brain itch, and he's found that as many as 99 percent of us have fallen prey to them at one time or another. Kellaris says women, musicians and people who are neurotic, tired or stressed are most prone to earworm attacks. With musicians, it makes sense because they're listening to music continuously, but Kellaris isn't sure why women are more susceptible to earworms.
Researchers also aren't sure why some songs are more likely to get stuck in our heads than others, but everyone has their own tunes that drive them crazy. Often the songs have a simple, upbeat melody; catchy, repetitive lyrics; and a surprise such as an extra beat or unusual rhythm -- the same factors that made the songs or jingles popular in the first place (like the Chili's, "I want my baby back baby back baby back ribs" jingle, which made Kellaris' list of the most insidiously "stuck" songs).
Don't worry if you keep getting songs stuck in your head -- it doesn't mean there's anything wrong with you. However, if you actually hear music that isn't there, see a psychologist or other mental health professional. It could be a sign of endomusia -- an obsessive condition in which people hear music that isn't really playing.
(来源:howstuffworks网站 实习生许雅宁)
我要了解更多趣味百科知识