我们都知道可爱的海龟背部有厚厚的甲,比腹甲要结实多了。但你知道吗?在最初的进化过程中,腹甲的形成远远早于其背甲,当腹部的甲壳已经演化到与现代龟类相差无几时,背部的甲壳才刚刚开始出现。最近在中国贵州出土的早期龟类化石就为我们揭开了这个谜底。
From the fossil record, you'd think that turtles burst upon the world with their shells intact. The oldest known species, a 210-million-year-old fossil from Germany, has a complete bottom shell, called a plastron, and a complete top shell, or carapace.
But fully shelled turtles didn't just come out of left field. They evolved, and now a new fossil discovery suggests the route that shell evolution took.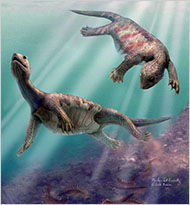 In a report in Nature, Chun Li of the Chinese Academy of Sciences and colleagues describe a new ancestral turtle species based on fossils found in Guizhou Province in southwestern China. The species, which they named Odontochelys semistestacea, lived about 220 million years ago and was probably aquatic.
Like other early turtles, it has teeth rather than a sharp beak. But what really distinguishes it as representing an intermediate stage in turtle evolution is that it has only half a shell: while it has a full plastron, its carapace is incomplete. Instead, the turtle has bony extensions of the backbone and broader ribs.
One school of thought holds that ancient turtles had bony plates on their skin (similar to modern crocodiles) that eventually fused to form the shell.
But the researchers say their finding suggests that the shell evolved from skeletal changes. They note that in modern turtles, the carapace begins to form in the embryo through a similar extension of the backbone and widening of the ribs.
(来源:纽约时报网站 英语点津Jennifer编辑)