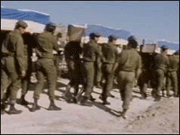 Funerals took place one day after the Ma'alot school killings

1974: Teenagers die in Israeli school attack

Artificially 1969:
The
Sixteen teenagers have died along with three Palestinians holding them hostage at an Israeli school.

Up to seven children were injured, nine critically, after Israeli troops stormed the building in an attempt to free the youngsters in Ma'alot, five miles (eight kilometres) from the Lebanese border.

As the troops entered the school the teenagers were reportedly attacked with hand grenades by the Palestinians. An Israeli soldier is also believed to have died in the gun battle that followed.

Smoke could be seen pouring out of the windows as the Israeli soldiers threw out furniture which they feared was booby-trapped.

Gang stormed school

It is thought that around 100 pupils aged between 14 and 16 were in the school when the Palestinians stormed it in the early hours of this morning as the teenagers slept.

Fifteen people, children and teachers, managed to escape. A teenage boy was later sent out with a list of prisoners the hostage-takers wanted released in Israel.

The Knesset, the Israeli parliament, met in an emergency session, and by 1500 local time a decision was reached to negotiate.

The Israeli government talked to the hostage-takers, via a loudhailer, and had agreed to release 26 political prisoners held in Israel.

It appears that the deal to free the Israeli children broke down when the Palestinians inside the school failed to receive a code word they were waiting for from their organisation in Damascus.

The Popular Democratic Front for the Liberation of Palestine said it carried out the attack.

School faced bomb threat

Israeli Prime Minister Golda Meir told reporters in Jerusalem that her government had been talking to the hostage-takers but had not been given enough time to complete preparations to free prisoners.

Mrs Meir described the group believed to be behind the attack as "an organisation of blood and murder".

Israel's Minister for Information, Shimon Perez, said the decision to storm the school had been taken at the last minute because it was feared the gang would blow it up with the children inside by an 1800 local time deadline.