6月6日下午,"奥运人才行动计划"新闻发布会在北京奥运新闻中心召开。会上发言人透露《北京奥运人才行动计划》日前已由北京市委办公厅、市人民政府办公厅印发。《计划》按照与奥运筹办工作统筹推进、分工合作密切配合、社会力量广泛参与、以实现锻炼为核心、加强能力培养的原则,根据奥运筹办工作需要,明确了外事、安保、交通、卫生、宣传、建筑、环保、商务等16项人才队伍建设重点任务,由17家单位具体负责实施。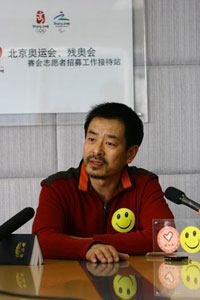 Actor Pu Cunxin registers as Beijing Paralympics volunteer
The various departments of the Beijing municipal government have drawn up an action plan to prepare sufficient competent personnel for the 2008 Olympic Games, taking advantage of this golden opportunity to create a lastingpool of talentfor the city's future.
The city will select about 300 excellent young and middle-aged talents in the organizations under the municipal committee of the Communist Party of China, state-owned enterprises, higher learning institutions, districts and counties, and assign them to different posts within the Beijing Organizing Committee for the Games of the XXIX Olympiad (BOOCG), said Xin Tieliang, director of Beijing Municipal Bureau of Personnel.
Trained through the Olympic Games, these new talents are expected to integrate their knowledge and professional skills with the training of other cadres citywide, thus increasing the overall capacity of the city to serve the Olympics well, Xin told a press conference held by the Beijing Olympic Media Center on Wednesday.
The city will prepare a professional media management team and a creative and market-sensitive team for cultural management and service.
A 12,000-strong security contingent for the Olympic Games under the Municipal Public Security Bureau will be created: it will be quick, efficient, competent and united, Xin added.
Beijing's transportation agency will recruit 20,000 talents for the Olympic transport service. They will be equipped with the necessary knowledge of the Olympic Games, possess the skills of organization, management, vehicle dispatch and driving, which should make for smoother traffic during the Olympics.
In the area of public health, the functional department will train all doctors and health service personnel in the fields of Olympic knowledge and procedure of medical services. At the same time, the selection and training of the personnel fordoping testwill be enhanced.
The foreign affairs office of the municipal government will recruit 5,000 specialized volunteers from Hong Kong, Macao and overseas to train volunteers in proper etiquette, translation and other skills.
Xin said the Beijing Tourism Administration will build a professional tourism service and management contingent of some 55,000 people to meet the demand of the Olympics.
He also highlighted the preparation of quality personnel for environmental protection, law-enforcement and food security.
As far as the volunteer work is concerned, the director said the youth league of the city will build a 100,000-strongvolunteer armadaof passionate and dedicated people. In addition, the city plans to train some 5,000 key members of volunteer technical backbone and 1,000 volunteers who know the operational rules of the Olympic Games and are proficient in volunteer management.
Vocabulary:
pool of talent:人才库
volunteer armada:志愿者队伍
doping test:禁药检查
(实习生徐忠 英语点津boeybb编辑)