Former IOC president: Beijing 2008 will be best-ever Games
[ 2007-06-26 08:58 ]
第13届世界奥林匹克收藏博览会于24日在京开幕,国际奥委会终身名誉主席萨马兰奇在开幕式上表示,北京奥运会筹办工作取得举世瞩目的成就,并深信2008年北京奥运会将成为奥运史上最出色的一届奥运会。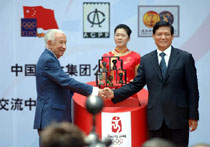 Former IOC president Juan Antonio Samaranch (left) receives gift from BOCOG President Liu Qi at the opening of the World Olympic Collectors Fair in Beijing, June 24, 2007. (Xinhua Photo)
BEIJING, June 24 (Xinhua) -- Former IOC president Juan Antonio Samaranch said on Sunday that he believes the 2008 Olympic Games in Beijing would be the best ever in Olympic history.
"I would like to repeat I am sure that the Olympic Games in Beijing will be the best in Olympic history," said Samarach when addressing the opening ceremony of the World Olympic Collectors Fair in the Chinese capital.
Part of the fifth 2008 Olympic Cultural Festival, the fair is being held in China for the first time, featuring a large display of pins, stamps, coins and other memorabilia bearing the Olympic rings. Other items on display will include Olympic torches, trophies andwarm-up suits. There will also be a collection of Olympic-related stamps donated by Samaranch to the Lausanne-based Olympic museum.
Over 320 exhibitors from 30 countries and regions will display their Olympic collections.
Olympic pin trading has become a tradition, arising from the first modern Olympics in Athens, Greece, where athletes, officials and judges exchanged cards with their names and titles affixed.
Beijing Olympic organizers launched a pin-designing contest in May, welcoming people from all over China to share ideas about the Beijing Games. The Beijing Olympic Organizing Committee (BOCOG) has issued over 500 types of Olympic pins with the figure expected to reach 4,000.


Vocabulary:
warm-up suits:运动服
(英语点津boeybb编辑)