Games-time interns tour Olympic venues
[ 2007-06-12 15:16 ]
10号上午,北京奥组委组织北京8所高校的500多名北京奥运会赛时实习生参观了正在建设中的奥运场馆。今年3月份,北京奥组委在相关高校全面启动了赛时实习生的培养工作,组织师资为赛时实习生教授通用培训课程。北京奥组委各用人部门也对赛时实习生进行了业务知识培训。此次参观活动旨在让赛时实习生亲身感受奥运筹办工作的热烈场面,进一步激发他们投身奥运筹办工作的决心和热情。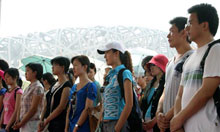 The interns tour the national Stadium under construction
Under the guidance of the Beijing Organizing Committee for the Games of the XXIX Olympiad (BOCOG) over 500Games-time internsfor the Beijing 2008 Olympic Games toured the sites of the venues for the Games last Saturday.
The interns from Beijing Jiaotong University and others werebriefed onthe construction of the venues including the National Stadium and National Indoor Stadium. Zhu Bingchun, director of BOCOG Human Resources Department encouraged the students to do their part for the success of the Olympics.
It was reported that a total of 1,320 Games-time interns will be needed for the next Summer Olympics scheduled for August 8-24, 2008.
In March of this year, BOCOGkicked offan intern training scheme in cooperation with several universities in Beijing, equipping the students with knowledge about the Olympic Games and the 29th Olympiad. The specific BOCOG departments to which the interns were assigned passed on their professional skills.
On June 3, more than 600 interns from eight universities, including Tsinghua University and Peking University, visited the Olympic venues.

Vocabulary:
Games-time interns:赛时实习生
briefed on:介绍
kicked off:启动
(英语点津boeybb编辑)