Beijing movie fans enjoy sports films
[ 2007-07-10 17:41 ]
7月8日晚,第三届北京国际体育电影周在北京隆重开幕。体育界知名人士、电影界知名人士、电影周参展国驻华使节、北京市民代表等共1000多位各界嘉宾参加了开幕式。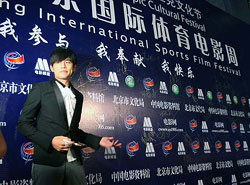 The ceremony features singer Jay Chou
The third Beijing International Sports Film Festival opened on Sunday to the delight of thousands of movie fans in China's capital.
During the week-long festival, the city's seven big cinemas will screen more than 30 films made by 10 countries free of charge. Film lovers will be able to enjoy "The Big Blue" directed by French director Luc Besson, "Children of Heaven" by Iranian director Majid Majidi and documentaries such as "ZIDANE, a 21st Century Portrait," and othermasterworks.
In addition, 315 digital screening vehicles will go to the 1,500 communities across Beijing to give open-air screenings for more watchers.
The festival, the third since 2005, is a major component in the program of the Beijing Olympic Cultural Festival to create a joyful atmosphere in the run-up to the Beijing Olympic Games in 2008.
The opening ceremony featured over 150 art and sports stars, and spotlighted the official creators of the film for the Beijing 2008 Olympic Games.
Vocabulary:
masterworks:电影名片