U.S. dominates triathlon in Pan American Games
在第十五届泛美运动会上,美国包揽了男子女子铁人三项比赛的两枚金牌和两枚银牌,并为美国赢得此项目的2008年北京奥运会入场券。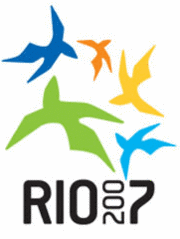 the 15th Pan-American Games
The United States won two gold and two silver medals apiece on Sunday in both themen's and women's triathlonevents at the 15thPan-American Games, also obtaining their tickets to the Beijing 2008 Olympic Games.
In other sports competitions in Rio de Janeiro, Argentina won its first gold medal in the cycling, where Venezuela obtained silver and bronze.
From Sunday's half-day competition, the United States has obtained four of the five gold medals available.
The women's triathlon was dominated by U.S. athlete Julie Ertel,34, clocking 1:57:23 for her gold medal and a ticket to Beijing 2008.
Ertel, 28th in the world rankings, was followed byhot favoritecountrywoman Sara Haskins, while Canadian Lauren Groves won the bronze medal.
Earlier in the men's triathlon, U.S. athlete Andy Potts won the gold medal and also a direct pass to Beijing 2008. Canadian Brent McMahon got the silver and Brazil's Juraci Moreira won the bronze medal.
"Part of my strategy was to stay behind at first. I recovered and when Canadian (McMahon) took the lead I increased my speed to stay close," Potts said after clocking 1:52:31.
Argentine woman cyclist Gabriela Diaz won the first gold medal for her country in the Rio-2007 Games in the BMX cycling competition held at Morro de Outeiro, east of Rio de Janeiro.
Diaz was followed by Brazilian Ana Flavia Sgobin and the bronze medal was won by Venezuela's Kimmi Diquez.
In the men's BMX competition, the gold medal was won by U.S. cyclist Jason Richardson, followed by Venezuelans Jonathan Suarez (silver) and Jose Primera (bronze).
The gold medal in the women's grass hockey was won by Argentine favorites with a 21-0 victory against Brazil.
The U.S. also won its 9th gold medal of the Games in the equestrian dressage, with the silver and bronze medals to be taken away by Canada and Brazil respectively.
Vocabulary:
men's and women's triathlon:男子和女子铁人三项,其中包括游泳,自行车和长跑
Pan-American Games:泛美运动会,是北美,中美和南美洲地区的大型综合运动会,创办于1951年,每四年举行一届,迄今已举办过14届。
hot favorite:夺冠热门选手

(实习生刘佳煦  英语点津boeybb编辑)