近日,全国妇联评选出了10位新时代好男人。但是,无论是体育明星姚明、刘翔,还是IT精英张朝阳、丁磊,都没能入选。据悉,此次评选看重的是男性对女性的关怀和体贴,评委是一些女官员和女性报纸的记者。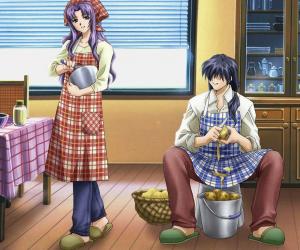 Care and compassion symbolize Men of Our Time.
If you thought sports stars Yao Ming and Liu Xiang or Internet entrepreneurs Zhang Chaoyang and Ding Lei would automatically be on the list of the "Men of Our Time", then you could be, well, behind the times.
The surprise in the list of 10 men released by the All-China Women's Federation yesterday is that it contains no celebrities - and the guiding factors seem to be care and compassion for the opposite sex.
Making the cut are a gynaecologist who made scientific breakthroughs, a pharmacist who helps protects prostitutes from HIV/AIDS, a policeman who rescues women from forced marriages and an official who runs a shelter for wives driven out of their homes.
In fact, Liu and Yao, as well as actor Pu Cunxin - the image ambassador for China's anti-HIV/AIDS campaign - appeared in a pamphlet distributed at the contest's launch ceremony in January. The federation wouldn't say why they are not in the final list.
The winners, with an average age of 47.5, were selected by women officials and journalists of the nine women's newspapers in China, whose criteria was men promoting gender equality.
Li Zhonghua, a 46-year-old airforce officer who test-flies planes, said he thought he was chosen because "he takes good care of his family, and is a gentleman".
"Gentlemen get more respect in our society. They should be like those in the movie Titanic, who let women and children leave first in life rafts," he told China Daily.
Shi Huashan, a 48-year-old policeman in Guixi of Jiangxi Province, said that he became a "man in the eyes of women" because "women love stories of heroes saving beauties".
His team has rescued more than 180 women who were abducted and sold as wives in the mountain regions of Fujian Province.
Li Jianhua, a 52-year-old pharmacist in Kunming of Yunnan Province, emphasized that sex workers should be treated equally and with respect to fight HIV/AIDS. "If you consider yourself above them, they will never trust you," he said.
The other "Men of Our Time" are:
Lang Jinghe, 67, gynaecologist at the Peking Union Medical College Hospital in Beijing, who has made breakthroughs in ovarian cancer;
Ma Li, 33, official in Xuzhou of Jiangsu Province, whose shelter has helped 196 victims of domestic violence;
Li Mingshun, 43, lawyer in Beijing, who is active in campaigns against family violence;
Liu Ri, 51, a mine worker in Lu'an of Shanxi Province, who took care of his paralyzed parents-in-law for 23 years with his wife;
Tian Hui, 36, doctor in Baoji of Shaanxi Province, who took care of the family when his wife was abroad on UN peacekeeping duty;
Han Wei, 51, entrepreneur in Dalian of Liaoning Province, who started a successful business with his wife from feeding chickens;
Fu Shenglong, 45, entrepreneur in Loudi of Hunan Province, who employs about 200 laid-off women workers.
(China Daily)
(英语点津 Linda 编辑)