北京奥组委从9月5日起至2008年4月30日开始面向全球公开征集儿童笑脸照片,照片形象将有可能被用于开闭幕式的文艺表演。为了确保创意的新颖性并使其在开闭幕式现场得以完美呈现,北京奥组委将暂时不公开笑脸照片在开闭幕式中的具体使用方式,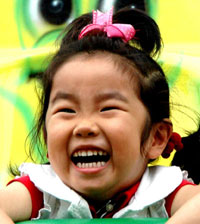 Beijing Olympic committee starts to collect children's smiles for Games 
The Organizing Committee for the Beijing Olympic Games (BOCOG) on Wednesday began the process of collecting smiles of children across the world that will be displayed at the opening and closing ceremonies during the 2008 Games.
An applicant may submit up to five photos of one child and is allowed to offer photos of different children before April 30 next year, said a BOCOG official in charge of the opening and closing ceremonies.
The photos must be color with a resolution of no less than 5 million pixels. Children under the age of 10 are preferred.
The official said that BOCOG might make changes to the photos without "damaging the integrity of smiling faces", and would decide whether and how to use the photos in the opening and closing ceremonies, broadcasting and Olympic Games' publications.
However, the official said BOCOG would not disclose how the photos will be used in the ceremonies to ensure the "novelty" of the idea would be retained.
Applicants should fill in a form, which can be downloaded from the official website for the Beijing Olympic Games (www.beijing2008.cn), before sending CDs containing the photos to BOCOG'S "Smiling Faces Collection Office".
Last month, Chinese film director Zhang Yimou, who is masterminding the 2008 Olympic opening and closing ceremonies, said he planned to collect 10,000 children's smiles for the opening ceremony.
"We will collect the smiles of children of different regions, colors and races all over the world," Zhang told Xinhua.
"We will display these smiles at the opening ceremony, after our artistic processing, to complement the theme of the Games: One World, One Dream," he said.

Vocabulary:
the opening and closing ceremonies:开闭幕式
pixel(s):像素,象素
(实习生张举良 英语点津boeybb编辑)