广州实行公共交通免费一周来,公交地铁的日客流量高达1754万人次,地铁日客流量更是近800万人次,大大超出地铁运输能力,地铁一直超负荷运行,一周来启动三级客流控制高达144次,严重影响地铁正常安检和亚运安保工作进行,同时对市民上下班正常出行造成极大不便。为了保证亚运期间广州市交通正常运行,确保亚运安全,广州市交通部门重新修订优惠方案,决定从11月8日零时起转变亚运期间公共交通优惠方式,将全民免费改为发放现金交通补贴。据悉,发放现金交通补贴的标准定为广州10个区、2个县级市的户籍家庭及在广州居住半年以上的外来人士家庭按每户150元发放,集体户口的市民按每人50元发放。由各区(市)政府组织发放。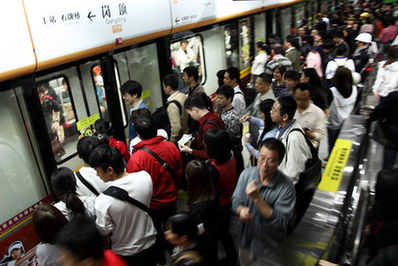 For days, subway trains were often crammed and stations were full as swarms of people lined up to get a free ride.
Each household with permanent residence registration in the provincial capital of Guangdong will be offered 150 yuan ($22) in cash subsidies for commuting purposes after local authorities scrapped a move to make public transport free ahead of the upcoming Asian Games.
The plan was canceled less than a week after it came into effect due to excessive passenger flows, officials said on Saturday.
The Guangzhou government earlier introduced a plan to keep some of the cars off city roads according to their license plate numbers, effectively cutting nearly half of the city's 2.1 million private cars and those entering the city each day during the two-week games, which opens on Friday.
As a remedy, free public transport service was offered for 30 working days beginning Nov 1.
However, the offer met with unprecedented enthusiasm from about 14 million residents of Guangzhou. For days, subway trains were often crammed and stations were full as swarms of people lined up to get a free ride.
In the city's subway system, about 8 million trips were recorded each day last week, almost doubling the average flow of 4.5 million.
The surge has largely outnumbered the designed capacity, sources at the local traffic transportation department said.
Traffic controls were put into force 144 times during the week, which has "seriously affected the games security and caused great inconvenience to residents", said Jie Yalin, deputy director of the Guangzhou transportation commission.
"There will be more people using public transport in the coming weeks when the Asian Games kicks off. We don't want to disturb the system so that any potential security threats can be eliminated," Jie said.
Only about 2.5 million trips were reported in the subway system by 7 pm on Sunday, sources in the Guangzhou Metro Corporation said.
"I intentionally traveled by subway today because I knew there won't be many passengers after the free-ride plan was canceled," a 65-year-old resident surnamed Chen said on Sunday.
"Public transport should never be free. The city has too many people who rely heavily on public transport," Chen said.
Zhang Zhiqiang, a taxi driver, said the government has done the right thing by canceling the plan.
"Any government plan should be changed if it proves ineffective," Zhang said.
In a bid to help more people benefit from the games, the government will also provide migrant workers, who have stayed in the city for more than six months, 150 yuan in cash subsidies for commuting.
However, those carrying Asian Games working cards, such as registered volunteers and reporters, can continue to use the city's public transport free of charge, the local transportation commission said.
(China Daily)
(中国日报网英语点津 Helen 编辑)