昨日,广州亚组委票务中心主任袁越在新闻发布会上代表亚运会组委会恳切呼吁所有持有亚运门票的市民,如果因为一些原因不愿意或无法观看相关场次的比赛,可以将手中的门票赠送给身边愿意观赛的家人、朋友或同事,或者将门票返还至广州市内任意一个亚运城市志愿服务站,由亚组委对这部分门票进行统一回收与调配,将其再次分配给其他有需要的人,让更多的人有机会感受亚运。
除了对外公开销售的门票外,亚运会往往会为赞助商预留部分门票,而这个环节往往就成为了问题的所在,门票的交付疏漏或是赞助商代表的缺席都会导致门票不到位的现象,为了填补这一空缺,亚运会决定追加40万张门票,已于昨日正式开始发售。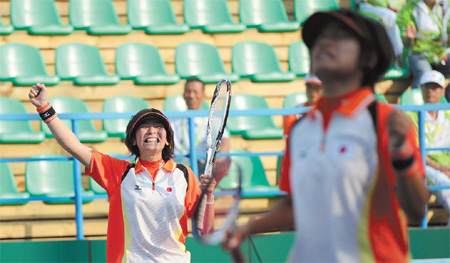 Ayaka Oba (left) and Mai Sasaki of Japan celebrate winning a point during the women's soft tennis team final. Officials expressed concern about the number of empty seats at some venues and asked locals to return their free tickets if they are not going to use them. (Agencies)
In an effort to fill the empty seats, Guangzhou Games organizers appealed to local citizens on Monday to return the free tickets they have received if they are not interested in using them.
The Olympic Council of Asian (OCA) President Sheikh Ahmad Al-Fahad Al-Sabah said he was concerned at seeing so many empty seats in the early days of the games, but all the tickets had already been distributed.
The Guangzhou Asian Games Organizing Committee (GAGOC) dished out half of all the tickets to residents and corporate sponsors but many have not yet showed up, said Yuan Yue, director of GAGOC's ticketing office.
"One big problem is that people don't know what sport or match the free tickets entitle them to see until after the draws are made," she said. "They may decide not to go because they aren't interested in that particular event."
Li Zhiqing was among the million Guangzhou residents who received a complimentary ticket. He said he was disappointed to learn it was for a soccer match between the Republic of Korea and Jordan.
"I don't like soccer. I prefer badminton or table tennis," said Li, who decided not to go. He said tight security checks were also annoying.
Yuan urged people to hand over unwanted tickets to relatives and friends. She said corporate sponsors had already returned some, and those were being put on sale immediately.
Meanwhile, venue directors have been told they have the right to sell extra tickets on site if the stadium does not fill up. They will determine the number and price of the tickets on a match-by-match basis.
Sheikh Ahmad said he has been discussing the issue with local organizers and looking for solutions. He also announced on Monday an extra 400,000 tickets were being released, with a dozen new ticket booths to be opened citywide.
"We will try our best to get more people into the stadiums," said Yuan.
(China Daily)
(中国日报网英语点津 Helen 编辑)