Django Unchained returns to cinemas
中国日报网 2013-05-13 10:14
分享到微信 Film director Quentin Tarantino's violent anti-slavery saga Django Unchained returned to China's screens on Sunday after being dramatically pulled from the country's theaters about a month ago.
Screenings of the movie were suddenly suspended at theaters on April 11, itsopening day in China, by the movie's importer, China Film Group Corp.
Some "minor changes" have been made to the returned film, according to Shanghai's UME Cineplex. In April, the film was abruptly dropped for "unspecific technology reasons".
It is reported that the new edition is three minutes shorter than the previous one, with nudity scenes omitted.
The then 165-minute film was expected to reap "a conservative 60 million yuan ($9.8 million) in ticket sales" during its April debut.
But the Oscar-winning film got off to a poor opening in China on Sunday -if not a box office debacle - box office receipts in Shanghai and Beijing showed.
"The film's seat occupancy rate is below 30 percent as of 3:30 this afternoon," said Zhang Wenwen, manager of Wanda International Cineplex, Beijing.
In Shanghai, a rather higher 50 percent rate was experienced by the UME International Cineplex in Xintiandi, a landmark of the metropolis. But it is still below the box office average compared with other Hollywood movies including Iron Man 3 and Tom Cruise's Oblivion, which debuted on Friday, according to a staff member of the cinema's ticket office surnamed Xi.
On Gewara.com, a popular film ticket selling website, both Shanghai and Beijing witnessed no more than 6,000 people buy tickets for the film on Sunday, while Oblivion sold more than 50,000 tickets across the two cities.
"It's bad timing for the return of the film," said Geng Yuejin, vice-manager of Edko Films Ltd, which runs 21 theaters across the country.
"Sunday is not a good day for film debuts in the first place and then there is competition between both domestic and foreign big blockbusters So Young, Iron Man and Oblivion," said Geng.
But other industry insiders blamed cinemas for giving little publicity, fewer showings and poorly determined show times for the film.
According to mtime.com, the sci-fi adventure Oblivion boasted 746 showings at 100 cinemas in Beijing on Sunday, and Iron Man 3 had 882 showings in 102 cinemas, while Django Unchained had 409 showings at 91 cinemas in the capital city.
"I have been standing here for an hour and haven't sold a single ticket for the film yet," said a ticket scalper outside Shanghai's Central Grand Cinema.
Unwilling to give his name, the scalper claimed he has been "making small money" by selling discounted tickets at the cinema for years but seldom has he been "so unlucky".
Afternoon tickets were on sale for 100 yuan each in the cinema. The scalper was selling them for 150 yuan two-and-a-half hours before the film began. Eventually he reduced the price to 50 yuan.
Xi at Shanghai UME Cineplex said the film's theme didn't appeal to young cinema-goers. On douban.com, a Chinese film review aggregation website akin to Rotten Tomatoes, the film has garnered an average rating of 8.5 out of 10 from more than 85,300 people who claimed to have seen the film.
"It's not a surprise that the Oscar-winning film is a box office dud in China," said Tengjing Shu, a well-known film critic and producer in Shanghai.
"Cinephiles watched it right after it won two Academy Awards (given at the 85th Awards in February), while the news of it being pulled from theaters for the rumored reason of nudity has attracted another curious audience who would have been perfectly satisfied viewing the unabridged version online for the past month. As a result, there was only a small audience for its silver screen debut in China," she said.
Peng Boda, a 27-year-old computer programmer in Shanghai, told China Daily that he had been waiting for the return of the film after the "disappointing" sudden withdrawal last month.
A big fan of Quentin Tarantino and actor Leonardo DiCaprio, Peng said he has watched most of the director's works and, although he knows there will be additional cuts, "there is no better option" in order to enjoy the Tarantino-style "bloodiness" on the big screen.
Ben Ji, a producer who has work experiences in both Hollywood and domestic studios, said he believes there is an urgent need for a rating system for films in China.
Questions:
1. What was the reason given behind Django Unchained's abrupt removal from theaters in April?
2. How many tickets in total were purchased for the film Oblivion in Beijing and Shanghai on Sunday?
3. Regarding films in China, producer Ben Ji said there was an urgent need for what?
Answers:
1. The film was pulled due to "unspecified technical reasons."
2. 50,000.
3. A rating system.
(中国日报网英语点津 Helen 编辑)
About the broadcaster: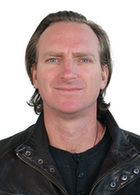 Lance Crayon is a videographer and editor with China Daily. Since living in Beijing he has worked for China Radio International (CRI) and Global Times. Before moving to China he worked in the film industry in Los Angeles as a talent agent and producer. He has a B.A. in English from the University of Texas at Arlington.
中国日报网英语点津版权说明:凡注明来源为"中国日报网英语点津:XXX(署名)"的原创作品,除与中国日报网签署英语点津内容授权协议的网站外,其他任何网站或单位未经允许不得非法盗链、转载和使用,违者必究。如需使用,请与010-84883561联系;凡本网注明"来源:XXX(非英语点津)"的作品,均转载自其它媒体,目的在于传播更多信息,其他媒体如需转载,请与稿件来源方联系,如产生任何问题与本网无关;本网所发布的歌曲、电影片段,版权归原作者所有,仅供学习与研究,如果侵权,请提供版权证明,以便尽快删除。