Jack of all trades?
中国日报网 2013-06-24 10:26
分享到微信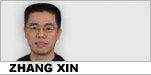 Reader question:
Please explain "jack of all trades" in this sentence:
With experience in news reporting, marketing and public relations, Patrick is truly a "jack of all trades."
My comments:
Jack is often seen in this phrase with a capitalized J because Jack is the name of a person – he can be anyone in the street.
Yes, in other words, Jack is the same as Joe in the American expression the "average Joe" – the common man (or woman).
The "Jack of all trades" is someone who is capable of doing many different jobs in many lines of business (trades).
In our example, Patrick is likened to a "Jack of all trades" because this guy is experienced in not just journalism (news reporting), but marketing and public relations.
News reporting involves skills of writing and communicating with other people, handling interviews and so forth. It's a different set of skills compared to what's required for marketing and public relations, even though the latter two trades also benefit from good interpersonal skills.
Patrick is experienced in all three trades and is therefore a person of versatility. He's good at all three jobs, too, I assume, judging from the tone of sentence.
People such as Patrick are rare in society and are often highly valued. Rightfully so because it is difficult to be good at one job – if you set a high standard for yourself, that is – let alone many at the same time.
Often, someone may be able to do a few jobs, but they're not very good at any particular one of them.
In that case, people may describe him/her as a "Jack of all trades but master of none". That means this particular Jack dabbles in a lot of things but isn't very good.
In other words, he or she is not a specialist, but rather a generalist.
"Generalist" is a big word. A generalist should be expected to do any and everything reasonably well, don't you say? You have a point. Perhaps a "Jack of all trades, master of none" is really a good for nothing.
That's a little too harsh, I'm afraid, but you get the idea. It all depends on the situation.
Alright, here are media examples of people or things considered to be "a Jack of all trades":
1. Did you know that there's a product in your pantry that's also a great household cleaner for counter tops and even freshens the air?
Baking soda isn't just an ingredient for cooking, it's truly a jack-of-all-trades around the house.
Household Uses for Baking Powder:
• A gentle scouring powder for kitchen countertops.
• A paste (mixed with a little water) to shine stainless steel.
• A vinyl floor cleaner (1/2 cup mixed with a quart of water).
• A way to soften water so you can use less soap. You can add in a half cup to your laundry, for example.
• An air freshener: Set some out in a bowl, place some in your cat's litter box, or leave an open box in your refrigerator.
– Household Uses for Baking Powder, ABCNews.go.com, April 22, 2010.
2. Roy A. Peterson, 66, a resident of Bete Grise, passed away at his home on Wednesday morning, September 14, 2011, following a courageous battle with pancreatic cancer.
He was born on August 1, 1945, in Laurium, a son of the late George and Verna (Carlson) Peterson.
He graduated from Calumet High School with the class of 1964. He later attended Suomi College and Northern Michigan University receiving his teaching degree. Locally, he taught at Calumet and Houghton Schools.
Roy was a veteran, having served in the U.S. Navy.
On June 20, 1964, he was married to June Ahonen.
Roy worked at C & H and Quincy Mine, Liberty Loan in Hancock, First National Bank in Lake Linden, Jukuri's Gas Station in Laurium, Chevy Garage in Calumet, Lockheed in California and eventually retiring as a federal employee from the Calumet Radar Station.
He ran his own side business, Roy's Repair Service in Bete Grise, in his retirement years, repairing boats or doing handy work for his neighbors. He was truly a jack of all trades.
- Roy A. Peterson, MiningGazzette.com, September 17, 2011.
3. After 10 weeks without a job, Terry Kirby landed with the Oakland Raiders.
Talk about luck.
"It feels good," the veteran running back said.
The Raiders (13-4) play host to the Baltimore Ravens (14-4) Sunday in the AFC title game. For Kirby, it has been a satisfying last few weeks to a season that got off to a slow start.
"When I worked out for three or four teams and it didn't happen, I kind of wondered where I would end up," he said. "Things happen, and it came back in my favor. And I'm thankful for it."
Kirby, who once played across the bay for the San Francisco 49ers, was cut by the Cleveland Browns in the preseason. The Raiders picked him up in November when both Tyrone Wheatley and Napoleon Kaufman were hobbled by injury.
The eight-year veteran found himself a member of a corps of running backs the Raiders call "The Committee."
The group is anchored by Wheatley and includes Kaufman, Kirby, Zack Crockett, Jon Ritchie, Randy Jordan and even quarterback Rich Gannon, who is known for his scrambling ability.
Together, they formed the NFL's top rushing offense with 154.4 yards a game in the regular season. They also were first in the AFC with 23 rushing touchdowns.
"This is the most unselfish group I've been in," Kirby said. "We have so many running backs, we can't have egos."
Kirby led Cleveland in rushing last season with 452 yards and finished second in the AFC among running backs with 58 receptions.
He went into the Browns' training camp as the backup to Errict Rhett, but lost that spot to rookie Travis Prentice. Cleveland also signed rookie running back Jamel White on waivers from the Indianapolis Colts, sealing Kirby's fate.
When asked if he felt unappreciated by the Browns and other teams in the league who gave him a look but passed, Kirby was honest.
"Yeah, I do. Last year, I basically led the Cleveland Browns in total offense," he said. "Then I end up not working for 10 weeks."
The Raiders appreciate him. In the divisional playoff game against the Miami Dolphins, Kirby had 11 carries for 37 yards, second on the team only to Wheatley. And that was against Miami's tough rush defense.
"He can do it all, he's a real Jack of all trades," head coach Jon Gruden said. "He's a very natural, instinctive back who can play in any situation."
- Raiders backup RB Kirby glad for a shot at a title, Associated Press, January 12, 2001.
Related stories:
本文仅代表作者本人观点,与本网立场无关。欢迎大家讨论学术问题,尊重他人,禁止人身攻击和发布一切违反国家现行法律法规的内容。
About the author:
Zhang Xin(张欣) has been with China Daily since 1988, when he graduated from Beijing Foreign Studies University. Write him at: zhangxin@chinadaily.com.cn, or raise a question for potential use in a future column.
中国日报网英语点津版权说明:凡注明来源为"中国日报网英语点津:XXX(署名)"的原创作品,除与中国日报网签署英语点津内容授权协议的网站外,其他任何网站或单位未经允许不得非法盗链、转载和使用,违者必究。如需使用,请与010-84883561联系;凡本网注明"来源:XXX(非英语点津)"的作品,均转载自其它媒体,目的在于传播更多信息,其他媒体如需转载,请与稿件来源方联系,如产生任何问题与本网无关;本网所发布的歌曲、电影片段,版权归原作者所有,仅供学习与研究,如果侵权,请提供版权证明,以便尽快删除。