Chengde-Imperial playground
中国日报网 2013-07-22 09:07
分享到微信 Picturesque Chengde was a summer escape for emperors for centuries, and it is still the perfect place for a weekend break. Harvey Dzodin explores the town only a few hours from Beijing.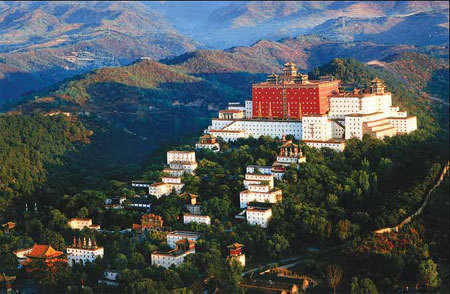 Putuo Zongcheng Temple, one of the Outlying Temples of Chengde's Mountain Resort, is magnificent and spectacular with clinquant gold plates and copper tiles. Photos Provided to China Daily
The Great Wall was originally built as early as the Spring and Autumn Period (770-476 BC) to keep barbarians out but for many foreigners, psychologically at least, it also keeps us penned in when taking weekend trips. That's a pity because there is an historic gem of a city, Chengde, a picturesque 250 kilometer journey north From Beijing in Hebei province. It was chosen by Qing Dynasty (1644-1911) emperors for its strategic location and its natural air-conditioning as their escape from Beijing's oven-like summers.
This UNESCO World Heritage site boasts breathtaking terrain, a vast imperial summer resort and a plethora of picturesque temples. And perhaps best of all, its air is not merely cooler, but much cleaner than in the urban centers.
Chengde's Mountain Resort, the imperial summer resort, took most of the 18th century to build and spans the reigns of the Qing Dynasty emperors Kangxi, Yongzheng, and Qianlong. Dwarfing Beijing's Summer Palace, it is China's finest existing example of a temple complex and imperial garden.
The area was said to be discovered by the Kangxi emperor while hunting on the grasslands. For many Qing Dynasty rulers, Chengde was the seat of government for half the year and the second most powerful city after Beijing.
The Mountain Resort consists of the palace area and various pleasure areas. Imagine a vast area of varied architectural styles blending in utmost harmony into a landscape of forests, grasslands and lakes.
The palace area consists of four groups of buildings. They are constructed of black bricks and gray tiles in the simple traditional Chinese style, but with an obvious touch of imperial solemnity.
There are eight lakes in the garden and the lake area is laid out in accordance with traditional Chinese garden design. There are also eight small islands dotted with buildings, many of which are imitations of houses found south of the Yangtze River.
Further afield there are the Outlying Temples that were built to appease ethnic groups such as Mongolians and Tibetans, and to strengthen the imperial administration of the border regions. They consist of 12 lamaseries built in Han, Tibetan or a hybrid style. These ornate, majestic temples are in sharp contrast to the simple design of the palace area. The temples were mainly used by the ethnic representatives to hold audiences with the emperor.
My favorite is the largest one: Putuo Zongcheng Temple, a replica of the Potala Palace in Tibet autonomous region.
It was built to celebrate Emperor Qianlong's 60th birthday and his mother's 80th. The temple is magnificent and spectacular with clinquant gold plates and copper tiles.
Another, the Temple of Universal Peace, houses one of the biggest gold painted wooden Buddhas in the world, the Guanshiyin Bodhisattva with one thousand arms and one thousand eyes. Here's looking at you, kid!
There are many places to see slightly further afield. The one I enjoyed most was a 20-minute ride from the center of town.
It's the Kangxi Ceremony, held every evening from mid-May through mid-October, featuring the clever use of natural surroundings, high-tech lighting and lasers. It involves a cast and staff of a thousand people, and 200 performing horses.
The ceremony traces the life and many achievements of one of the giants of Chinese imperial history. While this spectacular show is performed in Chinese, subtitles in English, Japanese and Korean help explain this magnificent story.
Another place to visit is the Fengning Grassland, a great summer holiday resort for escaping the hot summer sun.
The average summer temperature is a pleasant 17.4 C. Recently, many vacation villages and vacation centers have sprung up so visitors can enjoy activities like horse riding, camel riding and archery.
The grassland is on a vast plateau covered with green grasses and wild flowers.
For centuries, the area has been called the warehouse of medicine because there are more than 300 plant varieties. Adding to the color, the local people can be seen tending their animals in the fields.
Visitors should go to Chengde soon because change is in the air. In 2015, the high-speed train will transform everything forever. The train journey from Beijing will be only 45 minutes. The year after a new airport will further speed development.
It is certain that the city will be vastly different so it's worth seeing it now in its present state of development.
While Chengde lacks good international standard hotels, with the changes about to take place, this situation is sure to be addressed. In the meanwhile there are plenty of reasonable local places to stay in and around the city.
And besides the sightseeing in the Mountain Resort, Chengde city boasts rich tourist products, including study tours, skiing, hot springs and sports activities.
The author, Harvey Dzodin, is a senior advisor to Tsinghua University and former director and vice-president of ABC Television in New York.
(中国日报网英语点津 Helen 编辑)
中国日报网英语点津版权说明:凡注明来源为"中国日报网英语点津:XXX(署名)"的原创作品,除与中国日报网签署英语点津内容授权协议的网站外,其他任何网站或单位未经允许不得非法盗链、转载和使用,违者必究。如需使用,请与010-84883561联系;凡本网注明"来源:XXX(非英语点津)"的作品,均转载自其它媒体,目的在于传播更多信息,其他媒体如需转载,请与稿件来源方联系,如产生任何问题与本网无关;本网所发布的歌曲、电影片段,版权归原作者所有,仅供学习与研究,如果侵权,请提供版权证明,以便尽快删除。