《无敌破坏王2:大闹互联网 》电影精讲(视频)
中国日报网 2019-01-25 12:30
分享到微信 影片简介: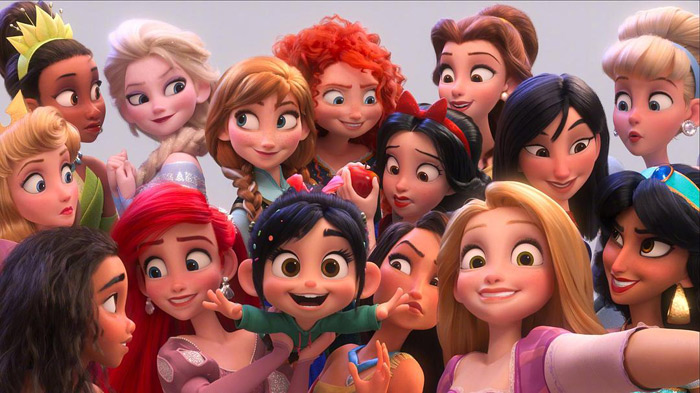 这一次,破坏王拉尔夫和云妮洛普又闯祸了,导致了云妮洛普所在的游戏《甜蜜冲刺》的游戏机方向盘遭到了损坏。这是一台非常古老的街机,在整个互联网中,只有一只备用方向盘正在销售,然而它的售价实在是非常昂贵,老板决定放弃这台机器,将它解体变卖。这也就意味着,《甜蜜冲刺》里的角色们将永远失去他们的家园。
为了避免这一悲剧的发生,拉尔夫和云妮洛普决定亲自到互联网里去走一遭,买回方向盘。一路上,他们惹了无数的笑料,犯了无数令人啼笑皆非的错误。为了赚钱,拉尔夫不惜亲自出马成为视频网站的网红赚取点击量变现,而云妮洛普则在另一款赛车游戏《狂野飙车》里找到了真正的自我。
精彩词句学起来:
1. I rest my case. 我的话讲完了。
2. My mind is blown! 我太吃惊了。
3. Man, I'd kill for even just a new track. 要是能有条新轨道,我什么都愿意做。
4. We have a situation. 我们有麻烦了。
5. Well, beggars can't be choosers, can they? 要饭的哪能挑肥拣瘦啊。
6. I will cover for you. 我会帮你善后的。
7. You mess with the bull, you get the horns, little girl! 老虎屁股摸不得啊,小姑娘。
精彩片段对白:
YESSS: Okay, I'll redirect our newest pop-up to OhMyDisney.com.
(GIRLS CHEERING)
(POP MUSIC PLAYING)
VANELLOPE: Jeez Louise, this place is bonkers! Whoa!
BUZZ LIGHTYEAR: To infinity and beyond!
VANELLOPE: Aw, come on. Princesses and cartoon characters? Lame.
EEYORE: Hey, easy there.
VANELLOPE: Oh, I mean, no offense or anything. Well, time to get to work.
ANNOUNCER: And for your final question. "My friends would describe me as?"
GIRL USER: Smart, funny, kind, or brave. Um...Kind, I guess?
ANNOUNCER: Based on your answers, your princess BFF is Snow White!
SNOW WHITE: I do believe our friendship will be the fairest of them all!
VANELLOPE: Hey, wanna meet my BFF? It's Wreck-It Ralph. Just click here to see his new video.
(BEEPS)
VANELLOPE: Thank you.
MAN USER 1: Yeah, um, in Captain America: The First Avenger...Red Skull refers to Yggdrasil, the World Tree, Guardian of Wisdom and Fate. Are we to believe, sir, that you are a descendant of that tree?
GROOT: I am Groot.
MALE USER 1: Okay, okay. Thank you very much.
FEMALE USER: Um, what is Drax really like?
GROOT: I am Groot.
FEMALE USER: Thank you.
MALE USER 2: Yeah. Are you a conifer or a fruit-bearing tree?
VANELLOPE: I... Excuse me. I'll take this one. He is Groot, I am Vanellope, click here to meet Wreck-It Ralph. Eh, this is almost too easy.
STORMTROOPER 1: Hey, do you have a permit for that pop-up?
VANELLOPE: Uh...
STORMTROOPER 1: That's unauthorized clickbait. You're coming with us, kid.
VANELLOPE: Boop!
(SCREAMS)
STORMTROOPER 2: She's getting away.
(ANNOUNCER CHATTERING)
STORMTROOPER 3: This way.
VANELLOPE: Ooh! Sorry, mister!
GRUMPY: Hey, can't you read? Cast members only!
(VANELLOPE PANTING, EXCLAIMS)
STORMTROOPER 2: I think she went down this way. Come on.
STORMTROOPER 3: Roger that.
STORMTROOPER 3: Did you see a kid come through here?
GRUMPY: She came running through here like a headless hen.
(STRAINING)
STORMTROOPER 3: Any sign of her?
STORMTROOPER 2: No, maybe she went down to the Air Bud pavilion.
STORMTROOPER 3: Come on. Let's check it out.
(PRINCESSES CHATTERING)
(PRINCESS HUMMING)
(PRINCESSES GASPING)
VANELLOPE: Uh, hi!
(PRINCESSES GRUNTING, SHOUTING)
VANELLOPE: Whoa, whoa. Ladies, I can explain. See, I'm a princess, too.
ANNA: Wait, what?
VANELLOPE: Yeah. Princess Vanellope Von Schweetz...of the, uh, Sugar Rush Von Schweetzes. I'm sure you've heard of us. It'd be embarrassing for you if you haven't. (CHUCKLES NERVOUSLY)
POCAHONTAS: Huh. What kind of a princess are you?
VANELLOPE: What kind?
RAPUNZEL: Do you have magic hair?
VANELLOPE: No.
ELSA: Magic hands?
VANELLOPE: No.
CINDERELLA: Do animals talk to you?
VANELLOPE: No.
SNOW WHITE: Were you poisoned?
VANELLOPE: No!
BOTH: Cursed?
VANELLOPE: No!
BOTH: Kidnapped or enslaved?
VANELLOPE: No! Are you guys okay? Should I call the police?
ARIEL: Then I have to assume you made a deal with an underwater sea witch where she took your voice in exchange for a pair of human legs?
VANELLOPE: No! Good Lord, who would do that?
SNOW WHITE: (SING-SONG) Have you ever had True Love's Kiss?
VANELLOPE: Ew! Barf!
JASMINE: Do you have daddy issues?
VANELLOPE: I don't even have a mom.
PRINCESSES: Neither do we!
RAPUNZEL: And now for the million-dollar question. Do people assume all your problems got solved because a big strong man showed up?
VANELLOPE: Yes! What is up with that?
ALL: She is a princess!
(SNOW WHITE VOCALIZING)
CINDERELLA: Who made your gown? I've never seen anything quite like it.
VANELLOPE: Oh, this old thing?
CINDERELLA: Oh, I'd so love to have one of my own.
AURORA: As would I.
MOANA: Me too!
ELSA: So cool.
RAPUNZEL: Best outfit ever!
ARIEL: Ooh! I want one, too, you guys!
CINDERELLA: I'll get my mice on this. (SIGHS) So this is love. All hail Princess Vanellope, the queen of comfy!
(PRINCESSES CHEERING)
RAPUNZEL: Yay, Vanellope!
ARIEL: Of all the thingamabobs in this entire world...I never thought I'd get to wear a real... what's it called again? Oh, yeah. Shirt. ♪ I once had a dream that I might wear a shirt... ♪
VANELLOPE: Whoa, whoa, whoa, whoa. Wait! What's going on?
JASMINE: Uh, she's singing.
VANELLOPE: Yeah, but there was like music and a spotlight. Wait, you all saw it too, right?
TIANA: That's what happens when a princess sings about her dreams.
VANELLOPE: Oh, that's never happened to me. I mean, not even once.
RAPUNZEL: Why don't you give it a try? What is it you really want? Sing about that.
VANELLOPE: Okay. Uh, sure. Huh. I could do that. Um, let's see. (CLEARS THROAT) ♪ Oh, steering wheel Oh, steering wheel ♪ Oh, yes I want a steering wheel ♪ (SCATTING)
BELLE: Well, there is a lot to unpack here.
AURORA: Mmm-hmm.
BELLE: So, this steering wheel you sing of, that's a metaphor?
VANELLOPE: Oh, no, no, no, it's not a metaphor. I just... I literally want a steering wheel. I think the issue is I was a little pitchy.
MULAN: Maybe a little. But sometimes your song can't start until you go someplace to reflect.
POCAHONTAS: What works for some of us is finding a form of water and staring at it.
VANELLOPE: What?
SNOW WHITE: Oh, yes, I like to stare at a wishing well!
MOANA: I stare at the ocean.
MULAN: Horse trough.
CINDERELLA: Soap bubbles!
VANELLOPE: Wait, you're saying if I just stare at some water...
ARIEL: Uh, important water.
VANELLOPE: Right. Of course. "Important water." I stare at the important water and somehow magically I'll start singing about my dream?
RAPUNZEL: For sure.
TIANA: Mmm-hmm.
VANELLOPE: Uh, yeah, I don't think so, ladies, but thanks.
(KNOCKS ON DOOR)
C-3PO: Five minutes, Princesses. Another "Which Disney Princess Are You?" quizlet starts in five minutes.
(PRINCESSES GROAN)
JASMINE: Okay, thank you.
TIANA: Well, I guess it's back to the gowns, girls.
AURORA: It was lovely to meet you, Vanellope.
BELLE: And best of luck finding your song.
MERIDA: (SPEAKING SCOTTISH ENGLISH)
VANELLOPE: Uh-huh. (WHISPERING) What did she just say?
TIANA: We don't know.
MOANA: We can't understand her.
ANNA: She's from the other studio.
VANELLOPE: Ah.
(中国日报网英语点津 陈丹妮)
中国日报网英语点津版权说明:凡注明来源为"中国日报网英语点津:XXX(署名)"的原创作品,除与中国日报网签署英语点津内容授权协议的网站外,其他任何网站或单位未经允许不得非法盗链、转载和使用,违者必究。如需使用,请与010-84883561联系;凡本网注明"来源:XXX(非英语点津)"的作品,均转载自其它媒体,目的在于传播更多信息,其他媒体如需转载,请与稿件来源方联系,如产生任何问题与本网无关;本网所发布的歌曲、电影片段,版权归原作者所有,仅供学习与研究,如果侵权,请提供版权证明,以便尽快删除。