Before hand? 事先
中国日报网 2020-05-26 13:40
分享到微信 Reader question:
Please explain "before hand", as in this sentence: The hotel says we must book our room before hand, at least one week in advance.

My comments:
As you can probably infer, before hand means in advance, before the actual event. You must book a room at the hotel one week early.
Presumably the hotel is highly sought. If you don't book your room in advance, you may find the hotel sold out when you arrive at the front desk.
Question is, what "hand" in "before hand"?
There's no definitive answer. I cannot find a definitive one at any rate. However, I have a conjecture. I am not sure whether it's the answer but I think it at least makes a little sense. Let me explain.
When we play poker, we often have to talk about rules, what's allowed and what's not, that kind of stuff before the hand is dealt.
Yes, as you may guess, "hand" in "before hand" may originally refer to the hand you're dealt, i.e. the cards you have in your hand.
As we know, different places have different rules and regulations regarding the poker game. Therefore, before play, we deliberate and come to an agreement as to what's allowed and what's not allowed.
That's what before hand is about. BEFORE the HAND is dealt. You must set the rules and argue your points and voice your objections before the hand is dealt, i.e. before the cards are passed out.
Once the hand is dealt, you cannot ask for rule changes any more.
Hence, the idiom before hand, meaning do it before the actual event. In the game of poker, if you quibble about rules and regulations before the game, you're being upfront - and honest. If want to vouch for a change of rules after the hand is dealt, you are, well, cheating.
Losing is bad. Being a bad loser is worse.
"Before hand", in short, is the opposite to the idiom "after the fact", or after the actual event.
All right. Here are media examples of "before hand":

1. We're in the height of a collagen craze, and I get it. Once upon a time if you needed to plump your skin you could get your fill with, well, fillers. Now there's so many different kinds of collagen on the market that you can swing by your local drug store and slather it on. Or it's as simple as grabbing a jar or packet of the stuff and slipping it into whatever beverage is closest to hand. You can doll up your water or even slip it into your morning cup of coffee! Easy peasy, amirite? Actually, that last one is a terrible idea.
Though it is tempting to dose your morning cappuccino with collagen powder (because it doesn't exactly taste amazing) that kind of defeats the whole point of it. For a recent article in The Conversation, scientist and assistant professor of microbiology at Texas A&M University Brooke Russell points out that your collagen powder falls apart at temperatures above body temperature—your steaming hot morning brew turns it into pure gelatin. You know what's probably not going to give you the health and beauty benefits of collagen? That, literally that.
And though it's an absolute bummer, we're still learning which collagen products are really making our skin bounce back. Your friend with the fresh Rapunzel locks says hard yes, and research definitely links it to strengthening your hair and hardening your brittle nails. But not all collagen supplements or infused-lotions are built equally, you know? So, um, now that I'm done being a buzzkill, what is the best way to bolster our collagen intake?
...
Brigitte Zeitlin, RD registered dietitian and owner of BZ Nutrition in NYC suggests to her clients to mix it up. She advises that they can put it in your iced lattes or water, maybe even oatmeal (so long as you add it beforehand to avoid the gelatin effect). But she hard agrees that vitamin C for collagen boosting is a smart and safe route.
"Aim to eat Whole Foods that boost your own collagen production, like citrus fruits, strawberries, sweet pot oars, red peppers, spinach, and broccoli, thanks to their high levels of vitamin C," Zeitlin says.
- ONCE AND FOR ALL, THIS IS THE BEST WAY TO GET YOUR COLLAGEN, by Mary Grace Garis, WellAndGood.com, September 20, 2019.

2. It was a big surprise for a Mount Pleasant woman when she learned she was pregnant. Then another big surprise: she would be having triplets. But she was in for a third surprise: all three of her babies would be boys.
Miranda Livermore and her husband Arthur, already have three young girls, ages 10, 8 and 5. Adding three more children to the mix was not part of the plan. Even if it would have been planned, they certainly would not have picked a global pandemic as the backdrop for such an occasion.
"I think following all of the policy updates has been pretty stressful," Livermore said. "We obviously want to keep ourselves safe and the staff safe."
The boys were delivered on Wednesday, several weeks early but are in good condition. Livermore said despite her water breaking she still had to be tested for COVID-19.
"We had plans to do it before hand but because my water broke when I came in they did a rapid test in the negative pressure room and they had it back in an hour to tell me that I was negative," Livermore said. If she had tested positive, she said she would have had to be quarantined from her babies for two weeks.
The boys' names are Arthur, Russell, and Theodore. The first letter of each name makes up the father's name, Art.
- Woman who gave birth to triplets cared for by nurse working during her honeymoon, WECT.com, April 24, 2020.
3. A TikTok user is earning plenty of online praise after sharing her "surprising" kitchen discovery.
Johanna Westbrook, who lives in Dallas, shared a video of the newfound hack on May 13. Her clip, which has since racked up more than 1.7 million views, demonstrates a method for juicing fruit that many users said they'd never even thought of trying.
We found literally the only tool you need to make delicious grilled food in the safety of your own home this summer.
Westbrook, who says in her video that she originally saw the hack elsewhere on TikTok, begins by stabbing a long, wooden skewer into what she calls the "butt" of a lemon.
Then, she removes the stick and holds the lemon over a glass bowl, squeezing out a significant amount of juice with ease.
"Legit didn't think this would work," Westbrook captioned her video.
Even Westbrook herself seems shocked by the result, screaming into the camera and repeating her excitement that the juice came out completely seedless.
Her video sparked similar reactions from several commenters, who called the method "surprising" or wrote that they'd be trying it immediately.
...
Many TikTok users also gave the hack a try themselves, writing that the method was a "game-changer" or that they "can't be the only one" who didn't know about it beforehand.
- Woman astonishes internet with 'surprising' kitchen hack: 'I need to see if it's true', AOL.com, May 19 2020.
本文仅代表作者本人观点,与本网立场无关。欢迎大家讨论学术问题,尊重他人,禁止人身攻击和发布一切违反国家现行法律法规的内容。
About the author: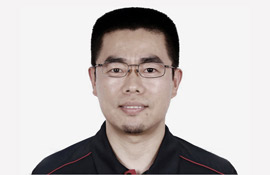 Zhang Xin is Trainer at chinadaily.com.cn. He has been with China Daily since 1988, when he graduated from Beijing Foreign Studies University. Write him at: zhangxin@chinadaily.com.cn, or raise a question for potential use in a future column.
(作者:张欣 编辑:丹妮)
中国日报网英语点津版权说明:凡注明来源为"中国日报网英语点津:XXX(署名)"的原创作品,除与中国日报网签署英语点津内容授权协议的网站外,其他任何网站或单位未经允许不得非法盗链、转载和使用,违者必究。如需使用,请与010-84883561联系;凡本网注明"来源:XXX(非英语点津)"的作品,均转载自其它媒体,目的在于传播更多信息,其他媒体如需转载,请与稿件来源方联系,如产生任何问题与本网无关;本网所发布的歌曲、电影片段,版权归原作者所有,仅供学习与研究,如果侵权,请提供版权证明,以便尽快删除。