Ghost writer 影子写手
中国日报网 2020-08-11 22:48
分享到微信 Reader question:
Please explain this sentence, particularly ghost-wrote: She was listed as a co-author of the book, which means that she likely ghost-wrote the book.

My comments:
We are talking about her as a ghost writer here.
Ghost writer? Yes, writers who write a book or something for another person, usually a celebrity, for an amount of money in exchange for, in our case, being listed as a co-author even though she alone wrote the book or, in other cases, giving up the by-line altogether.
By-line is the line under the title of a book that states this book is written "By So-and-so".
In memoirs and autobiographies, this so-and-so is usually the hero himself or herself. For example, if someone ghost-writes a memoir for Donald Trump, the by-line will be Trump instead of the person who actually writes the book.
In the case of Trump, it's kind of easy to understand why he would like to have someone write his personal history for him. If Trump writes his own book, rest assured it'll be full of adjectives such as "big", "tremendous" and "incredible". In other words, Trump doesn't have much of a vocabulary and isn't known for having a way with words, so therefore it's only logical that he will want someone to ghost-write on his behalf.
The "ghost" in "ghost writer" gives a similar feel to what we normally associate ourselves with a ghost. If someone says he or she sees the ghost of a dead relative, for example, they mean to say they see an apparition or a shadow image of that person, a nebulous image that is. It's a blurred image, not something solid and real, not someone you can actually get a hold of.
Likewise, the ghost writer stays in the shadow, behind the scene, whose name may not be listed or revealed. Or his or her name is revealed, in the form of co-author, as is the case in our above example.
All right, here are media examples of "ghost writer", who "ghost-writes":
1. Laura Bentz of Keybridge Communications describes her company as "a boutique PR firm -- founded by a former writer for the Wall Street Journal -- that specializes in writing and placing op-eds. With some of the country's most influential trade groups and global corporations as clients, we run many of the major op-ed campaigns in the U.S. We place roughly 3,000 op-eds per year."
On its website, Keybridge openly claims to be able to "brand a CEO" by putting op-eds into newspapers in "virtually every major city."
Less openly, Keybridge carefully markets its services with a PDF that names people for whom it claims to have written and placed op-eds.
For a mere $5000, Keybridge offers this service in the PDF: "First, we write a 500-800 word op-ed. Then we place it in one or more newspapers around the country. If we're pitching to a national audience, we guarantee that we'll reach at least 50,000 readers. Includes media monitoring."
The PDF claims credit for and includes full images of op-eds in the following newspapers by these individuals:
Wall Street Journal, an op-ed by Bill Ingram, vice president of Adobe Analytics and Adobe Social.
Washington Post, an op-ed by Doc Woods, a member of Virginians for Quality Healthcare.
Los Angeles Daily News, an op-ed by James G. Nondorf, vice president for enrollment and student advancement at the University of Chicago, and Jarrid J. Whitney, executive director of admissions and financial aid at Cal Tech.
Newsday, an op-ed by Patricia Morton, Dean and Professor at the University of Utah College of Nursing.
USA Today, an op-ed by Kevin Chou, CEO of Kabam.
Of course it goes without saying that organizations and political campaigns and businesses have staff ghost write or draft or assist with op-eds by their figureheads. So this could be described as merely outsourcing that service to a PR firm. But it's considerably more damaging to public communications than that, I think.
- Public Relations Firm Claims to Have Ghost Written Thousands of Op-Eds in Major U.S. Newspapers, by David Swanson, FreePress.org, September 2, 2016.

2. The man who ghost-wrote the book that make Donald Trump a household name in America has told of his "guilt and deep regret" at helping to create "a monster".
Tony Schwartz spent 18 months at the US Presidential candidate's side in the mid-Eighties while penning The Art Of The Deal.
The memoirs-cum-business advice book helped create the "Trump brand" by portraying the then New York big shot, then in his late thirties, as the ultimate tycoon – launching his fame far beyond the Big Apple.
Now Schwartz, who got to know Trump better than anyone outside the multi-millionaire's family, is hoping the opinion polls are right and the Republican loses – for the sake of the world's survival.
"To be honest the most worrying prospect for me is Trump having his hands on the nuclear codes," says Schwartz.
"He is extremely thick-skinned, very reactive and compulsive. He is always wanting to prove he is the most powerful person in the room.
- Donald Trump's former ghost-writer fears "monster" will start a nuclear war with Russia, Mirror.co.uk, October 16, 2016.

3. Prince Harry, aka the Duke of Sussex, and his wife, Meghan, aka the Duchess of Sussex, have certainly had their share of media attention over the past few years.
Too much attention, in fact. The unrelenting — and, at times, racist— British tabloid coverage of the couple is one of the reasons the royal duo have chosen to leave behind their official royal duties in favor of more freedom — personally and geographically speaking. Since the world first learned that Harry and Meghan were an item in October 2016 until the news broke in January 2020 that they'd be stepping back from the royal family, much of the press attention has been focused on Meghan.
As Harry, Meghan and their son, Archie, set off in a new direction for their young family, it bears taking a look at all the life events that made Harry the husband, father and man he is today. Here's what you may not know about the British prince.
His Name Is Actually A Nickname
He's known as Prince Harry, but that's a nickname. The Duke of Sussex's real name is Prince Henry Charles Albert David. In medieval England, Harry was considered the spoken form of Henry, and most English kings called Henry were referred to as Harry. When Prince Charles and Princess Diana announced their second son's name, they said he would be known as Harry to his family and friends, but the entire world quickly followed suit.
...
His School Days Brought Scandal
Like his father and older brother, Prince Harry was educated at independent schools, including Ludgrove School in Berkshire and Eton College, where he achieved two A-Levels: a grade B in Art and a grade D in Geography. His time at Eton wasn't without scandal; one of his former teachers, Sarah Forsyth, accused Harry of cheating and said she ghost-wrote his course work. A tribunal investigating her case against Eton for unfair dismissal found no evidence of cheating, but it did accept that Harry had received help with his A-level "expressive project" and awarded Forsyth 45,000 pounds, or about $58,000, in damages.
- Things You May Not Know About Prince Harry, TheDelite.com, January 27, 2020.
本文仅代表作者本人观点,与本网立场无关。欢迎大家讨论学术问题,尊重他人,禁止人身攻击和发布一切违反国家现行法律法规的内容。
About the author: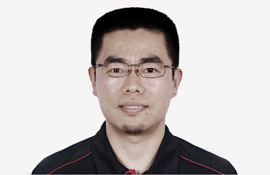 Zhang Xin is Trainer at chinadaily.com.cn. He has been with China Daily since 1988, when he graduated from Beijing Foreign Studies University. Write him at: zhangxin@chinadaily.com.cn, or raise a question for potential use in a future column.
(作者:张欣 编辑:丹妮)
中国日报网英语点津版权说明:凡注明来源为"中国日报网英语点津:XXX(署名)"的原创作品,除与中国日报网签署英语点津内容授权协议的网站外,其他任何网站或单位未经允许不得非法盗链、转载和使用,违者必究。如需使用,请与010-84883561联系;凡本网注明"来源:XXX(非英语点津)"的作品,均转载自其它媒体,目的在于传播更多信息,其他媒体如需转载,请与稿件来源方联系,如产生任何问题与本网无关;本网所发布的歌曲、电影片段,版权归原作者所有,仅供学习与研究,如果侵权,请提供版权证明,以便尽快删除。